Retribution Paladin
Patch 7.2
Last Updated: 4th Jun, 2017
Interface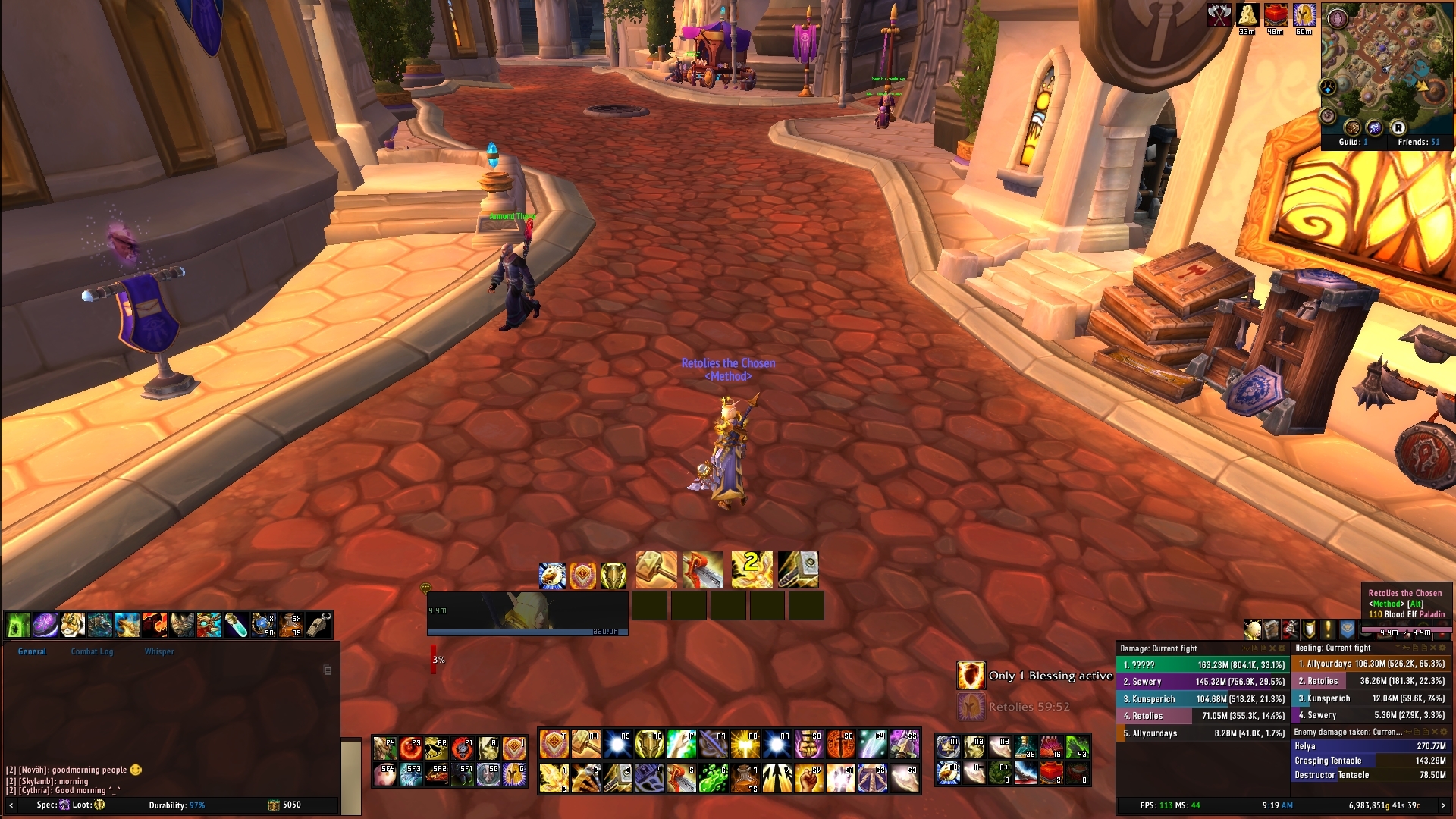 Import for my ElvUi
Az/VEgBqFBWtF6V+i+xCUWkboQ4jzQR4TGC2ql6jKDcRToP6hiK3CGonUXuV3VINQlHhJ6phkBqHSM9UZCiRr4Ck4So4SJDPKnQMqHOiykKQpSgsJtVyqIei5CnVMinWoaiaCEg1VZgMyXTKRVWuqtRlyXVCNpKyFZDSZkRth/goimaRTAPyXRRGqqjnKI1WyXhR1UkpnQUkronKeUD8RcRaQIrbgHrgxRxFjeoUs4s5xQaTqcAW86vg42WTwWjx3CrfHM6uyeDTPANG2TW5IZ3NK/9QGK4uqMU8A0bZNfmEnlvlm5YwMLV51s2QHiNrNr9ST3gxr071X9Nns7lAhHF1C5ElDNM/uZkfqxemfzHHdRAZNTj1xdwq37SEganNs26G9BhZ86vg42WTweh5wnB1owanPj9zRgs0XA4hwNwq3xzOrsl58wwYZdfkHDpvNr9gVD2ME9YwBa7pc0sHifb60+eUzGz6XE9mCViivf70uZ4wqrAg/YQXczwZPT9ORs/1yejZvPIPheHqglrMrfJNSxiY2jzrZkiPkTW/Cj5eNrnJzROGqxs1OPX5mTNaoOFyCAHmVvnmcHZNzptnwCi7JovR6NlsrtMju5jr9AhUGGXXZBAoN4etgAGF1NdSN4ezazIYPNdpZ+Zwdk0+iefwsSdcrRUwO5/NLxhVIbKEYfong+eCi9pibhdOZr/aboUR+ieDmvmB9vrngo+XTW5OufmB9vpAhVF2TQblmtncLrhDCaMKZ6WfsJcNmuv06Albe+wJV2sFzDKKLRs01+mR5WQyW6bB+YUaNAdOSGF2MX8fuTUSLQlEbBZlTaeYSEjhOcQjOMFoM8+h3kfuVqK4uimIR3CC0WaeQwnnwGgFRjPN30dujUT6FEjhLMqaTjGRkMJziEdwQr2P3K1EcXVTEI/ghBJuxKSqacDz95FbI2FQGEUkpPA8uAR4Wqj3kbuVKK5uCuIRnAA8LRRIgfKaOaDIlnVRIxJSeA7xCE4AnhbqfeRuJYqrm4J4BCcATwsFUqD5+8itkTAojAKjiYQUnkM8ghOAp4V6H7lbieLqpiAewQnA00KBVMOUN4cSy0Iis9TnEI/gBKPNPId6H7lbieLqpiAewQlGm3kOJZzLgRW4Oc3fR26NhEFh1KGMSEjheXAJ8LRQ7yN3K1Fc3RTEIzgBeFootAIx5c3fR26NREsCEUskpPAc4hGcYLSZ51DvI3crUVzdFMQjOMFoM8+hhHNoUgVuQPOsT1kWophISOE5xCM4od5H7laiuLopiEdwQqFVIxbPCViAk04xkZDCc4hHcILRZp5DvY/crURxdVMQj+AEo808hxIGqebENAfaumDBLy9qREIKz4NLgKeFeh+5W4ni6qaCS4CnhQKLlbCYdP7yD4Xh6oKCKCYSUngO8QhOAJ4W6n3kbiWKq5uCeAQnAE8LBcqRqlze/H3k1kiC4mNZUHwsIxJSeA7xCE6o95G7lSiubgriEZxQaAUWN3NAYtms1A2nTySk8BziEZxQ7yN3K1Fc3RTEIzih0AokPs3fR26NhEFhFAhNJKTwPLgEeFqo95G7lSiubgriEZwAPC3UCaxyDXr+PiIEkYDnEI/ghHofuVuJ4uqmIB7BCdWoE3j+PiIEkTRziEdwgtFmnkO9j9ytRHF1UxCP4ASjzTyHEgaRkirQaf4+IgSRgOYQj+CEeh+5W4ni6qYgHsEJ1Sgmpvn7yK2RBMXHMiIhhecQj+CEeh+5W4ni6qYgHsEJ1TChVQPKzd9HhCCS0xziEZwAPC3U+8jdShRXNwXxCE4AnhYKlMekQOA5ow4iowanDlFMJKTwPLgEeFqo95G7lSiubiq4BHhaKJASBs2FsMFkKjCIYiIhhecQj+AE4Gmh3kfuVqK4uimIR3AC8LRQoJxYgeZBPzO4H89FURqmwEUkpPA8uAR4Wqj3kbuVKK5uKrgEeFooMDinhE9M4LlUJgTNIR7BCfU+crcSxdVNQTyCEwqtwM1p/j5yayRSGZGQwnOIR3BCvY/crURxdVMQj+CEavJOCgxq5kK4Oj0XRRUmElJ4DvEITjDazHOo95G7lSiubgriEZxgtJnnUMKnhkmdQKRzv2CyCUHz4BLgaaHeR+5Wori6KYhHcALwtFBM4JMC50jn0qdACkspozBEMZGQwnOIR3BCvY/crURxdVMQj+CEEm7ETOqEBs3PqScMUUwkpPAc4hGcADwt1PvI3UoUVzcF8QhOAJ4WCkR6UrnT/H3k1kiC4mNZFmVNp5hISOE5xCM4od5H7laiuLopiEdwQjXiPNU04HkkK2CIYiIhhecQj+CEeh+5W4ni6qYgHsEJlQdSDRo9fx+5NZKgnRmRkMLz4BLgaaHeR+5Wori6KYhHcALwtFA5UrQCk6LnUGLZc1FUYSIhhecQj+AEo808h3ofuVuJ4uqmIB7BCUabeQ4l3IDQCkyam7+P3BqJ9CmQwkRCCs8hHsEJ9T5ytxLF1U1BPIITSrgRk6oGlJu/jwhBJOI5xCM4wWgzz6HeR+5Wori6KYhHcILRZp5DCYNyOQWav4/cGolEsQEhElJ4DvEITgCeFup95G4liqubgngEJwBPC9UwoVVDepq/jwhBJLk5xCM4AXhaqPeRu5Uorm4K4hGcADwtFEg1IPT8feTWSBgURjU5IiGF5xCP4ATgaaHeR+5Wori6KYhHcALwtFAg1ZCi5+8jt0YixLIwa0RCCs+DS4CnhXofuVuJ4uqmgkuAp4U6gZUwCJ03m4s6bGRMgWsxF6SfMLuYX0W/XYs5nsaUB24atBiEBoHFIDGTeGThnHh+nMaUB24atBiEBoHFIDGTeGThnHiuT2PKAzcNWgxCg8BikJhJPLJwTjybzUUdNnYxN9qZLeZG8bGMzcRJdFjMq1P91/TZbG4UH8sWc1TpIjKZXcxZOLs4UhjDqJp8As1FbEGfCph9mLXFnIzh6qgPZPpsDoSTyWzZZOEmNyenbg5n12RwM5sfEjZMYVvME1L4UyCD5tWp/mvQXECBgQ6zRrugXEB/TW6YCyKdZ8AouyaDmGZzgYi1BByVb+xivphTMyq4ovIt0vz8hABxnpNTt/k5ARd7EPU5c4pYg8lAzvOsJ8djzMmpGxfZh3vNCS7zrDODE4/fAWjlN8/nZDJbNhk9B8LJZLZsMnpulW8k5ISBqc3nLJxdk8Ho2Wx+SBmFF/Or4ONlk8Hi+SGxsMGpzyEewQnA02I2F1DWdIoX86vg42WTm9M8A0bZNbkRk87mCcPVjRqc+hzwtJhfBR8vmyxGz3URmcwu5rQLroSlBHebB5cAT4u5iC3oUwGzD7O2mJMxXB31gUyfzYFwMpktmwyezTsFrsX8kFjY4NTngKfFbDbHFEYt5hkwyq7JpKTzq+DjZZNz6Nn88CmQwos5qnQRmcwu5iycXRwpjGFUTUbPgXAymS2bDEbP5oeEDVPYFvPqVP81aC6gwECHWaNdUC6gvyY3zM2B5gkp/CmQQbO5gLKmU7yYXwUfL5vcnOYZMMquyY2YdDY/pIzCizk1o4IrKt8izaWUUXjOGqZGhToKUEj9xZyMKXABCqk/uZnNUWVUcBUKqDDKrskNE3qez8lktmyyMBg9B8LJZLZscjObXwUfL5ssRs91EZnMLuaHwjhlTAaj5+TUzeHsmiyezQWfsqxO8WKOKqOCS8MJWMMUuAbNWcPUqFBHAQqpv5iTMQUuQCH1JzezOaqMCq5CARVG2TW5yZHOr4KPl00Goedk+P85e6CCQs1ms9mcCgxOXad4MdcpPi3musgsdRbOrsmn01ynAmYonA6D5rrILHV2MriZzXWKm8W8OtV/oQbNdZFZ6qxUmJEyJovnOhUwQ+F0GDTXRWaps3B2TT6dZnOdYvBirlMBMxROh0FzXWSWOgtn12QQeDbXqYAZCqeDH6gA7ses1JHCVqhBc53i3GJ+SHC3eXCJ0WaeY66LzFJnJ4ObuS4yS52VCjNSxmRwM9epgBkKp8OguS4yS52Fs2vyKTeb6xRLZYv5IcHd5sElwNNirovMUmelwoyUMRmMns1Zo11QEMWLuS4yS52Fs2tywzSb6xSLF/PqVP+FGjTXRWaps3B2TW6Y5rrILHV2MulcF5mlzh6oAO7Hyei5LjJLnZUKM1LGZPAcOInYSkjhQbM5MCzASad4Ma9O9V+oQbO5TjFoMddFZqmzUmFGypgMbuaHBHebB5cAT4u5LjJLnYWzazIIPJvNOwWuw6dW7GIu6rCxi7nGaJ8MdABQSCSAEFAeYzG/in67dIoX86vg42WT8+bVqf5r0DwDRtk1GYzOzWbzJz8CKCQSQAgoj7GYX0W/XTrFi/lV8PGyyaSz2fz8hACPsZhfRb9dOsWLeXWq/5o+m81mcz2xrJAIUw3+VpjNSh0pbIUaNNuYZ/6AExn+xTzzjLL04WKZQ04YmH4=

The most important addons that I use are:
WeakAuras - Probably the best addon in WoW. Very customizable addon used to track procs, buffs, debuffs, and much much more.
BigWigs - Essential for raiding. Seeing what and when is about to happen and being able to plan around it is just crucial to raiding.
ElvUI - A full UI package which is really easy to set up and allows you to customise everything the way you like it.
Skada - Another essential addon for raiding. A great tool to track and analyse performance for yourself and others.
Macros
#showtooltip Lay on hands
#show Lay on hands
/target Focus
/cast Lay on hands
#showtooltip Avenging wrath
#show Avenging wrath
/cast Avenging wrath
/Cast Templar`s Verdic
Extra Action Button
/click ExtraActionButton1 
Weakauras
To use my Ret Paladin WeakAuras, type /wa ingame, press import in the new tab and copy the below strings in and then hit import.
My main Spells / Cds / Buffs
defkScGijH0Lub4tujrYOaPCkqQwfqOxjjeZsfKBjvv7sLWVubfyya1XeYYaLNrQAAsvUMK02asFJkvJJuPZPGwhvsKY8Osc3dKq7tfu6GsvzHGQhQsYePsQlQs0gPs8rQK0iLeCsqsRei6LabMPkPUPKqTtL8tsfdvs0sbj6PqtvkxvfuTvQKi(kvsuJfiOZcsWAPsIunxvqr7f9xv0GPIdlYIPs5Xc1KLuxMYMvP(mPmAqCAvTAvqH61QaA2u1TvQDl43IA4sLJRckKLlXZjz6exxrBxf67kW4viNxHA9QanFvqbTFaZi2iMyJcrfryx07cye3eRjwZgXr6CFRmHR(JaFbOGck4OQGcRkXX6CFRmHlydVW9OErrr6HPBeSQelM2NdTXDgrTsE2r0g1Lc1wnHtmvx)YNdj)PuEnnROyJcrL5VRm)bHiCDAnDQ4RV0LgXVMyXeaNUKprmm3TYRPzffxre95unBeLK3ccm2iUNE5zJcfIsYBbHnI7PxE2OqHySpPuSru9bnVrSY(UUpxd1ffItLDg7tkfrPmnILuSXgX90lpBuOqS7yNK8wqyJ4E6LNnkuiENILphyJ4E6LNnkuiw)33F80lJzJ4E6LNnkuiwYEJnI7PxE2OqHcXuS8hTw510SsfNRnUatHymBCfXgrXgjrUKdc(h04cwvIPy5pATYRPzLkoxBCbMOuEnnRWgXITjcdmyI5bbDc(XeoXqABk24kIyfSTjUsPaCQGLkIYSd0kuiwSToDwjj5crxbX4PsY7tiFTru(TvtHyxjRvmLQYIf)Qph4cmrXgjrvM)Gq86lDPreI9AqeU6bMOpNQzJOK8wqGXgX90lpBuOqCQSZGD0k0nIsYBbHnI7PxE2OqHOQZIzJO6dAEJl9e3tV8SXveHZLEcNcfIX(KsXgr1h08gXk776(Cnuxe3tV8Sr01x2xRcGGfuD1k0iCkuiov2zSpPueoXsk2yJ4E6LNnkui2DStsEliSrCp9YZgfkeNk7u1zXeoX7uS85aBe3tV8SrHcX6)((JNEzmBe3tV8SrHcXs2BSrCp9YZgfkuik2ij6QSpxyJRi6IUUxD4WEW0fCpqJaRBpq5D)v1ZLEUatH4iDUVvMqx0ncuyUdAup9dDhS7rr6Y7(7bkXIP95qBCNr8JZbIFnXdpaj7hd4GsXcAcGdmahyaoWaCGb4ONOyJKiIaohqhXbFTaHREGjEWCEZf4lGnK4yDUVvMqx6x3EdJ65oSEGcQ76hclsxE3FpqjMQRF5ZHK)ukVMMvuSrHyyUBLxtZkkUIik2ijYLCqiE5OUIPudsJjgNZ(68GaHtHlySruSrsKl5GG)bnUICN4yDUVvMqx6VQEDRcUQ7dJ0docgSOQ8U)EvjMIL)O1kVMMvQ4CTXv)rGjovwlN9Y3r3ikLxtZkSr8fBVsBJROi9dbDiXPYo3jjgIvdLZGr4el2o9HpODM7SssYfIUcOiXqABk24kIydIb44YxmfGt(gWbKtL8XgxWi6kDl5PqSy70h(GgXiWevDM3VsBJRiWGjov2zX2Pp8bn6gXzWoAbHyAkzItLDQGKhOtGWjov25l2EL2gHtSyjp2zE)kTnIxbjv0mItLDQ6mVFL2gHtubjpqNarfK8aDcxLZ(68Gar7OfeIxLZ(68GaGtLLSwXukahOHDM3dDItLDodVq4eJNkjVpH81gr53wnfIDLSwXuQklw8R(CGlWefBKevz(dcXRV0Lgri2RbrOl9QgbwFeO9IgQVk4QW0Z7(75orFovZgrj5TGaJnI7PxE2OqH4uzNb7OvOBeLK3ccBe3tV8SrHcrvNfZgr1h08gx6jUNE5zJRicNl9eofkeJ9jLInIQpO5nIv23195AOUiUNE5zJORVSVwfablO6QvOr4uOqS(VV)4PxgZgX90lpBuOqSKIn2iUNE5zJcfILS3yJ4E6LNnkui2DStsEliSrCp9YZgfkeVtXYNdSrCp9YZgfkeNk7m2NukcN4uzNQolMWPquSrsKl5Gq8YrDftPgKgtCKo33ktOl6cRQ7rWancuqJa19QvHX7(RcMyX0(COnUZi(X5aXbFTaHU0tx9rd1TQU9CVkyW6c2DE3Fp3j(HxoJZ7oVjwnxrefBKereW5aue)AIdgmyWGbdgmyWGbdgmyWGbepyoV5c8fWgsmvx)YNdj)PuEnnROyJRi2ikLxtZkSrug3zetZsIOA6MD0ccoVV)repVQpSDIT(GYgX4PsY7tiFTru(Tvt0oAbHyfSKxGqunDZoAbPYID)JiIvE51xt8dhTIYiCIQoZ7HATInkedPTPyJRiI9P6SybWjFd4iqmaNRGyMKGqH4m8cXoFASviwBUnVVBJ7mIv4YRR0Ld)AkeNbP8AAwHnkuOqmo7Zf24QhDXDydRQR(OErURBuvW9GX7(RQNcrXgjrxL95cBCfrx019Qdh2dMUG7bAeyD7bkV7VQEU0ZfykeNbP8AAwHnIki5b6eiQGKhOt4QC2xNhei(ITxPTXvuK(HGoKOQZ8(vABCfbgmfIH5UvEnnRO4cgX4C2xNheiCkCPNnIInsICjhe8pOXvK7ehRZ9TYeU6pAOEIPy5pATYRPzLkoxBCbMOuEnnRWgXxS9kTnUII0pe0HeNk7CNKyiwnuodgHtSy70h(G2zUZkjjxi6kGIedPTPyJRiIUYqEvNvaCY3aocedWzLeif7G)McXITtF4dAeJatu1zE)kTnUIadM4uzNfBN(Wh0OBeNb7OfeIPPKjov2PcsEGobcNOD0ccXRYzFDEqaWPYswRykfGd0WoZ7HoXIL8yN59R02iEfKurZiov2PQZ8(vABeorfK8aDcevqYd0jCvo7RZdceNk78fBVsBJWjov25m8cHtmEQK8(eYxBeLFB1ui2vYAftPQSyXV6ZbUatuSrsuL5pieV(sxAeHyVgeHREre95unBeLK3ccm2iUNE5zJcfItLDgSJwHUrusEliSrCp9YZgfkeJ9jLInIQpO5nIv23195AOUiUNE5zJORVSVwfablO6QvOr4uOqu1zXSru9bnVXLEI7PxE24kIW5spHtHcX6)((JNEzmBe3tV8SrHcXs2BSrCp9YZgfkeNk7u1zXeoXUJDsYBbHnI7PxE2OqH4uzNX(Ksr4eVtXYNdSrCp9YZgfkelPyJnI7PxE2OqHcXPYA5Sx(o6gXr6CFRmHUuvpSiy9II6f1RxpqbRlV7VN7efBKe5soieVCuxXuQbPXelM2NdTXDgXpohiEWCEZf4lGnK4GVwGWvp9e)WlNX5DN3eRMRiIInsIic4CaDe)AIEtZc1PYyIZGuEnnRWgrfK8aDcevqYd0jCvo7RZdceFX2R024kks)qqhsu1zE)kTnUIadMcXuD9lFoK8Ns510SIInUIyJOuEnnRWgrzCNrmnljIQPB2rli48((hr88Q(W2j26dkBeRn3M33TXDgXkC51v6YHFnr7OfeIvWsEbcr10n7OfKkl29pIiw5LxFnXpC0kkJWjodVqSZNgBfIH02uSXveX(uDwSa4KVbCeigGZvqmtsqOqu1zEpuRvSrHy8uj59jKV2ik)2QPqCgKYRPzf2OqHcX4SpxyJRE0f3HnSQU6J6f5UUrvb3dgV7VQEkefBKeDv2NlSXveDrx3RoCypy6cUhOrG1ThO8U)Q65spxGPqmm3TYRPzffxWigNZ(68GaHtHRESruSrsKl5GG)bnUICN4miLxtZkSrubjpqNarfK8aDcxLZ(68GaXxS9kTnUII0pe0HevDM3VsBJlyGH5EefIPy5pATYRPzLkoxBCbM4uzTC2lFhDJOuEnnRWgr7OfeIxLZ(68GaGtLLSwXukahOHDM3dDIfBtuxIZWleLurZeItLDUtsmeRgkNbJWjwSD6dFq7m3zLKKleDfeNk7u1zX)9hFodVq3iwSD6dFqJOUeFX2R024kks)qqhsSyBD6SssYfIUcItLDodVq4eNk7mgsQOzk6grvN59R024cgyyUhrCQSZITtF4dAeoXzWoAbHyAkzItLDQGKhOtGWjMhe0j4ht4eNk78fBVsBJWjwSKh7mVFL2grqoR12wqiov2PQZ8(vABeoXqABk24kIiiN1ABliuiQGKhOtGOcsEGoHRYzFDEqGyT528(UnUZiwH(GYk2Ld)AIXtLK3Nq(AJO8BRM4uzqPTjCke7kzTIPuvwS4x95axGjk2ijQY8heIxFPlnIqSxdIWvViI(CQMnIsYBbbgBe3tV8SrHcXPYod2rRq3ikjVfe2iUNE5zJcfIQolMnIQpO5nU0tCp9YZgxreox6jCkuig7tkfBevFqZBeRSVR7Z1qDrCp9YZgrxFzFTkacwq1vRqJWPqHy9FF)XtVmMnI7PxE2OqHyj7n2iUNE5zJcfILuSXgX90lpBuOqCQStvNft4eVtXYNdSrCp9YZgfkeNk7m2NukcNy3Xoj5TGWgX90lpBuOqHOyJKixYbH4LJ6kMsninMyC2NlSXvp6I7Wgwvx9r9ICx3OQG7bJ39xvpfIft7ZH24oJ4hNdeh81ceU6PN4hE5moV78My1CfruSrseraNdOJ4xteKtTTfeIhmN3Cb(cydjMQRF5ZHK)ukVMMvuSXveBeLYRPzf2ikJ7mIPzjrunDZoAbbN33)iINx1h2oXwFqzJy8uj59jKV2ik)2QjAhTGqScwYlqiQMUzhTGuzXU)reXkV86RjQ6mVhQ1k2Oq8dhTIYiCIH02uSXveX(uDwSa4KVbCeigGZvqmtsqOqCgEHyNpn2keRn3M33TXDgXkC51v6YHFnfIZGuEnnRWgfkuiosN7BLj0L(Rcoc2WOEGHnmA4q9GcM393txIInsIUk7Zf24kIUOR7vhoShmDb3d0iW62duE3Fv9CPNlWuiowN7BLjC1F0q9edZDR8AAwrXfmIX5SVopiq4u4QkBefBKe5soi4FqJlyvjowN7BLj0L(RQlSOEW6f5Ep9GcQ7WI4D)96rmfl)rRvEnnRuX5AJlWeLYRPzf2iwSnryGbtmpiOtWpMWjgsBtXgxreDTTZb3sbJlyeDLtVhWjFd4Ght(ex6jwH8apGt(gWbQbTJPcx9i66VOzao5BaN(cAwXTCDIRQeXUV8cGt(gWrGyaoUYPIpxQvCbkXR8wkO(GgGJl(02OqSyBD6SssYfIUcIXtLK3Nq(AJO8BRMcXUswRykvLfl(vFoWfyIInsIQm)bH41x6sJie71Gi0LQURhu3J6Plyy6ctFK7W4D)9CNOpNQzJOK8wqGXgX90lpBuOqCQSZGD0k0nIsYBbHnI7PxE2OqHySpPuSru9bnVrSY(UUpxd1fX90lpBeD9L91QaiybvxTcncNcfIQolMnIQpO5nU0tCp9YZgxreox6jCkuiov2zSpPueoXs2BSrCp9YZgfke7o2jjVfe2iUNE5zJcfItLDQ6SycNyjfBSrCp9YZgfkeVtXYNdSrCp9YZgfkeR)77pE6LXSrCp9YZgfkuik2ijYLCqiE5OUIPudsJjwmTphAJ7mIFCoqCKo33ktOl6wvVUGhcgCVi3bD4qqbL393duIP66x(Ci5pLYRPzffBuik2ijIiGZb0rCWxlqOlGcUQU9aRhmSOEvRQhuy8U)EUt8G58MlWxaBiXVMOu(WbAcGdmahyaoWaCGb4adWrpXWC3kVMMvuCfruSrs0vzFUWgxr0fDDV6WH9GPl4EGgbw3EGY7(RQNl9CbMcX4C2xNheiCkCbkBefBKe5soi4FqJlyvjMIL)O1kVMMvQ4CTXfyIs510ScBel2MimWGjMhe0j4ht4edPTPyJRiIvMLphaCY3aocedWrhFnGJRCQWfmIxLdhNE1F0aCqiP68afx6jIsXcAceU6r86PB976PBuiwSToDwjj5crxbX4PsY7tiFTru(TvtHyxjRvmLQYIf)Qph4cmrXgjrvM)Gq86lDPreI9AqeU6fr0Nt1SrusEliWyJ4E6LNnkuiov2zWoAf6grj5TGWgX90lpBuOqu1zXSru9bnVXLEI7PxE24kIW5spHtHcXyFsPyJO6dAEJyL9DDFUgQlI7PxE2i66l7RvbqWcQUAfAeofkeR)77pE6LXSrCp9YZgfkelzVXgX90lpBuOqCQSZyFsPiCIDh7KK3ccBe3tV8SrHcXPYovDwmHt8oflFoWgX90lpBuOqSKIn2iUNE5zJcfkefBKe5soieVCuxXuQbPXefBKeDv2NlSXveDrx3RoCypy6cUhOrG1ThO8U)Q65spxGPqCKo33kt4QFD1tSyAFo0g3ze)4CGyQU(Lphs(tP8AAwrXgfIInsIic4CaDeh81ceU6PN4bZ5nxGVa2qIJ15(wzcx9hnupXVMOu(WbkwjcWbgGdmahyaoWaC0tmm3TYRPzffxreJZzFDEqGWPWL7SruSrsKl5GG)bnUGvL4iDUVvMWve4iIJ15(wzcx9hnupXuS8hTw510SsfNRnUatukVMMvyJyX2eHbgmX4PsY7tiFTru(TvtmpiOtWpMWjgsBtXgxreVkhIZL6ui2aCY3aocedW5At7ZH7K3tHyX260zLKKleDfui2vYAftPQSyXV6ZbUatuSrsuL5pieV(sxAeHyVgeHREre95unBeLK3ccm2iUNE5zJcfItLDgSJwHUrusEliSrCp9YZgfkeJ9jLInIQpO5nIv23195AOUiUNE5zJORVSVwfablO6QvOr4uOqu1zXSru9bnVXLEI7PxE24kIW5spHtHcX6)((JNEzmBe3tV8SrHcXs2BSrCp9YZgfkelPyJnI7PxE2OqHy3Xoj5TGWgX90lpBuOq8oflFoWgX90lpBuOqCQStvNft4eNk7m2NukcNcrXgjrUKdcXlh1vmLAqAmXIP95qBCNr8JZbIH5UvEnnRO4kIOyJKORY(CHnUIOl66E1Hd7btxW9ancSU9aL39xvpx65cmfIInsIic4CaDeh81ceU6PNyQU(Lphs(tP8AAwrXgfIFnrP8HduSseGdmahyaoWaCGb4uL4bZ5nxGVa2qIX5SVopiq4u4sx2ik2ijYLCqW)GgxWQsmfl)rRvEnnRuX5AJlWeLYRPzf2iwSnryGbtmpiOtWpMWjgsBtXgxreHYxdIy5PcWXvIvQ)yHcXIT1PZkjjxi6kigpvsEFc5RnIYVTAke7kzTIPuvwS4x95axGjk2ijQY8heIxFPlnIqSxdIWvViI(CQMnIsYBbbgBe3tV8SrHcXPYod2rRq4eLK3ccBe3tV8SrHcrvNfZgr1h08gx6jUNE5zJRicNl9eofkeJ9jLInIQpO5nIv23195AOUiUNE5zJORVSVwfablO6QvOr4uOqCQSZyFsPiCILuSXgX90lpBuOqS(VV)4PxgZgX90lpBuOqS7yNK8wqyJ4E6LNnkuiov2PQZIjCI3Py5Zb2iUNE5zJcfILS3yJ4E6LNnkuOquSrs0vzFUWgxr0fDDV6WH9GPl4EGgbw3EGY7(RQNl9CbMcrXgjrUKdcXlh1vmLAqAmXIP95qBCNr8JZbIhmN3Cb(cydjk2ijIiGZb0rmvx)YNdj)PuEnnROyJcXVMOkTnId(Abcx90tCKo33kt4kcCeXWC3kVMMvuCfrCSo33kt4Q)OH6jgNZ(68GaHtHRHSruSrsKl5GG)bnU6bJ4iDUVvMqx6V6WEU7omDbDO(QvhQhCvE3FVQehRZ9TYe6s)Go09EG1h5(qD7bQUGcwpV7VxpIPy5pATYRPzLkoxBCbMOuEnnRWgXITjcdmyIXtLK3Nq(AJO8BRMyEqqNGFmHtmK2MInUIicLMuE3MYNduiwSToDwjj5crxbfIDLSwXuQklw8R(CGlWefBKevz(dcXRUC1UekjcXEnicDb0EGbv3H6QBuv96bTxpD5D)9aLOpNQzJOK8wqGXgX90lpBuOqCQSZGD0k0nIsYBbHnI7PxE2OqHySpPuSru9bnVrSY(UUpxd1fX90lpBeD9L91QaiybvxTcncNcfIQolMnIQpO5nU0tCp9YZgxreox6jCkuiw)33F80lJzJ4E6LNnkuiwYEJnI7PxE2OqHyjfBSrCp9YZgfke7o2jjVfe2iUNE5zJcfI3Py5Zb2iUNE5zJcfItLDQ6SycN4uzNX(Ksr4uik2ij6QSpxyJRi6IUUxD4WEW0fCpqJaRBpq5D)v1ZLEUatHOyJKixYbH4LJ6kMsninMyX0(COnUZi(X5arXgjrebCoGoId(AbcDbuydhcQUURBViqhQh0HGY7(7bkXuD9lFoK8Ns510SIInke)AIs5dhOyLiahyaoWaCGb4adWPhXdMZBUaFbSHedZDR8AAwrXveX4C2xNheiCkCfbMnIInsICjhe8pOXLE9ehPZ9TYeU6x3QeNbP8AAwHnIVy7vABCffPFiOdjQ6mVFL2gxWa7U(EdPqmfl)rRvEnnRuX5AJlWeLYRPzf2iwSnr9GjQ6mVhQ1eHb2D99gsSy70h(G2zUZkjjxi6kGIedPTPyJRiIxvMQuTrHyX2Pp8bnIrGjov2PQZ8(vABeoXxS9kTnUII0pe0HeRNLK85aryGjgpvsEFc5RnIYVTAItLDodVq4eNk7uLNLyBL2gDJyX260zLKKleDfeNb7OfeIYVTAItLDQGKhOtGWjQYZsSTsBJi2LZh4BeNk78fBVsBJWjQMUzhTGGZ77FeXZR6dBN4HF1vxIiXPYovDM3d1A6gXqABeDDQCGao9vC7fRqCQStvEwITdp8cHtubjpqNarfK8aDcxLZ(68GaXPYol2o9HpOr4ev5zj2o8Wle78PXwHOQZ8(vABe77yssfke7kzTIPuvwS4x95axGjk2ijQY8heIxFPlnIqSxdIWvvWx0BirFovZgrj5TGaJnI7PxE2OqH4uzNb7OvOBeLK3ccBevFqZBCbdmX90lpBCfnKWPqHOQZIzJO6dAEJl9e3tV8SXveHZLEcNcfIX(KsXgr1h08gXk776(Cnuxe3tV8Sr01x2xRcGGfuD1k0iCkuiov2zSpPueoXs2BSrCp9YZgfke7o2jjVfe2iUNE5zJcfItLDQ6SycNy9FF)XtVmMnI7PxE2OqHyjfBSrCp9YZgfkeVtXYNdSrCp9YZgfkuiw)QoFAmuJZbIqniw5ofBhMqnohuhM9fd5TJ22cYPBzL6uDm5tQCPKhOvshnIInsIUk7Zf24kIUOR7vhoShmDb3d0iW62duE3Fv9CPNlWuiwmTphAJ7mIFCoqCSo33kt4QFy9QsCWxlq4QAvIInsIic4CaDe)AI9naWjI4bZ5nxGVa2qIP66x(Ci5pLYRPzffBuigM7w510SIIRiIInsICjheIxoQRyk1G0yIX5SVopiq4eNkRLZE57OBu4kkInIInsICjhe8pOXv1QehRZ9TYeU6hwVQetXYF0ALxtZkvCU24cmXu43j5Zb2iUtFGnIXzFUaLCfrSEwsYNdebFreX4Spx6JRiIXzFU4QCfrCQStPKckFsmcNOusbLpjMlZqmrahahahaNIjZsaW5EgILphGwxjRvmL6qaokjveq4HaCusQiqHdb4uBEjbcpeGtT5Leua6aGeWbWbWbWbWbWXNJtEaNuqZBaoqrahO1vYAftPaCQiaoGVawvOd4aIaoWaCaraNDsGCr3dasahahahahahaNIjZsaWrjPIacbCQiaoqBNeixeNvqlf08g0bCaraNAZljqiGdic4StcKlIZkOLcAEdeHbDOFiahLKkcuaWPIa4aTDsGCrYnf02jbYfXzf0sbnVbDOd4aIao1MxsqbahqeWzNeixO(a0sbnVbIWGo0bajGdGdGdGJfQbajGdGdrvCYBJ5kIyY3bjXfyIJ5Q)iIJ4kIOusbLpjwBCNru19LKpfQ7MELrSRyktiM8Dqsvo9kJyjljX4cmrvCYBJ4kIyC2NlW5kIcfIs510ScBeFX2R024kks)qqhsCQSZpC0kkJWjgsBtXgxreR0N0MgGZ1MfdHcXITtF4dAeJigpvsEFc5RnIYVTAIY4oJOssYurCgSJwqiMMsM4uzNki5b6eiCIfBN(Wh0oZDwjj5cXdlr7OfeIxLZ(68GaGtLLSwXukahOHDM3dDIfl5XoZ7xPTrSVJwq7dAaoUYLKaH4uzNQoZ7xPTr4evDM3VsBJl9r6QBpIki5b6eiQGKhOtakTu9yItLD(ITxPTr4eNk7CgEHWjov2zX2Pp8bn6gfIqSxdIWvvWx0BirFovZgrj5TGaJnI7PxE2OqH4uzNb7OvOBeLK3ccBe3tV8SXv0qcNcfIQolMnIQpO5nU0tCp9YZgxreox6jCkuiwsXgBe3tV8SrHcXPYoJ9jLIWjwYEJnI7PxE2OqHy3Xoj5TGWgX90lpBuOqCQStvNft4eJ9jLInIQpO5nIv23195AOUiUNE5zJORVSVwfablO6QvOr4uOq8oflFoWgX90lpBuOqS(VV)4PxgZgX90lpBuOqHOyJKORY(CHnUIOl66E1Hd7btxW9ancSU9aL39xvpx65cmfIJ05(wzcx9RBvIft7ZH24oJ4hNde)WlNX5DN3eRMRiIInsIic4CaDeh81ceUQwL4DjTnukjjXLEIhmN3Cb(cydjMQRF5ZHK)ukVMMvuSrH4xtSVbaoWiods510ScBevqYd0jqubjpqNauAP6XeFX2R024kks)qqhsu1zE)kTnU0hPRU9Oqmm3TYRPzffxreJZzFDEqGUrHRiySruSrsKl5GG)bnUG5oXzqkVMMvyJ4l2EL2gxrr6hc6qIQoZ7xPTXL(iD1ThfIPy5pATYRPzLkoxBCbMOuEnnRWgXxS9kTnUII0pe0Hel2o9HpODM7SssYfIhwItLDodVq4el2o9HpOrmcmrvN59R024sFKU62JOmUZiQKKmveNb7OfeIPPKjov2PcsEGobcN4uzNVy7vABeoXIL8yN59R02i23rlO9bnahx5ssGqCQStvN59R02iCIH02uSXveXk9jTPb4CTzXqOqubjpqNarfK8aDcxLZ(68GaXPYol2o9HpOr3iAhTGq8QC2xNheaCQSK1kMsb4anSZ8EOtmEQK8(eYxBeLFB1ui2vYAftPQSyXV6ZbUatuSrsuL5pieV6Yv7sOKie71GiCvf8f9gs0Nt1SrusEliWyJ4E6LNnkuiov2zWoAf6grj5TGWgr1h08gxWatCp9YZgxrdjCkuiQ6Sy2iQ(GM34spX90lpBCfr4CPNWPqHy9FF)XtVmMnI7PxE2OqH4uzNX(Ksr4elzVXgX90lpBuOq8oflFoWgX90lpBuOqCQStvNft4eJ9jLInIQpO5nIv23195AOUiUNE5zJORVSVwfablO6QvOr4uOqSKIn2iUNE5zJcfIDh7KK3ccBe3tV8SrHcfItL1YzV8D0nIJ05(wzcx9RBvIInsICjheIxoQRyk1G0yIft7ZH24oJ4hNdeh81ceUQwL4hE5moV78My1CfruSrseXdOJ4DjTnukjjXLEIFnX(ga4ON4bZ5nxGVa2qIP66x(Ci5pLYRPzffBuik2ij6QSpxyJly0LQGwnQQ7GcgmSHU3Z9EG5D)vDNl9CbMcXWC3kVMMvuCfrCSo33kt4QFy9QsmoN915bb6gXAtLKzjjgHtHRi9SruSrsKl5GG)bnU0RN4miLxtZkSr8fBVsBJROi9dbDirvN59R024cgy313BifIPy5pATYRPzLkoxBCbM4uzTC2lFhDJOuEnnRWgr10n7OfeCEF)JiEEvFy7ep8RU6sej(ITxPTXvuK(HGoKOQZ8EOwtegy313BiXPYol2o9HpOr4el2o9HpODM7SssYfIUcOiXITtF4dAeJatmEQK8(eYxBeLFB1eRNLK85aryGjQ6mVFL2gX(oMKuH4uzNQoZ7HAnDJOkplX2kTnIyxoFGVrmK2MInUIic3NQnaN8nGdiNk5JnkeNb7OfeIYVTAItLDQGKhOtGWjov25l2EL2gHtCQStvN59R02iCIH02i66u5abC6R42lwH4uzNQ8SeBhE4fcNOcsEGobIki5b6eUkN915bbItLDodVq4ev5zj2o8Wle78PXwH4uzNQ8SeBR02OBui2vYAftPQSyXV6ZbUatuSrsuL5pieV(sxAeHyVgeHRQGVO3qI(CQMnIsYBbbgBe3tV8SrHcXPYod2rRq3ikjVfe2iQ(GM34cgyI7PxE24kAiHtHcXyFsPyJO6dAEJyL9DDFUgQlI7PxE2i66l7RvbqWcQUAfAeofkevDwmBevFqZBCPN4E6LNnUIiCU0t4uOqS(VV)4PxgZgX90lpBuOqSK9gBe3tV8SrHcX7uS85aBe3tV8SrHcXPYovDwmHtS7yNK8wqyJ4E6LNnkuiwsXgBe3tV8SrHcXPYoJ9jLIWPqS(vD(0yOgNdeHAqSYDk2omHACoOom7lgYBhTTfKt3Yk1P6yYNu5sjpqRKoAehPZ9TYeUIaxLOyJKORY(CHnUIOl66E1Hd7btxW9ancSU9aL39xvpx65cmfIft7ZH24oJ4hNdeh81ceUQwLOyJKiIaohqhXVMy9F8dgGdK0EBfaNiIhmN3Cb(cydjMQRF5ZHK)ukVMMvuSrHyyUBLxtZkkUIiowN7BLjC1pSEvjgNZ(68GaHtuSrsKl5Gq8YrDftPgKgtHROESruSrsKl5GG)bnUG5oXr6CFRmHRiWvjowN7BLjC1pSEvjMIL)O1kVMMvQ4CTXfyItL1YzV8D0nIs510ScBeFX2R024kks)qqhsSy70h(G2zUZkjjxiEyjgsBtXgxreR0N0MgGZ1MfdHcXITtF4dAeJatu1zE)kTnUI0Txv3RsCQSZITtF4dA0nIZGD0ccX0uYeNk7ubjpqNaHtCQSZxS9kTncNyXsESZ8(vABeH7t1gGt(gWbKtL8XgXPYovDM3VsBJWjgpvsEFc5RnIYVTAIki5b6eiQGKhOt4QC2xNheikJ7mIkjjtfr7OfeIxLZ(68GaGtLLSwXukahOHDM3dDItLDodVq4uiwBQKmljXiCIDLSwXuQklw8R(CGlWefBKevz(dcXRUC1UekjcXEnicxvbFrVHe95unBeLK3ccm2iUNE5zJcfItLDgSJwHUrusEliSru9bnVXfmWe3tV8SXv0qcNcfIX(KsXgr1h08gXk776(Cnuxe3tV8Sr01x2xRcGGfuD1k0iCkuiQ6Sy2iQ(GM34spX90lpBCfr4CPNWPqH4uzNX(Ksr4elzVXgX90lpBuOq8oflFoWgX90lpBuOqCQStvNft4e7o2jjVfe2iUNE5zJcfILuSXgX90lpBuOqS(VV)4PxgZgX90lpBuOqHOyJKixYbH4LJ6kMsninMyX0(COnUZi(X5aXbFTaHRQvj(HxoJZ7oVjwnxrefBKer8a6iExsBdLsssCPNyQU(Lphs(tP8AAwrXgfIhmN3Cb(cydj(1eR)JFWaCGK2BRa4aJOyJKORY(CHnUGrxQcA1OQUdkyWWg6Ep37bM39x1DU0ZfykeNbP8AAwHnIVy7vABCffPFiOdjQ6mVFL2gxr62RQ7vPqmm3TYRPzffxreJZzFDEqGWPWvuv2ik2ijYLCqW)GgxvRsCSo33kt4QFy9Qsmfl)rRvEnnRuX5AJlWeLYRPzf2i(ITxPTXvuK(HGoK4uzNF4OvugHtCQSZz4fcNyX2Pp8bnIrevDM3VsBJRiD7v19QeNk7Sy70h(GgDJ4myhTGqmnLmXPYovqYd0jq4edPTPyJRiIv6tAtdW5AZIHqH4uzNVy7vABeoXIL8yN59R02ic3NQnaN8nGdiNk5JnItLDQ6mVFL2gHtug3zevssMkIki5b6eiQGKhOtakTu9yIfBN(Wh0oZDwjj5cXdlr7OfeIxLZ(68GaGtLLSwXukahOHDM3dDIXtLK3Nq(AJO8BRMcri2Rbr4Qk4l6nKOpNQzJOK8wqGXgX90lpBuOqCQSZGD0k0nIsYBbHnI7PxE24kAiHtHcXyFsPyJO6dAEJyL9DDFUgQlI7PxE2i66l7RvbqWcQUAfAeofkevDwmBevFqZBCPN4E6LNnUIiCU0t4uOqCQSZyFsPiCILuSXgX90lpBuOqS7yNK8wqyJ4E6LNnkuiov2PQZIjCILS3yJ4E6LNnkuiENILphyJ4E6LNnkuiw)33F80lJzJ4E6LNnkuOqCKo33kt4kcCvIPWVtYNdSrCN(aBeJZ(Cbk5kIy9SKKphic(IiIXzFU0hxreJZ(CXv5kI4uzNsjfu(KyeorPKckFsmxMHyIaoaoaoaoftMLaGZ9melFoaTUswRyk1HaCusQiGWdb4OKurGchcWP28sceEiaNAZljOa0bajGdGdGdGdGdGJphN8aoPGM3aCGIaoqRRK1kMsb4uraCaFbSQqhWbebCGb4aIao7Ka5IUhaKaoaoaoaoaoaoftMLaGJssfbec4uraCG2ojqUioRGwkO5nOd4aIao1MxsGqahqeWzNeixeNvqlf08gicd6q)qaokjveOaGtfbWbA7Ka5IKBkOTtcKlIZkOLcAEd6qhWbebCQnVKGcaoGiGZojqUq9bOLcAEdeHbDOdasahahahahludasahahIDftzcXKVdsQYPxzet(oijUatCmx9hrCexreLskO8jXAJ7mIQUVK8PqD30RmIQ4K3gZveXswsIXfyIXzFUaNRiIQ4K3gXvefkelM2NdTXDgXpohiMQRF5ZHK)ukVMMvuSrH4hE5moV78My1CfruSrseraNdOJ4GVwGWv1QeVlPTHsjjjU0t8G58MlWxaBiXVMy9F8dgGdK0EBfah9edZDR8AAwrXveXzqkVMMvyJOcsEGobIki5b6eGslvpM4l2EL2gxrr6hc6qIQoZ7xPTXvKU9Q6EvkefBKeDv2NlSXveDrx3RoCypy6cUhOrG1ThO8U)Q65spxGPqmoN915bb6gfUIaLnIInsICjhe8pOXLE9eNbP8AAwHnIQoZ7xPTXfmWvH5UEIZWleLurZeketXYF0ALxtZkvCU24cmXuS85GInIkjve2iwNp185b0nIA(8GZuS85ariFTruZNhCExsBJORSLoW(MLKYvAWtI4naN4YyahyaoWiwNpv5zOMUrH4hEHnI15Z4PsYB6gfkeNkRLZE57OBeLYRPzf2i(ITxPTXfyIQoZ7HAnryGDxFVHeTJwqiEvo7RZdcaovwYAftPaCGg2zEp0jwplj5ZbI6sSy70h(G2zUZkjjxi6kGIeNk7CgEHWjwSD6dFqJOUedPTPyJRiIGCwRTTGqH4m8crjv0mH4uzNQoZ7HAnDJOkplX2kTnIyxoFGVru1zE)kTnUGbUkm31tmEQK8(eYxBeLFB1eNk7Sy70h(GgHtug3zevssMkIZGD0ccX0uYeNk7ubjpqNaHtCQStvEwITvAB0nItLD(ITxPTr4elwYJDM3VsBJORC6anaN8nGtFkiMI4uzNQoZ7xPTr4edPTr01PYbc40xXTxScXPYov5zj2o8WleorfK8aDcevqYd0jCvo7RZdcevt3SJwqW599pI45v9HTt8WV6QlrKOkplX2HhEHyNpn2keNkdkTnHtHyxjRvmLQYIf)Qph4cmrXgjrvM)Gq86lDPreI9AqeUQc(IEdj6ZPA2ikjVfeySrCp9YZgfkeNk7myhTcDJOK8wqyJO6dAEJlyGjUNE5zJROHeofkeJ9jLInIQpO5nIv23195AOUiUNE5zJORVSVwfablO6QvOr4uOqu1zXSru9bnVXLEI7PxE24kIW5spHtHcX6)((JNEzmBe3tV8SrHcXs2BSrCp9YZgfkeVtXYNdSrCp9YZgfkeNk7u1zXeoXUJDsYBbHnI7PxE2OqHyjfBSrCp9YZgfkeNk7m2NukcNcrXgjrxL95cBCfrx019Qdh2dMUG7bAeyD7bkV7VQEU0ZfykeRFvNpngQX5arOgeRCNITdtOgNdQdZ(IH82rBBb50TSsDQoM8jvUuYd0kPJgXr6CFRmHR(HPNOyJKixYbH4LJ6kMsninMyX0(COnUZi(X5aXbFTaHRQvj(HxoJZ7oVjwnxrefBKereW5a6iEWCEZf4lGnK4xtmPGykaNOddpmKyQU(Lphs(tP8AAwrXgfIJ15(wzcx9dRxvIH5UvEnnRO4kIyCo7RZdceofUICNnIInsICjhe8pOXv1QehRZ9TYeU6hwVQetXYF0ALxtZkvCU24cmrP8AAwHnIVy7vABCffPFiOdjov25hoAfLr4eNk7CgEHWjwSD6dFqJyervN59R024cg4QWCxpXPYol2o9HpOr3iod2rliettjtCQStfK8aDceoXqABk24kIyL(K20aCU2Syiuiov25l2EL2gHtSyjp2zE)kTnIUYPd0aCY3ao9PGykItLDQ6mVFL2gHtug3zevssMkIki5b6eiQGKhOtakTu9yIfBN(Wh0oZDwjj5cXdlr7OfeIxLZ(68GaGtLLSwXukahOHDM3dDIXtLK3Nq(AJO8BRMcri2Rbr4Qk4l6nKOpNQzJOK8wqGXgX90lpBuOqCQSZGD0k0nIsYBbHnI7PxE24kAiHtHcXyFsPyJO6dAEJyL9DDFUgQlI7PxE2i66l7RvbqWcQUAfAeofkevDwmBevFqZBCPN4E6LNnUIiCU0t4uOqCQSZyFsPiCILuSXgX90lpBuOqS7yNK8wqyJ4E6LNnkuiov2PQZIjCILS3yJ4E6LNnkuiENILphyJ4E6LNnkuiw)33F80lJzJ4E6LNnkuOqCKo33kt4QFy6jMc)ojFoWgXD6dSrmo7ZfOKRiI1Zss(CGi4lIigN95sFCfrmo7ZfxLRiItLDkLuq5tIr4eLskO8jXCzgIjc4a4a4a4umzwcao3ZqS85a06kzTIPuhcWrjPIacpeGJssfbkCiaNAZljq4HaCQnVKGcqhaKaoaoaoaoaoao(CCYd4KcAEdWbkc4aTUswRykfGtfbWb8fWQcDahqeWbgGdic4StcKl6Eaqc4a4a4a4a4a4umzwcaokjveqiGtfbWbA7Ka5I4ScAPGM3GoGdic4uBEjbcbCaraNDsGCrCwbTuqZBGimOd9db4OKurGcaoveahOTtcKlsUPG2ojqUioRGwkO5nOdDahqeWP28scka4aIao7Ka5c1hGwkO5nqeg0HoaibCaCaCaCSqnaibCaCi2vmLjet(oiPkNELrm57GK4cmXXC1FeXrCfrukPGYNeRnUZiQ6(sYNc1DtVYiQItEBmxrelzjjgxGjgN95cCUIiQItEBexruOqSyAFo0g3ze)4CGyQU(Lphs(tP8AAwrXgfIF4LZ48UZBIvZverXgjrebCoGoId(AbcxvRs8UK2gkLKK4spXdMZBUaFbSHe)AIjfetb4aJyyUBLxtZkkUIiods510ScBevqYd0jqubjpqNauAP6XeFX2R024kks)qqhsu1zE)kTnUGbUkm31tHOyJKORY(CHnUIOl66E1Hd7btxW9ancSU9aL39xvpx65cmfIX5SVopiq3OWvKUSruSrsKl5GG)bnUG5oXr6CFRmHR(HPN4yDUVvMWv)W6vLykw(JwR8AAwPIZ1gxGjovwlN9Y3r3ikLxtZkSr8fBVsBJROi9dbDiXITtF4dAN5oRKKCH4HLyiTnfBCfrSsFsBAaoxBwmekel2o9HpOrmcmrvN59R024cg4QWCxpXPYol2o9HpOr3iod2rliettjtCQStfK8aDceoXPYoFX2R02iCIfl5XoZ7xPTr0voDGgGt(gWPpfetrCQStvN59R02iCIXtLK3Nq(AJO8BRMOcsEGobIki5b6eUkN915bbIY4oJOssYur0oAbH4v5SVopia4uzjRvmLcWbAyN59qN4uzNZWleofI1MkjZssmcNyxjRvmLQYIf)Qph4cmrXgjrvM)Gq8QlxTlHsIqSxdIWvvWx0BirFovZgrj5TGaJnI7PxE2OqH4uzNb7OvOBeLK3ccBevFqZBCbdmX90lpBCfnKWPqHySpPuSru9bnVrSY(UUpxd1fX90lpBeD9L91QaiybvxTcncNcfIQolMnIQpO5nU0tCp9YZgxreox6jCkuiov2zSpPueoXs2BSrCp9YZgfkeVtXYNdSrCp9YZgfkeNk7u1zXeoXUJDsYBbHnI7PxE2OqHyjfBSrCp9YZgfkeR)77pE6LXSrCp9YZgfkuik2ijYLCqiE5OUIPudsJjwmTphAJ7mIFCoqCWxlq4QAvIF4LZ48UZBIvZverXgjrepGoI3L02qPKKex6jMQRF5ZHK)ukVMMvuSrH4bZ5nxGVa2qIFnXKcIPaC0tuSrs0vzFUWgxWOlvbTAuv3bfmyydDVN79aZ7(R6ox65cmfIZGuEnnRWgXxS9kTnUII0pe0HevDM3VsBJlyGRcZD9uigM7w510SIIRiIX5SVopiq4u4kAiBefBKe5soi4FqJl9Gjods510ScBeFX2R024kks)qqhsu1zE)kTnUGb2D99gsHykw(JwR8AAwPIZ1gxGjkLxtZkSrunDZoAbbN33)iINx1h2oXd)QRUerIVy7vABCffPFiOdjQ6mVhQ1eHb2D99gsu1zE)kTnI9DmjPcXITtF4dAN5oRKKCHORaksmK2MInUIiEvzQs1wbWbLYFGgfIfBN(Wh0igbMOkplX2kTnIyxoFGVrCQSZz4fcN4uzNQ8SeBR02OBeNk7u1zE)kTncN4uzNfBN(Wh0iCI1Zss(CGimWeNb7OfeIYVTAItLDQGKhOtGWjov25l2EL2gHtCQStvN59qTMUrmK2grxNkhiGtFf3EXkeNk7uLNLy7WdVq4evqYd0jqubjpqNWv5SVopiqmEQK8(eYxBeLFB1ev5zj2o8Wle78PXwHcXUswRykvLfl(vFoWfyIInsIQm)bH41x6sJie71GiCvf8f9gs0Nt1SrusEliWyJ4E6LNnkuiov2zWoAf6grj5TGWgr1h08gxWatCp9YZgxrdjCkuiQ6Sy2iQ(GM34spX90lpBCfr4CPNWPqHySpPuSru9bnVrSY(UUpxd1fX90lpBeD9L91QaiybvxTcncNcfI1)99hp9Yy2iUNE5zJcfILS3yJ4E6LNnkui2DStsEliSrCp9YZgfkeNk7u1zXeoXPYoJ9jLIWjwsXgBe3tV8SrHcX7uS85aBe3tV8SrHcfIInsICjheIxoQRyk1G0yI1VQZNgd14CGiudIvUtX2HjuJZb1HzFXqE7OTTGC6wwPovht(Kkxk5bAL0rJ4iDUVvMWvp9efBKeDv2NlSXveDrx3RoCypy6cUhOrG1ThO8U)Q65spxGPqSyAFo0g3ze)4CG4GVwGWv1QefBKereW5a6iMQRF5ZHK)ukVMMvuSrH4bZ5nxGVa2qIFnX4YuLQTcGJsk)bAaoredZDR8AAwrXveXX6CFRmHR(H1RkX4C2xNheiCItL1YzV8D0nkCbdmBefBKe5soi4FqJROQeNbP8AAwHnIki5b6eiQGKhOtakTu9yIVy7vABCffPFiOdjQ6mVFL2gx6RQFyvketXYF0ALxtZkvCU24cmXu43j5Zb2iUtFGnIXzFUaLCfrSEwsYNdebFreX4Spx6JRiIXzFU4QCfrCQStPKckFsmcNOusbLpjMlZqmrahahahaNIjZsaW5EgILphGwxjRvmL6qaokjveq4HaCusQiqHdb4uBEjbcpeGtT5Leua6aGeWbWbWbWbWbWXNJtEaNuqZBaoqrahO1vYAftPaCQiaoGVawvOd4aIaoWaCaraNDsGCr3dasahahahahahaNIjZsaWrjPIacbCQiaoqBNeixeNvqlf08g0bCaraNAZljqiGdic4StcKlIZkOLcAEdeHbDOFiahLKkcuaWPIa4aTDsGCrYnf02jbYfXzf0sbnVbDOd4aIao1MxsqbahqeWzNeixO(a0sbnVbIWGo0bajGdGdGdGJfQbajGdGdXUIPmHyY3bjv50RmIjFhKexGjoMR(JioIRiIsjfu(KyTXDgrv3xs(uOUB6vgrvCYBJ5kIyjljX4cmrvCYBJ4kIyC2NlW5kIcfIs510ScBeFX2R024kks)qqhsSy70h(G2zUZkjjxiEyjov25m8cHtSy70h(GgXiIQoZ7xPTXL(Q6hwL4uzNfBN(Wh0OBeNb7OfeIPPKjov2PcsEGobcN4uzNF4OvugHtCQSZxS9kTncNyXsESZ8(vABeVQmvPARa4Gs5pqJ4uzNQoZ7xPTr4eTJwqiEvo7RZdcaovwYAftPaCGg2zEp0jQGKhOtGOcsEGobO0s1JjgsBtXgxreR0N0MgGZ1MfdHcX4PsY7tiFTru(Tvtug3zevssMkkeHyVgeHRQGVO3qI(CQMnIsYBbbgBe3tV8SrHcXPYod2rRq3ikjVfe2iUNE5zJROHeofkevDwmBevFqZBCPN4E6LNnUIiCU0t4uOqm2Nuk2iQ(GM3iwzFx3NRH6I4E6LNnIU(Y(AvaeSGQRwHgHtHcXPYoJ9jLIWjwsXgBe3tV8SrHcXUJDsYBbHnI7PxE2OqH4uzNQolMWjw)33F80lJzJ4E6LNnkuiENILphyJ4E6LNnkuiwYEJnI7PxE2OqHcrXgjrxL95cBCfrx019Qdh2dMUG7bAeyD7bkV7VQEU0ZfykehPZ9TYeU6PNyX0(COnUZi(X5aXp8YzCE35nXQ5kIOyJKiIaohqhXbFTaHRQvjExsBdLsssCPN4bZ5nxGVa2qIP66x(Ci5pLYRPzffBui(1eJltvQ2kaokP8hOb4aJ4yDUVvMWv)W6vLyyUBLxtZkkUIigNZ(68GaDJcxWIyJOyJKixYbb)dACbdmXzqkVMMvyJ4l2EL2gxrr6hc6qIQoZ7xPTXL(Q6hwLcXuS8hTw510SsfNRnUatukVMMvyJ4l2EL2gxrr6hc6qIfBN(Wh0oZDwjj5cXdlXqABk24kIyL(K20aCU2SyiuiwSD6dFqJyeyIQoZ7xPTXL(Q6hwL4uzNfBN(Wh0OBeNb7OfeIPPKjov2PcsEGobcNOD0ccXRYzFDEqaWPYswRykfGd0WoZ7HoXIL8yN59R02iEvzQs1wbWbLYFGgXPYovDM3VsBJWjov25m8cHtubjpqNarfK8aDcxLZ(68GarzCNrujjzQiov25l2EL2gHtmEQK8(eYxBeLFB1ui2vYAftPQSyXV6ZbUIik2ijQY8heIW1P10PIjcXEnicxvbFrVHe95unBeLK3ccm2iUNE5zJcfItLDgSJwHUrusEliSru9bnVXfmWe3tV8SXv0qcNcfIQolMnIQpO5nU0tCp9YZgxreox6jCkuig7tkfBevFqZBeRSVR7Z1qDrCp9YZgrxFzFTkacwq1vRqJWPqH4uzNX(Ksr4elzVXgX90lpBuOqS7yNK8wqyJ4E6LNnkuiov2PQZIjCI1)99hp9Yy2iUNE5zJcfILuSXgX90lpBuOq8oflFoWgX90lpBuOqH4uzTC2lFhDJ4iDUVvMWvp9efBKe5soieVCuxXuQbPXelM2NdTXDgXpohio4RfiCvTkXp8YzCE35nXQ5kIOyJKiIhqhX7sABOussIl9et11V85qYFkLxtZkk2Oq8G58MlWxaBiXVMyCzQs1wbWrjL)anah9efBKeDv2NlSXfm6svqRgv1Dqbdg2q375EpW8U)QUZLEUatHyyUBLxtZkkUIiowN7BLjC1pSEvjgNZ(68GaHtS2ujzwsIr4u4cgm2ik2ijYLCqW)Ggx6DNykw(JwR8AAwPIZ1gxGjMILphuSr8(dVccBeRZNA(8acNcfIs510ScBel2MimWGjMhe0j4ht4edPTPyJRiIU(p(bdWbH8MVMcXIT1PZkjjxi6kigpvsEFc5RnIYVTAke7kzTIPuvwS4x95axGjk2ijQY8heIxFPlnIqSxdIqx6vTQEDbfg4OHGHbt3Qr8U)EGs0Nt1SrusEliWyJ4E6LNnkuiov2zWoAf6grj5TGWgX90lpBuOqu1zXSru9bnVXLEI7PxE24kIW5spHtHcXyFsPyJO6dAEJyL9DDFUgQlI7PxE2i66l7RvbqWcQUAfAeofkeNk7m2NukcNyj7n2iUNE5zJcfIDh7KK3ccBe3tV8SrHcXPYovDwmHtS(VV)4PxgZgX90lpBuOq8oflFoWgX90lpBuOqSKIn2iUNE5zJcfkefBKe5soieVCuxXuQbPXehRZ9TYe6s)Gc2DqbhbkO6ctVEqHvvxE3FVEelM2NdTXDgXpohi(1eDB6MBEdWjIOyJKiIaohqhXbFTaHUufSEq1pmAO(iWvHbwpmE3FpqjEWCEZf4lGnKyQU(Lphs(tP8AAwrXgfIJ05(wzcx97U(lCh0OHGct3HGbfwvIH5UvEnnRO4kIyCo7RZdceorXgjrxL95cBCfrx019Qdh2dMUG7bAeyD7bkV7VQEU0Zfyku4cME2ik2ijYLCqW)Ggx6DN4yDUVvMqx6h0iWW0fgOG6U(QG7bRAvE3FVEetXYF0ALxtZkvCU24cmXuS85GInI3F4vqyJyD(uZNhq4uOqukVMMvyJyX2eHbgmX4PsY7tiFTru(TvtmpiOtWpMWjgsBtXgxreVCSb4CNlaoPaGZLJnkel2wNoRKKCHORGcXUswRykvLfl(vFoWfyIInsIQm)bH41x6sJie71Gi0LEvRQxxqHboAiyyW0TAeV7VhOe95unBeLK3ccm2iUNE5zJcfItLDgSJwHUrusEliSrCp9YZgfkeJ9jLInIQpO5nIv23195AOUiUNE5zJORVSVwfablO6QvOr4uOqu1zXSru9bnVXLEI7PxE24kIW5spHtHcXPYoJ9jLIWjwYEJnI7PxE2OqHyjfBSrCp9YZgfke7o2jjVfe2iUNE5zJcfI3Py5Zb2iUNE5zJcfI1)99hp9Yy2iUNE5zJcfItLDQ6SycNcrXgjrxL95cBCfrx019Qdh2dMUG7bAeyD7bkV7VQEU0ZfykefBKe5soieVCuxXuQbPXelM2NdTXDgXpohik2ijIiGZb0rCWxlqOlvbRhu9dJgQpcCvyG1dJ393duIhmN3Cb(cydj(1eTXgGZDUa4Kcao2yJyQU(Lphs(tP8AAwrXgfIJ05(wzcDPQ79a1DyGQ39OQdbh1RhV7VhOedZDR8AAwrXveX4C2xNheiCkCbRhBefBKe5soi4FqJRi9ehRZ9TYeU6hwv9etXYF0ALxtZkvCU24cmrP8AAwHnIVy7vABCffPFiOdjov25ojXqSAOCgmcNyX2Pp8bTZCNvssUq0vafjov25m8cHtSy70h(GgXiWevDM3VsBJlq7bJOmUZiQKKmveNb7OfeIPPKjov2PcsEGobcNOD0ccXRYzFDEqaWPYswRykfGd0WoZ7HoXIL8yN59R02i66)4hmaheYB(AItLDQ6mVFL2gHtCQSZITtF4dA0nIki5b6eiQGKhOt4QC2xNheiov25l2EL2gHtmK2MInUIiwPpPnnaNRnlgcfIXtLK3Nq(AJO8BRMcXUswRykvLfl(vFoWfyIInsIQm)bH41x6sJie71GiCPVkrFovZgrj5TGaJnI7PxE2OqH4uzNb7OvOBeLK3ccBe3tV8SrHcXyFsPyJO6dAEJyL9DDFUgQlI7PxE2i66l7RvbqWcQUAfAeofkevDwmBevFqZBCPN4E6LNnUIiCU0t4uOqCQSZyFsPiCILS3yJ4E6LNnkuiENILphyJ4E6LNnkuiov2PQZIjCI1)99hp9Yy2iUNE5zJcfILuSXgX90lpBuOqS7yNK8wqyJ4E6LNnkuOqCgKYRPzf2iQGKhOtGOcsEGoHRYzFDEqG4l2EL2gxrr6hc6qIQoZ7xPTXfO9GrH4uzTC2lFhDJyC2NlSXvp6I7Wgwvx9r9ICx3OQG7bJ39xvpfIInsICjheIxoQRyk1G0yIft7ZH24oJ4hNdepyoV5c8fWgsCWxlq4sFvIF4LZ48UZBIvZverXgjrebCoGoIP66x(Ci5pLYRPzffBCfXgrP8AAwHnIY4oJyAwsevt3SJwqW599pI45v9HTtS1hu2iwBUnVVBJ7mIv4YRR0Ld)AI2rlieRGL8ceIQPB2rlivwS7FerSYlV(AIQoZ7HATInkeNHxi25tJTcXqABk24kIOR)JFWaCqiV5RPq8dhTIYiCIXtLK3Nq(AJO8BRMcXzqkVMMvyJcfke)AIUnDZnVb4aJ4iDUVvMWv)r627cy9ik2ij6QSpxyJly0LQGwnQQ7GcgmSHU3Z9EG5D)vDNl9CbMcXWC3kVMMvuCbJyCo7RZdceoXAtLKzjjgHtHlyvzJOyJKixYbb)dACbdgXX6CFRmHR(HvvpXuS8hTw510SsfNRnUatmflFoOyJOssfHnI15tnFEaDJOMpp48UK2gr4TEWNIKdUtSoFgpvsEt3iQ5ZdotXYNdevqYdOq8(dVccBeRZNA(8a6grnFEW5DjTnIWB9GpfjhCNOMpp4mflFoqeYxBuOqukVMMvyJ4l2EL2gxrr6hc6qItLDUtsmeRgkNbJWjwSD6dFq7m3zLKKlepSeLXDgrLKKPI4uzNZWleoXITtF4dAeJatCQSZyiPIMPOBeNk78dhTIYiCIXqsfntDM7SssYfIUcIXqsfntrmcmrvN59R024c0EWiod2rliettjtCQStfK8aDceoXPYoFX2R02iCI2rlieVkN915bbaNklzTIPuaoqd7mVh6elwYJDM3VsBJOR)JFWaCqiV5Rjov2PQZ8(vABeorfK8aDcevqYd0jaLwQEmXqABk24kIyL(K20aCU2Syiuiov2zX2Pp8bn6gX4PsY7tiFTru(TvtHyxjRvmLQYIf)Qph4cmrXgjrvM)Gq86lDPreI9AqeU0xLOpNQzJOK8wqGXgX90lpBuOqCQSZGD0k0nIsYBbHnI7PxE2OqHySpPuSru9bnVrSY(UUpxd1fX90lpBeD9L91QaiybvxTcncNcfIQolMnIQpO5nU0tCp9YZgxreox6jCkuiov2zSpPueoXsk2yJ4E6LNnkuiENILphyJ4E6LNnkuiov2PQZIjCI1)99hp9Yy2iUNE5zJcfILS3yJ4E6LNnkui2DStsEliSrCp9YZgfkuiosN7BLj0L(bTNUWGnCiOvbx1DyW0vxE3FVQetHFNKphyJ4o9b2igN95cuYvervCYBJ4kIyC2NlW5kIyC2NlUkxreNk7ukPGYNeJWjkLuq5tI5YmeteWbWbWbWPyYSeaCUNHy5ZbO1vYAftPoeGJssfbeEiahLKkcu4qao1MxsGWdb4uBEjbfGoaibCaCaCaCaCaC854KhWjf08gGdueWbADLSwXukaNkcGd4lGvf6aoGiGdmahqeWzNeix09aGeWbWbWbWbWbWPyYSeaCusQiGqaNkcGd02jbYfXzf0sbnVbDahqeWP28scec4aIao7Ka5I4ScAPGM3aryqh6hcWrjPIafaCQiaoqBNeixKCtbTDsGCrCwbTuqZBqh6aoGiGtT5LeuaWbebC2jbYfQpaTuqZBGimOdDaqc4a4a4a4yHAaqc4a4qufN82yUIiM8DqsCbM4yU6pI4iUIikLuq5tI1g3zevDFj5tH6UPxze7kMYeIjFhKuLtVYiwYssmUatSEwsYNdebFreX4Spx6JRikuik2ijYLCqiE5OUIPudsJjwmTphAJ7mIFCoq8Rj620n38gGJEIF4LZ48UZBIvZverXgjrebCoGoId(Abcx6Rs8G58MlWxaBiXuD9lFoK8Ns510SIInUIyJOuEnnRWgrzCNrmnljIQPB2rli48((hr88Q(W2j26dkBeRn3M33TXDgXkC51v6YHFnr7OfeIvWsEbcr10n7OfKkl29pIiw5LxFnrvN59qTwXgfIF4OvugHtmK2MInUIi66)4hmaheYB(AkeNHxi25tJTcX4PsY7tiFTru(TvtH4miLxtZkSrHcfIInsIUk7Zf24kIUOR7vhoShmDb3d0iW62duE3Fv9CPNlWuigM7w510SIIlyeNbP8AAwHnIki5b6eiQGKhOtakTu9yIVy7vABCffPFiOdjQ6mVFL2gxG2dgfIX5SVopiq3OWfmqzJOyJKixYbb)dACbdmXuS8hTw510SsfNRnUatmflFoOyJ49hEfe2iwNp185beofkeLYRPzf2iwSnryGbtmpiOtWpMWjgsBtXgxreriV5RbCY3aoUsSGMLcXgfIfBRtNvssUq0vqmEQK8(eYxBeLFB1ui2vYAftPQSyXV6ZbUatuSrsuL5pieV(sxAeHyVgeHl9vj6ZPA2ikjVfeySrCp9YZgfkeNk7myhTcDJOK8wqyJ4E6LNnkuig7tkfBevFqZBeRSVR7Z1qDrCp9YZgrxFzFTkacwq1vRqJWPqHOQZIzJO6dAEJl9e3tV8SXveHZLEcNcfItLDg7tkfHtSKIn2iUNE5zJcfI3Py5Zb2iUNE5zJcfItLDQ6SycNy9FF)XtVmMnI7PxE2OqHyj7n2iUNE5zJcfIDh7KK3ccBe3tV8SrHcfIInsIUk7Zf24kIUOR7vhoShmDb3d0iW62duE3Fv9CPNlWuiosN7BLjC1Fup9elM2NdTXDgXpohiMQRF5ZHK)ukVMMvuSrHOyJKiIaohqhXbFTaHl9vjEWCEZf4lGnK4yDUVvMWv)WQQN4xtub5nFnGteXWC3kVMMvuCfruSrsKl5Gq8YrDftPgKgtmoN915bbcNcxWCNnIInsICjhe8pOXvKEIXzFUWgx9OlUdByvD1h1lYDDJQcUhmE3Fv9uiowN7BLjC1pSQ6jMIL)O1kVMMvQ4CTXfyItL1YzV8D0nIs510ScBeFX2R024kks)qqhsCQSZDsIHy1q5myeoXITtF4dAN5oRKKCHORaksCQSZz4fcNyX2Pp8bnIrGjQ6mVFL2gxr62duqHrug3zevssMkIZGD0ccX0uYeNk7ubjpqNaHtCQSZxS9kTncNyXsESZ8(vABeriV5RbCY3aoUsSGMLcXgXPYovDM3VsBJWjov2zX2Pp8bn6grfK8aDcevqYd0jCvo7RZdceTJwqiEvo7RZdcaovwYAftPaCGg2zEp0jgsBtXgxreR0N0MgGZ1MfdHcX4PsY7tiFTru(TvtHyTPsYSKeJWj2vYAftPQSyXV6ZbUatuSrsuL5pieV(sxAeHyVgeHl9vj6ZPA2ikjVfeySrCp9YZgfkeNk7myhTcDJOK8wqyJ4E6LNnkuiQ6Sy2iQ(GM34spX90lpBCfr4CPNWPqHySpPuSru9bnVrSY(UUpxd1fX90lpBeD9L91QaiybvxTcncNcfItLDg7tkfHtSK9gBe3tV8SrHcXUJDsYBbHnI7PxE2OqH4uzNQolMWjw)33F80lJzJ4E6LNnkuiENILphyJ4E6LNnkuiwsXgBe3tV8SrHcfIInsICjheIxoQRyk1G0yIft7ZH24oJ4hNdeh81ceU0xL4hE5moV78My1CfruSrseraNdOJ4xtub5nFnGdm9epyoV5c8fWgsmvx)YNdj)PuEnnROyJRi2ikLxtZkSrug3zetZsIOA6MD0ccoVV)repVQpSDIT(GYgX4PsY7tiFTru(Tvt0oAbHyfSKxGqunDZoAbPYID)JiIvE51xtu1zEpuRvSrH4hoAfLr4edPTPyJRiIiK381ao5BahxjwqZsHyJcXz4fID(0yRqS2CBEF3g3zeRWLxxPlh(1uiods510ScBuOqH4iDUVvMWv)r90tuSrs0vzFUWgxWOlvbTAuv3bfmyydDVN79aZ7(R6ox65cmfIZGuEnnRWgrfK8aDcevqYd0jCvo7RZdceFX2R024kks)qqhsu1zE)kTnUI0ThOGcJcXWC3kVMMvuCbJyCo7RZdceofUGPlBefBKe5soi4FqJlyWiosN7BLjC1Fup9ehRZ9TYeU6hwv9etXYF0ALxtZkvCU24cmXuS85GInIkjve2iwNp185b0nIA(8GZuS85arfK8aI15Z4PsYB6grnFEW5DjTnIWB9GpfjhCNcX7p8kiSrSoFQ5ZdOBe185bNPy5ZbIq(AJOMpp48UK2gr4TEWNIKdUtHcXu43j5Zb2iUtFGnIXzFUaLCfrSEwsYNdebFreX4Spx6JRiIXzFU4QCfrCQStPKckFsmcNOusbLpjMlZqmrahahahaNIjZsaW5EgILphGwxjRvmL6qaokjveq4HaCusQiqHdb4uBEjbcpeGtT5Leua6aGeWbWbWbWbWbWXNJtEaNuqZBaoqrahO1vYAftPaCQiaoGVawvOd4aIaoWaCaraNDsGCr3dasahahahahahaNIjZsaWrjPIacbCQiaoqBNeixeNvqlf08g0bCaraNAZljqiGdic4StcKlIZkOLcAEdeHbDOFiahLKkcuaWPIa4aTDsGCrYnf02jbYfXzf0sbnVbDOd4aIao1MxsqbahqeWzNeixO(a0sbnVbIWGo0bajGdGdGdGJfQbajGdGdXUIPmHyY3bjv50RmIjFhKexGjoMR(JioIRiIsjfu(KyTXDgrv3xs(uOUB6vgrvCYBJ5kIyjljX4cmrvCYBJ4kIyC2NlW5kIcfIs510ScBeFX2R024kks)qqhsCQSZDsIHy1q5myeoXPYoJHKkAMIUrmK2MInUIiwPpPnnaNRnlgcfItLDodVq4el2o9HpOrmcmXITtF4dAN5oRKKCH4HL4uzNF4OvugHtmEQK8(eYxBeLFB1eJHKkAM6m3zLKKleDfeLXDgrLKKPIymKurZueJatCgSJwqiMMsM4uzNki5b6eiCI2rlieVkN915bbaNklzTIPuaoqd7mVh6eNk78fBVsBJWjwSKh7mVFL2greYB(AaN8nGJRelOzPqSrCQStvN59R02iCIki5b6eiQGKhOtakTu9yItLDwSD6dFqJUru1zE)kTnUI0ThOGcJcXUswRykvLfl(vFoWfyIInsIQm)bH41x6sJie71GiCPVkrFovZgrj5TGaJnI7PxE2OqH4uzNb7OvOBeLK3ccBe3tV8SrHcrvNfZgr1h08gx6jUNE5zJRicNl9eofkeJ9jLInIQpO5nIv23195AOUiUNE5zJORVSVwfablO6QvOr4uOqCQSZyFsPiCILuSXgX90lpBuOqS7yNK8wqyJ4E6LNnkuiov2PQZIjCI1)99hp9Yy2iUNE5zJcfI3Py5Zb2iUNE5zJcfILS3yJ4E6LNnkuOquSrs0vzFUWgxr0fDDV6WH9GPl4EGgbw3EGY7(RQNl9CbMcXzqkVMMvyJOcsEGobIki5b6eGslvpM4l2EL2gxrr6hc6qIQoZ7xPTXvKU9afuyuiwmTphAJ7mIFCoq8RjQG8MVgWrpXp8YzCE35nXQ5kIOyJKiIaohqhXbFTaHl9vjEWCEZf4lGnKyQU(Lphs(tP8AAwrXgxrSrukVMMvyJOmUZiMMLer10n7OfeCEF)JiEEvFy7eB9bLnI1MBZ7724oJyfU86kD5WVMOD0ccXkyjVaHOA6MD0csLf7(hreR8YRVM4hoAfLr4edPTPyJRiIiK381ao5BahxjwqZsHyJcrvN59qTwXgfIZWle78PXwHy8uj59jKV2ik)2QPqCgKYRPzf2OqHcXWC3kVMMvuCbJyCo7RZdc0nIInsICjheIxoQRyk1G0ykCbBiBefBKe5soi4FqJlyWiowN7BLjC1pSQ6jMIL)O1kVMMvQ4CTXfyIPy5ZbfBevsQiSrSoFQ5ZdOBe185bN3L02icV1d(uKCWDI15Z4PsYB6grnFEWzkw(CGOcsEafI3F4vqyJyD(uZNhq3iQ5ZdoVlPTreERh8Pi5G7e185bNPy5ZbIq(AJcfIs510ScBeFX2R024kks)qqhsCQSZDsIHy1q5myeoXPYo)WrROmcNOmUZiQKKmveNk7CgEHWjwSD6dFqJyeyIfBN(Wh0oZDwjj5cXdlXPYoJHKkAMIUrmgsQOzQZCNvssUq0vqmgsQOzkIrGjgpvsEFc5RnIYVTAIZGD0ccX0uYeNk7ubjpqNaHtCQSZxS9kTncNOD0ccXRYzFDEqaWPYswRykfGd0WoZ7HoXIL8yN59R02i66)4hmahumRM4uzNQoZ7xPTr4evqYd0jqubjpqNauAP6XedPTPyJRiIv6tAtdW5AZIHqH4uzNfBN(Wh0OBevDM3VsBJROHGDx3Eui2vYAftPQSyXV6ZbUatuSrsuL5pieV(sxAeHyVgeHl9vj6ZPA2ikjVfeySrCp9YZgfkeNk7myhTcDJOK8wqyJ4E6LNnkuig7tkfBevFqZBeRSVR7Z1qDrCp9YZgrxFzFTkacwq1vRqJWPqHOQZIzJO6dAEJl9e3tV8SXveHZLEcNcfItLDg7tkfHtSK9gBe3tV8SrHcX7uS85aBe3tV8SrHcXPYovDwmHtS(VV)4PxgZgX90lpBuOqSKIn2iUNE5zJcfIDh7KK3ccBe3tV8SrHcfIJ05(wzcx9ddwvIPWVtYNdSrCN(aBeJZ(Cbk5kIOko5TrCfrmo7ZL(4kIyC2NlUkxreNk7ukPGYNeJWjkLuq5tI5YmeteWbWbWbWPyYSeaCUNHy5ZbO1vYAftPoeGJssfbeEiahLKkcu4qao1MxsGWdb4uBEjbfGoaibCaCaCaCaCaC854KhWjf08gGdueWbADLSwXukaNkcGd4lGvf6aoGiGdmahqeWzNeix09aGeWbWbWbWbWbWPyYSeaCusQiGqaNkcGd02jbYfXzf0sbnVbDahqeWP28scec4aIao7Ka5I4ScAPGM3aryqh6hcWrjPIafaCQiaoqBNeixKCtbTDsGCrCwbTuqZBqh6aoGiGtT5LeuaWbebC2jbYfQpaTuqZBGimOdDaqc4a4a4a4yHAaqc4a4qSRyktiM8Dqsvo9kJyY3bjXfyIJ5Q)iIJ4kIOusbLpjwBCNru19LKpfQ7MELrufN82yUIiwYssmUatSEwsYNdebFreX4SpxGZvefkefBKe5soieVCuxXuQbPXelM2NdTXDgXpohi(1evDMvd4er8dVCgN3DEtSAUIik2ijIiGZb0rCWxlq4sFvIhmN3Cb(cydjMQRF5ZHK)ukVMMvuSXveBeLYRPzf2ikJ7mIPzjrunDZoAbbN33)iINx1h2oXwFqzJy8uj59jKV2ik)2QjAhTGqScwYlqiQMUzhTGuzXU)reXkV86RjQ6mVhQ1k2OqCgEHyNpn2ke)WrROmcNyiTnfBCfr01)XpyaoOywnfI1MBZ7724oJyfU86kD5WVMcXzqkVMMvyJcfkefBKeDv2NlSXveDrx3RoCypy6cUhOrG1ThO8U)Q65spxGPqmm3TYRPzffxWiods510ScBevqYd0jqubjpqNauAP6XeFX2R024kks)qqhsu1zE)kTnUIgc2DD7rHyCo7RZdc0nkCPhmBefBKe5soi4FqJRi9ehRZ9TYeU6hwv9etXYF0ALxtZkvCU24cmrP8AAwHnIVy7vABCffPFiOdjov25ojXqSAOCgmcNyX2Pp8bTZCNvssUq0vafjgsBtXgxreR0N0MgGZ1MfdHcXITtF4dAeJatu1zE)kTnUIgc2DD7rug3zevssMkIZGD0ccX0uYeNk7ubjpqNaHt0oAbH4v5SVopia4uzjRvmLcWbAyN59qNyXsESZ8(vABeD9F8dgGdkMvtCQStvN59R02iCItLDwSD6dFqJUrubjpqNarfK8aDcxLZ(68GaXPYoFX2R02iCItLDodVq4eJNkjVpH81gr53wnfIDLSwXuQklw8R(CGlWefBKevz(dcXRV0Lgri2Rbr4sFvI(CQMnIsYBbbgBe3tV8SrHcXPYod2rRq3ikjVfe2iUNE5zJcfIX(KsXgr1h08gXk776(Cnuxe3tV8Sr01x2xRcGGfuD1k0iCkuiQ6Sy2iQ(GM34spX90lpBCfr4CPNWPqH4uzNX(Ksr4elPyJnI7PxE2OqH4Dkw(CGnI7PxE2OqH4uzNQolMWjw)33F80lJzJ4E6LNnkuiwYEJnI7PxE2OqHy3Xoj5TGWgX90lpBuOqH4miLxtZkSrubjpqNarfK8aDcxLZ(68GaXxS9kTnUII0pe0HevDM3VsBJROHGDx3EuiovwlN9Y3r3igN95cBC1JU4oSHv1vFuVi31nQk4EW4D)v1tHOyJKixYbH4LJ6kMsninMyX0(COnUZi(X5aXdMZBUaFbSHeh81ceU0xL4hE5moV78My1CfruSrseraNdOJyQU(Lphs(tP8AAwrXgxrSrukVMMvyJOmUZiMMLer10n7OfeCEF)JiEEvFy7eB9bLnI1MBZ7724oJyfU86kD5WVMOD0ccXkyjVaHOA6MD0csLf7(hreR8YRVM4hoAfLr4eNHxi25tJTcXqABk24kIOR)JFWaCqXSAkevDM3d1AfBuigpvsEFc5RnIYVTAkeNbP8AAwHnkuOq8RjQ6mRgWbgXr6CFRmHR(HbRkrXgjrxL95cBCbJUuf0QrvDhuWGHn09EU3dmV7VQ7CPNlWuigM7w510SIIlyeJZzFDEqGWjwBQKmljXiCkCPpInIInsICjhe8pOXfmWetXYF0ALxtZkvCU24cmXuS85GInI3F4vqyJyD(uZNhq4uOqukVMMvyJyX2eHbgmX8GGob)ycNyiTnfBCfr01)XpyaoOywnfIfBRtNvssUq0vqmEQK8(eYxBeLFB1ui2vYAftPQSyXV6ZbUatuSrsuL5pieV(sxAeHyVgeHl9vj6ZPA2ikjVfeySrCp9YZgfkeNk7myhTcDJOK8wqyJ4E6LNnkuiQ6Sy2iQ(GM34spX90lpBCfr4CPNWPqHySpPuSru9bnVrSY(UUpxd1fX90lpBeD9L91QaiybvxTcncNcfItLDg7tkfHtSKIn2iUNE5zJcfIDh7KK3ccBe3tV8SrHcXPYovDwmHtS(VV)4PxgZgX90lpBuOq8oflFoWgX90lpBuOqSK9gBe3tV8SrHcfIJ15(wzcx9dRQEIInsICjheIxoQRyk1G0yIInsIUk7Zf24kIUOR7vhoShmDb3d0iW62duE3Fv9CPNlWuiwmTphAJ7mIFCoq8RjQ6mRgWrprXgjrebCoGoId(Abcx6Rs8G58MlWxaBiXuD9lFoK8Ns510SIInkedZDR8AAwrXveXr6CFRmHR(HbRkX4C2xNheiCkCPhgBefBKe5soi4FqJl9vjods510ScBevqYd0jqubjpOp)G0yfrvN59R024sFv9dRsHykw(JwR8AAwPIZ1gxGjkLxtZkSr8fBVsBJlWeNk7CNKyiwnuodgDJ4uzNXqsfntr3igpvsEFc5RnIYVTAIY4oJOssYurCgSJwqiMMsM4uzNki5b6eiCItLD(ITxPTr4elwYJDM3VsBJ4vLPkvBfahuk)bAeNk7u1zE)kTncNOcsEGobIki5b95hKgRiAhTGq8QC2xNheaCQSK1kMsb4anSZ8EOtCQSZz4fcNOQZ8(vABCPVQ(HvPquSrsuL5pieHRtRPtfteI9Aqe6cOWGvDiOUpS3qy6QxVE98U)EUt0Nt1SrusEliWyJ4E6LNnkuiov2zWoAf6grj5TGWgr1h08gxGsCp9YZgxGs4uOqm2Nuk2iQ(GM3iwzFx3NRH6IcrvNfZgr1h08gx6jUNE5zJRicNl9eofkeNk7mK2gDJy9FF)XtVmMnI7PxE2OqHyjfBSrCp9YZgfke7o2jjVfe2iUNE5zJcfItLDQ6SycN4Dkw(CGnI7PxE2OqH4uzNX(Ksr4elzVXgX90lpBuOqHOyJKixYbH4LJ6kMsninM4yDUVvMqx6xxyWafuydDVkyD1fM(i98U)EvjwmTphAJ7mIFCoq8RjgxMQuTvaCusk(ave)WlNX5DN3eRMRiId(Abcx9IUyyvyvbThm9dRcggXdMZBUaFbSHet11V85qYFkLxtZkk2OqCKo33kt4QhSladUQE3JapuV7vjgM7w510SIIRiIXzFUWgx94cmfIX5SVopiq3ik2ij6QSpxyJRi6IUUxD4WEW0fCpqJaRBpq5D)v1ZLEUatHcx61ZgXr6CFRmHU4U(iDH1du9rvHbA0qDbZ7(7nK4yDUVvMqx6VQ7r9IaRR7UpuV(OQdJ4D)96r8JZb6gX7CqCXN0ue15WBxd11LeDlvUk7Zf24cgxGVyOU90hP3Dyv7nemmU0Zf4l0Rly9dHfvfuDbfM7vPq0Nt1Srm2Nuk2iQ(GM3iwzFx3NRH6Icrj5TGaJnI7PxE2OqH4uzNb7OvOBeLK3ccBevFqZBCbdmX90lpBuOqCQSZyFsPiCIQolMnIQpO5nU0tHyj7n2iUNE5zJcfItLDkjVfecNy9FF)XtVmMnI7PxE2OqHyjfBSrCp9YZgfke7o2jjVfe2iUNE5zJcfItLDQ6SycN4Dkw(CGnI7PxE2OqH4uzNX5TBjHWjov2PQZ8(dmKheOBuiwmTphAJ7mIPzj5wQqujP4dur3iQ6sLd01MkjZssm6grXgjZIrSVYoxgtu1LkhiHtS(vD(0yOgNdeV(t1Lp4kLcWXLzzmGZHh8wsbXQjw)QdJNHy5pAetEpX4PsY7MnsicasaqcasIPy5pATYRPzLkoxBCbMy8uj5DZgjhExDsmI2rlieLYRPzf2i(ITxPTXvKE3b3txItLD(HJwrz0nItLDQ6S4)(JpNHxOBeFX2OjR024cmX4PsY7tiFTru(Tvtug3zeJNkjVjod2rliettjt0oAbHiufBd4C5HrZVRZQjgpvsEFkJ7mIkjjtfX4PsYBxplj5ZbI3ZqS85a0GoaibCaCaCaC854KhW58qNh68qNh68qNhcWXg19LXaoqraNdp8c859n0QOD(0yRurpeGtf9QYuLQTkk0bajGdGdGdGZFd4yJ6(YyahbIfaajGdGdGdGdGdGdGdGJphN8aofBN(Wh0aCGIao2OUVmgWPFahx1K2VnObDaqc4a4a4a4a4a4a4a4umzwcaofBN(Wh0aCoaahyxu9qaoWUO6HaCKY0aajGdGdGdGJfQbaPfQbajaibajaibajaibajaibajaibajX4PsYBI3ZqS85a0GoaibCaCaCaC854KhW58qNh68qNh68qNhcWXg19LXaoqraNdp8c859n0QOD(0yRurpeGtf9QYuLQTkk0bajGdGdGdGZFd4yJ6(YyahbIfaajGdGdGdGdGdGdGdGtXKzja4anBu3xgd40pGJRAs73g0Go0bCoSaoWUOkaibCaCaCaCSqnaibCaCaCaCkMmlbaN7KxzaG0c1aGeaKaGeaKaGeaKaGeaKaGeaKaGeaKaGeaKaGeaKaGK4uzNVy7vABeoXyiw8bsC2vNeJ4uzNZWleofIInsOBeRFvNpnUzJKRTBH4betu(TvOBeHyVgeHU0Rkm9UdU6q3hQ7WQ6cUkV7VN7eNbP8AAwHnIXtLK3eVNHy5ZbObDaqc4a4a4a44ZXjpGZ5Hop05Hop05HopeGJnQ7lJbCGIaohE4f4Z7BOvr78PXwPIEiaNk6vLPkvBvuOdasahahahaN)gWXg19LXaocelaasahahahahahahahaNIjZsaWbA2OUVmgWPFahx1K2VnObDOd44kGIaoWUOkaibCaCaCaCSqnaibCaCaCaCkMmlbahPmnaqAHAaqcasaqcasaqcasaqcasaqcasaqcasaqcasaqcasaqcasaqcasIVy7vABCfP3DW90LcXWC3kVMMvuCbJ4GVwGqx6v1D31dZ9QUdt3E9Q2dgV7VxpIFnXR)uD5dUsPaCCzwgd4C4bVLuqSAaN2hFGkI1VQZNg3Srcu(AqeIhqmX4SpxyJcXuD9lFoK8Ns510SIInUIyJOuEnnRWgXxS9kTnUI07o4E6sCgSJwqiMMsM4uzNZWleor7OfeIqvSnGZLhgn)UoRM4m8cXoFASviQMUzhTGGZ77FeXZR6dBNyRpOSrug3zevssMkIQPB2rlivwS7FerSYlV(AItLD(ITxPTr4uiods510ScBeFX2R024ksV7G7Plfkui(HJwrzeofU03JnIInsICjhe8pOXvKUehRZ9TYeU6hg4QxaAKUGwfM(E6DVkXuS8hTw510SsfNRnU6pcmrP8AAwHnIH02uSXveXRktvQ2OqCQSRYZGq4eJNkjVpH81gr53wnfIqSxdIqx0vV7GRQhu96Qlm9rrGwL393ZDI(CQMnIsYBbbgBe3tV8SrHcXPYod2rRq3ikjVfe2iUNE5zJcfIX(KsXgr1h08gXk776(CnuxuiQ6Sy2iQ(GM34spfI1)99hp9Yy2iUNE5zJcfItLDg7tkfHtSKIn2iUNE5zJcfItLDQ6SycNy3Xoj5TGWgX90lpBuOqSK9gBe3tV8SrHcXPYoJZB3scHt8oflFoWgX90lpBuOqH4iDUVvMqx6huDhcZ9Hrr9gQRUU3BimE3FpqjgN95cBC1JlWuik2ij6QSpxyJRi6IUUxD4WEW0fCpqJaRBpq5D)v1ZLEUatHyX0(COnUZi(X5aXWC3kVMMvuCfrS(vhgpdXYF0iM8EIFnXRktvQ2aCqjfFGkahyeh81ce6IUG7PRUGcApy6HbE4WHW4D)9CNyQU(Lphs(tP8AAwrXgfkCPVkBefBKe5soi4FqJly6smEQK8UzJeIaGeaK3ZqS85aGd0GoaibCaCaCaC854KhW5yYpnahOiGJY8wSaTi3peGZHhEPVzjbTkANpn2kv0db4OmVflql6qUQjyN59qnCNHwKU9afuyqh6hcWj8EOdDaNCbWbmaibCaCaCaC(BaNJj)0aCoSaodhoC4WHaocelaasahahahahahahahaNJj)0aCGIao35YojqRIEaxeDxrp0XKFAhgebgmyWGbdDaNlUaWPIUROaGeWbWbWbWX8k7VbCoM8tdW5Wc4mC4qahbIfaajGdGdGdGdGdGdGdGZXKFAaoqraNDsGCXTpNlq7yYpTddIadgm0bCU4caNk6bwrbajGdGdGdGJfQbajGdGdGdGtXKzja4Cm5NgaiTqnXuS8hTw510SsfNRnUatukVMMvyJyX2eVW9QeZdc6e8JjCIQPBX5zqiCIXtLK3Nq(AJO8BRMyiTTZCNvssUqekcfjov2ziTncNyiTnIiK381ao5BahxjwqZsHyJ4uzNQol(V)4Zz4f6gXIT1PZkjjxiEyHIedPTPyJRiIGW0Xu5JDLsb4uXjTWCd4Ot3urH4907vXPaHtHyxjRvmLQYIf)Qph4cmrXgjrvM)Gq8QlxTlHsIqSxdIqx6nupSQWgoSQUrv1vV(E8U)EGs0Nt1SrusEliWyJ4E6LNnkuiov2zWoAf6grj5TGWgX90lpBuOqm2Nuk2iQ(GM3iwzFx3NRH6IcrvNfZgr1h08gx6PqCQSZyFsPiCILuSXgX90lpBuOq8oflFoWgX90lpBuOqCQStvNft4elzVXgX90lpBuOqS(VV)4PxgZgX90lpBuOqS7yNK8wqyJ4E6LNnkuOqCSo33ktOl9dAuemW6bdRAu1E6cQ765D)96rS(vD(0yOgNdejwmTphAJ7mIFCoqCWxlqOlvHvTxK76bnc0QG7PR(Q8U)EGs8dVCgN3DEtSAUIik2ijIiGZbetmvx)YNdj)PuEnnROyJcXVMORelOzPqSrCKo33ktOlvJ6bQ79QclcCupyUddmV7VkyIH5UvEnnRO4kIyCo7RZdceofkepYvupyruib
Blessing timer
d8KCJaGiIQhjjvxIuvfFIuvvnksXPiLwfPQiEfrKMfv1TivSlk1WOkCmQIwMOk9mrv10evX1iczBKQcFdifgNOQCorfP3jjL5reQUNKyFaPOdsekluuPhsQkQMiqYffviBuuH6JssgjPQOCsGQvsjVuubAMIki3eiL2jPs)eivnurf1sfvepLKMkK6QKQ8vrfWBjvLMlPQiDxsvL9kYFHWGrhgQfteXJfLjlPUSWMHKptKgnqCAkwnPQk9AIGzlv3gI2nHFdy4Ky5u55smDqxxkBNO8DIOgpq58uLwpqQ8Esvv5(IkO2V6KNj0jvCcDcMulj18ANh78MurMuRtQ1j0jvPoajNu1lNtQ1MI(BtKbnYIKkU3tQEb9OqvcykhRdOr(Li9Hh5XJCQeLFqJ8MNCA(ZBcLo5jpjvCg0ilq7msLgoqlqDK0vhp9iPwIoQCgWiGj1Cb9Ord6bTjvqcJuqGjDZJhj1oaUoHoPcX9qaZBcDsfzRdnj0jycMuH4EiGj0jvKTo0KqNGjysnRJlLe6KAXiK2JKAolXYHKyGcCDtWKAReiY64sjPcDTiP6WzrcDsfzRdnj0jycMurHZGgarcDsfzRdnj0jycMuvKPaX9qatOtQiBDOjHobtWKATbfktwRd9MqNur26qtcDcMGjvhqpsOtQiBDOjHobtWemPIfgKyyKYnP6cPgabAVkrsT2RaJ0Kj1b0usQfahmPwhLSquBestQbykyrDuNYnPIRRnqdGa3raDgPsdxjHobtQM6KAv52JsXiKwQYb0usQs2udbjPBE8iPkAir7msLgUssxptQGb6rHQeWuowIanYVeLVCQN5np5nF5jpEkr6JekDYtEsWKAwcDsxptOtQWamON5yabu1a6IKUEkrj1SwbcGeDagmPIQjYGgaHgTBnNZPlGnNykxFQq(wHOoPIZGgzbANrQ0WbAbQJKU64PhjvCg0aikj0jvJWatOtQ1aiYAfiaYuUj1SwbcGmPIBomIqiZodOjGZktp2c3CyeHqMDaMIXfLzLP(xo8w4MdJieYS7asohbMYSY0JT2c3CyeHqMTemcPfWb1SYmVEKFjk)5BlCZHrecz2insbbcoOMvM51J8lr5nFBHBomIqiZwYMsnasWb1SYmVEKFjk)50T2c3CyeHqMnAv9MvMOAImObqOb37figgf)zbIHH)uGrg(Z6Mddnac)zaMIXHHgabAdYWFAYae(tLo2B40fJm0U1CoN4EVaXWOOVfigg63SYe37figgf9TaXWq)MaUP(xoC12AoNZoqgUplqmmMvM4EVaXWOOVfigg6x12AoNZcedd7ciasEwzcDTOABnNZzbIHHDgiyH0OEwzcDTOABnNZzbIHHTaJmMvMcmYOABnNZzbIHHTIdqQlkf0EvIzLPCObzulVABnNZzbIHHDDZHHgaXSYSU5WqdGOABnNZzbIHHDaMIXHHgabAdYywzgGPyCyObqG2GmQ2wZ5CwGyyyBYaeZkttgGOABnNZzbIHHDo3XEdNUyKXSYuPJ9goDXiJQTviQtWemPcDgPsdxcDsf6vjsQzTceazsndKitcj1Msnggj1SwbcGeb0RsKulqmmAk1yyKuZAfiaYKkQMidAaeAW9EbIHrr7wZ5CU1CoN6OZS6vV6Zce7GHBwcytzwGnuOMvV6vFR5Co1rNSEGDtCVplqmmkBnNZjka3eH)u20iMkyJROb37figgfTZAGTMZ5CoNtz2fqaK8SYefUxIQT1CoNZ5CkZodeSqAupRmHUwuTTMZ5me1BnNZPo6K1dSBMb0eWTMZ5e3CyeHqMDgqtaNvMEuTTMZ5uhDY6b2ndWumUOmLH7TyR5Corb4MsWx20iMkyJROb3CyeHqMDaMIXffTZAGjU5WicHm7amfJlk6Re0VkctFgI6TMZ5CR5Co1rNPkaYywGyhmCtJafWwZ5C2bYW9Puhqtr1a6IzLzvbu3gYQCanfqBGuscxrJ2TMZ5SdKH7tPoGMcAVkXSYe8c4ICc2uRr7elQNYDytT8jGBkxb7GELV1CoNgutPoGMcAVkXSsLPCfSd6v(ecsiMsDanfvdOlMvMsDanfvdOlM6m9CgI6Po6mv6yVHBwdefH(pCknGt8CQGDqVvFQNWabhuBnNZ5wZ5CQJovV6vFAeqGjeKyIeBeZmqImjuMyr9SaXWyM5cm0aiMvV6vFR5Co3AoNtD0zkaGtJyINoSPEwaMzGezsywIoQ5uJc2b9oBcdeCqnRbIIq)honISERoMkDS3WnBIUrcXmNGn1A3AoNtdQPuhqtbTxLywPYuUc2b9kFcbjeZTMZ5CoNZTMZ5CoNtD0jdKitctjyeslBnNZ5CoNguZPEcdm3gkuAKR0XEdNC)zvbuvj6DWfOa0GBomIqiZwcgH0c4GsR25wZ5CoNZjwuplrpYGAYN)upHbMBdfknYv6yVHtU)SQaQQe9o4cuaAWnhgriKzlbJqAbCqPvR2zLkt5kDS3WjFR5CoNZ5ecsiMBnNZ5CoNZ5C2bYW9PaJm8r4BYae(i8r4x3CyObq4hGPyCrXpdxGHBwzQNWaZTHcLg5kDS3Wj3FwvavvIEhCbkan4MdJieYSLGriTaoO0QDR5CoNZ5CoNtCZHrecz2Ov1tdU3lqmmk(t5kDS3Wj32wGrg(t55GgH0IC)zDZHHgaHFaMIXffFtgGWFQNWa1fJm0ixPJ9go5A1U1CoNZ5CoNZjU5WicHm7mGMaoRmXnhgriKzNb0eWPKo9CR5CoNZ5CoNtiws6HTruchudU5WicHm7amfJlk(ZamfJlkA3AoNZ5Codr9wZ5CoNZPo6OV6BgirMeMinsbbU1CoNZ5CAqnN6jmWCBOqPrUsh7nCY9NvfqvLO3bxGcqdU5WicHmBKgPGabhuA1o3AoNZ5CoXI6zj6rgut(8N6jmWCBOqPrUsh7nCY9NvfqvLO3bxGcqdU5WicHmBKgPGabhuA1QDwPYuUsh7nCY3AoNZ5CoHGeI5wZ5CoNZ5CoNDGmCFkWidFe(MmaHpcFe(1nhgAae(bykgxu8ZWfy4MvM6jmWCBOqPrUsh7nCY9NvfqvLO3bxGcqdU5WicHmBKgPGabhuA1U1CoNZ5CoNZjU5WicHmB0Q6Pb37figgf)PCLo2B4KBBlWid)PCqRrkiq5(Z6Mddnac)amfJlk(MmaH)upHbQlgzOrUsh7nCY1QDR5CoNZ5CoNtCZHrecz2zanbCwzIBomIqiZodOjGtjD65wZ5CoNZ5CoNqSK0dBJOeoOgCZHrecz2bykgxu8Nbykgxu0U1CoNZ5CgIA9t)2AoNZ5Co1rNmqImjmLSPudGCR5CoNZ50GAo1tyG52qHsJCLo2B4K7pRkGQkrVdUafGgCZHrecz2s2uQbqcoO0QDU1CoNZ5CIf1Zs0JmOM85p1tyG52qHsJCLo2B4K7pRkGQkrVdUafGgCZHrecz2s2uQbqcoO0Qv7SsLPCLo2B4KV1CoNZ5CcbjeZTMZ5CoNZ5Co7az4(uGrg(i8nzacFe(i8RBom0ai8dWumUO4NHlWWnRm1tyG52qHsJCLo2B4K7pRkGQkrVdUafGgCZHrecz2s2uQbqcoO0QDR5CoNZ5CoNtCZHrecz2Ov1tdU3lqmmk(t5kDS3Wj32wGrg(t55aMsnas5(Z6Mddnac)amfJlk(MmaHVEcduxmYqJCLo2B4KRv7wZ5CoNZ5CoN4MdJieYSZaAc4SYe3CyeHqMDgqtaNs60ZTMZ5CoNZ5CoHyjPh2grjCqn4MdJieYSdWumUO4pdWumUOODR5CoNZ5me1BnNZziQ3AoNZTMZ5uhDqILqmlnxmbFIronIjEk1b0uMaOMfaKXucgr9wZ5CAqnL6aAkQgqxmbnNEmHGeITMZ5CoNZTMZ5CoNtD0XadhggtiioGMuqMsDanLjYaPKeUYelQNLiMgutSW7eeSSyI07us6rPyeslBnNZ5CoNOaCtZSY0t)Puhqtr1a6IznWwZ5CoNZ5CoNBnNZ5CoNZ5CQJozGezsykbJqAzR5CoNZ5CoNtdQ5upHbMBdfknsDanf0EvcBBJ)SQaQQe9o4cuaAWnhgriKzlbJqAbCqPv7CR5CoNZ5CoNtSOEwIEKb1Kp)PEcdm3gkuAK6aAkO9Qe22g)zvbuvj6DWfOa0GBomIqiZwcgH0c4GsRwTZkvMYv6yVHt(wZ5CoNZ5CoNqqcXCR5CoNZ5CoNZ5Co7az4(uGrg(i8nzacFe(i8RBom0ai8dWumUO4NHlWWnRm1tyG52qHsJuhqtbTxLW224pRkGQkrVdUafGgCZHrecz2sWiKwahuA1U1CoNZ5CoNZ5CoN4MdJieYSrRQNgCVxGyyu8NsDanf0EvcBBJTTaJm8NYZbncPf5(Z6Mddnac)amfJlk(MmaH)upHbQlgzOrQdOPG2RsyBB0QDR5CoNZ5CoNZ5CoXnhgriKzNb0eWzLjU5WicHm7mGMaoL0PNBnNZ5CoNZ5CoNZjelj9W2ikHdQb3CyeHqMDaMIXff)zaMIXffTBnNZ5CoNZ5CgI6TMZ5CoNZ5Co1rh9vFZajYKWePrkiWTMZ5CoNZ5ConOMt9egyUnuO0i1b0uq7vjSTn(ZQcOQs07GlqbOb3CyeHqMnsJuqGGdkTANBnNZ5CoNZ5CIf1Zs0JmOM85p1tyG52qHsJuhqtbTxLW224pRkGQkrVdUafGgCZHrecz2insbbcoO0Qv7SsLPCLo2B4KV1CoNZ5CoNZjeKqm3AoNZ5CoNZ5CoNZoqgUpfyKHpcFtgGWhHpc)6Mddnac)amfJlk(z4cmCZkt9egyUnuO0i1b0uq7vjSTn(ZQcOQs07GlqbOb3CyeHqMnsJuqGGdkTA3AoNZ5CoNZ5CoNtCZHrecz2Ov1tdU3lqmmk(tPoGMcAVkHTTX2wGrg(t5GwJuqGY9N1nhgAae(bykgxu8nzac)PEcduxmYqJuhqtbTxLW22Ov7wZ5CoNZ5CoNZ5CIBomIqiZodOjGZktCZHrecz2zanbCkPtp3AoNZ5CoNZ5CoNtiws6HTruchudU5WicHm7amfJlk(ZamfJlkA3AoNZ5CoNZ5me16N(T1CoNZ5CoNZPo6KbsKjHPKnLAaKBnNZ5CoNZ5CAqnN6jmWCBOqPrQdOPG2RsyBB8NvfqvLO3bxGcqdU5WicHmBjBk1aibhuA1o3AoNZ5CoNZ5elQNLOhzqn5ZFQNWaZTHcLgPoGMcAVkHTTXFwvavvIEhCbkan4MdJieYSLSPudGeCqPvR2zLkt5kDS3WjFR5CoNZ5CoNtiiHyU1CoNZ5CoNZ5CoNDGmCFkWidFe(MmaHpcFe(1nhgAae(bykgxu8ZWfy4MvM6jmWCBOqPrQdOPG2RsyBB8NvfqvLO3bxGcqdU5WicHmBjBk1aibhuA1U1CoNZ5CoNZ5CoN4MdJieYSrRQNgCVxGyyu8NsDanf0EvcBBJTTaJm8NYZbmLAaKY9N1nhgAae(bykgxu8nzacF9egOUyKHgPoGMcAVkHTTrR2TMZ5CoNZ5CoNZ5e3CyeHqMDgqtaNvM4MdJieYSZaAc4usNEU1CoNZ5CoNZ5CoNqSK0dBJOeoOgCZHrecz2bykgxu8Nbykgxu0U1CoNZ5CoNZziQNZ5CR5CoNZ5me1BnNZziQ3AoNZTMZ5eILKEyxaCqn4MdJieYSdWumUOODR5CoXnhgriKz3bKCocmLzLjU5WicHm7amfJlk6RN63eWn9yR5Co3AoNtdQjU5WicHm7mGMaoL4Z8oXI6jU5WicHm7mGMaobnNEmHGeITMZ5CoNtCZHrecz2Ov1tdU3lqmmk(t5OcjNBpkfJqArU)uUC)PW09Nct3F6z(LO8Lpp8NYb9IU3PCBBCZHrecz2zanb02w(m3EukgH0jodAKfY1oNZ5CoNBnNZziQ3AoNtdQjU5WicHm7mGMaoRuz6Xecsi2AoNZ5CoXnhgriKzJwvpn4EVaXWO4pLlaYThLIriTi3FkxU)uy6(tHP7p9m)su(YNh(t56cmZThLIriTmLyzqJSqU2TMZ5me1BnNZ5wZ5C6cyZjMqxl2AoNZTcrDcMuvCasDrPKZUiZumaIKUEKuHbyqpZzaJaMuZjGxL(m0jvqcJuqGjDZJhj1oaUoHoPcX9qaZBcDsfzRdnj0jycMuH4EiGj0jvKTo0KqNGjysTOezj0j1IriThjDZFcMuDa9iHoPIS1HMe6embtQ1guOmzTo0BcDsfzRdnj0jycMuD4SiHoPIS1HMe6embtQTsGOOezPCtQOWzqdGiHoPIS1HMe6embtQTsGiRJlLuUj1SoUusOtQfJqApsQ5SelhsIbkW1nbtQkYuG4EiGj0jvKTo0KqNGjycMuXcdsm0aisOtQiXgrcDsTKH7byjD9mPc9Qej1SwbcGmPMb0bC5KKUEMuZa6aUCt66zsTU5WqdGiP6HDEsQ4Uci4KUEylrjvWs66rsf3vabJ2RsKuZAfiaYKAgqhWjXs66zsndOd4QkPRNjvCxbeCoUjYsQUa2CIjQMidAaeAuCasDrP4plqSd6pRJoeRDR5ConOM4MdJieYSlqmmMyr9e3CyeHqMDbIHHDaMIXHHgabAdYycbjeBnNZ5CoNgutCZHrecz2figg2bykghgAaeOniJTMZ5CoNtSOEIBomIqiZUaXWWoatX4WqdGaTbzmL4tnvfq0gKHgTtjDQp8q7wZ5CoNZjeKqS1CoNZ5CoNZPlGnNywGyhCkPtnkoaPUOuM6tM1rhI1o3AoNZ5CoNZ5CR5CoNZ5m6LWGAIBomIqiZUaXWWoatX4WqdGaTbzm3AoNZ5CoXI6jU5WicHm7cedd7amfJddnac0gKXuIp1uvarBqgA0oL0P(Wdp0o3AoNZ5CoHGeITMZ5CoNZ5CoDbS5eZce7GZ5CU1CoNZ5CoNZ5wZ5CoNZz0lHb1e3CyeHqMDgqtaNGMtpMyr9e3CyeHqMDgqtaNs8zENBnNZ5CoNqqcXwZ5CoNZ5CoNUa2CIPh25FR5CoNZ5CoNZTMZ5CoNZOxcdQjU5WicHm7oGKZrGPmL4tnvfq0gKHgTtjDQp8WdTZTMZ5CoNtiiHyR5CoNZ5CoNtxaBoX0d78V1CoNZ5Cg9sm3AoNZ5CoNZ50fWMtm9yR5CoNZ5me1BnNZz0lX0fWMtmlqSdo3AoNZquVviQtQEt66rs1baXWiPRhj1sgUhEt66zsTvce4Uci4uUjycMuHbyqp1NdiGyJaziGjvqVEOvbhu5OKQlKAaeO9QejvtgGiPkztneKKU5XJKQryGiYaqQ0dyuN01ZKkmad6zsv)jN7yVHtxmYyQ)OKun1j1QYThLIriTG2HZKq4sQ46Ad0aiWDeqNrQ0WvsOtWKATPO)2ezqJSiPI79KQOHeTZivA4kjD9mPMba0RbKSijjjycMuLL01Z8KxptWuc
Healer cds on you
dWZ4CaGErP2fkQ2MQeZKsiMRQKQztQNjkXnPeCBr(gLi(mkTtv1EHDt0(rb)uuPAyeQFJQNtrdvuXGrHgobUgkYFjrhJcNJsOwiLYsPKAXuQwov9qcHNI8ysADQskDsvjzQQmzPA6kxuumokr6YcxxkBKq0wvLuSzcA7IQ(OOsPVkQumnkjFNqAKIkzSuIA0KW4vL6sIs6wucPtl58QIwMQWHPYRrrzyGdKdhgitqpyUvm)bOeOoOooqSEUOGSize5b6DUluOzmislktzXQSi2sYctzjlwmtgwSf)ceArTYkqpZDHcnJH)lm3smSYWWilpSuJhmbYPUkFC(ILn8wG3d8fdYuGtnWxmiZqlmhEjhiRFvUnxhifrXQy4ZKyqAURJd0C6qUh4aLA6v4WWanNoKdhOutVchggOEjuyP207joqPMEfommqEUoWbk10RWHHbsqEbZPd5Wbk10RWHHbsOtDfxIduQPxHddduZmuQQDMMWoiVtnWbk10RWHHHbYjRKBbSbYhSfxEpfeG6pLUuPY65nbGu80UV65WnRvCjifpT7RUfXzoqMC)aP4PDF1bvYAkv5jb6yrhFdqXBbozp6Woi7CFp85UqHMXW3WIbvDq5kC6WZaJQDtqIw9PaIKjlXWsS6fXwQLMfl9fMErSyi0IAvwajBPZxSSH3eFdqMC)Y1t7(QFo76ah(gWo(pGn8ZcSHVvWg(mbB4)cSHVLaB4BPWg(wmSHVHyydFddydFJhWg(gzb2W3WkydFdMGn8nEb2W3WsGn8nSuydFdlg2W)Hyyd)hgWg(pEaB4)ilWg(pSc2W)btWg(pEb2Wa569Afx60kNVyzdVjomqkEA3xDI7Nf49aupmvdzVKSyGuXHVboqlEpdrYLJQSd8nScKtDv(48flB4TaVh4lg08flB4Xbs6sHjo8naLdx0WZaJ5gUV)AzGrsrf6ogi1M54jLkQEaAvk6yGe45S(W0mhFOwMfxIVbOfVNro8soqIiZ)YynifrXQy4ZKyqAURJd0C6qUh4aLA6v4WWa1mdLYiF4HDqZPd5Wbk10RWHHbsqEbZPd5Wbk10RWHHbQzgkLUua7G8o1ahOutVchggiPlfGSXTZtCjZaj0PUIlXbk10RWHHbYZ1boqPMEfommq9sOWsTP3tCGsn9kCyyyG6LPaT75Ru5sqVsUWl0PgV(Ru5sZxNeeATYCX1pvMdx0WNB4(oPOcDh0ZCxOqZy4ByftG8bBXL3tbbOsLlbjA1Nc8zsmOfVNbOSkau1bLXYxgR)mWyo5MxlPOcDNbgFakBopHVyM)4fqU24WoixVxR4sNw58flB4nXHbs2sNVyzdVj(gGu5CDNlQe2WW)boqlEpdrYLJQSd8nScKtDv(48flB4TaVh4lg08flB4Xbs6sHjo8nazZ5zMjZkjgi1M54jLkQEaAvk6yGe45S(W0mhFOwMfxIVbOfVNro8soqIiZ)YynifrXQy4ZKyqAURJd0C6qUh4aLA6v4WWa1mdLYiF4HDqZPd5Wbk10RWHHbsqEbZPd5Wbk10RWHHbQzgkLUua7G8o1ahOutVchggiPlfGSXTZtCjZaj0PUIlXbk10RWHHbYZ1boqPMEfommq9sOWsTP3tCGsn9kCyyyG6LPaT75Ru5sqVsUWl0PgV(Ru5sZxNeeATYVBnFOKgxgIq7e94lsGEM7cfAgdFdRycKpylU8EkiavQCjirR(uGptIbT49maLvbGQoOmw(Yy9NbgT58mZKzLeu2CEcFXm)XlGCTXHDqUEVwXLoTY5lw2WBIddKSLoFXYgEt8naPY56oxujSHHFwWbAX7zisUCuLDGVHvGCQRYhNVyzdVf49aFXGMVyzdpoqsxkmXHVbOxjx4ZhYadKAZC8KsfvpaTkfDmqlEpJC4LCGerM)LXAqkIIvXWNjXG0CxhhO50HCpWbk10RWHHbQzgkLr(Wd7GMthYHduQPxHdddKG8cMthYHduQPxHddduZmukDPa2b5DQboqPMEfommqsxkazJBNN4sMbsOtDfxIduQPxHdddKNRdCGsn9kCyyG6LqHLAtVN4aLA6v4WWWa5d2IlVNccqLkxcY171kU0PvoFXYgEtCyGw8EgGYQaqIw9PaFMedkBopHVyM)4fqvhuglFwN5ZaJVsUWNpKbizlD(ILn8M4BasLZ1DUOsyddFRWbAX7zisUCuLDGVHvGCQRYhNVyzdVf49aFXGMVyzdpoqsxkmXHVbOC5KDgyKlKbgZXZxOUIlXaP2mhpPur1dqRsrhd0I3ZihEjhirK5FzSgKIOyvm8zsmin31XbAoDi3dCGsn9kCyyGAMHszKp8WoO50HC4aLA6v4WWajiVG50HC4aLA6v4WWa1mdLsxkGDqENAGduQPxHdddK0Lcq2425jUKzGe6uxXL4aLA6v4WWa556ahOutVchggOEjuyP207joqPMEfommmq(GT4Y7PGauPYLGC9ETIlDALZxSSH3ehgOfVNbOSkaKOvFkWNjXGYMZt4lM5pEbu1bLXYN1z(mWyUCYodmYfYaJ545luxXLGKT05lw2WBIVbivox35IkHnm8zchOfVNHi5Yrv2b(gwbYPUkFC(ILn8wG3d8fdA(ILn84ajDPWeh(gGEnfBPDs1adKAZC8KsfvpaTkfDmqlEpJC4LCGerM)LXAqkIIvXWNjXG0CxhhO50HCpWbk10RWHHbQzgkLr(Wd7GMthYHduQPxHdddKG8cMthYHduQPxHddduZmukDPa2b5DQboqPMEfommqsxkazJBNN4sMbsOtDfxIduQPxHdddKNRdCGsn9kCyyG6LqHLAtVN4aLA6v4WWWa5d2IlVNccqLkxcY171kU0PvoFXYgEtCyGw8EgGYQaqIw9PaFMedkBopHVyM)4fqvhuglFwN5ZaJVMIT0oPAas2sNVyzdVj(gGu5CDNlQe2WW)fCGw8EgIKlhvzh4ByfiN6Q8X5lw2WBbEpWxmO5lw2WJdK0LctC4BaICcd2MZ3XaP2mhpPur1dqRsrhd0I3ZihEjhirK5FzSgKIOyvm8zsmin31XbAoDi3dCGsn9kCyyGAMHszKp8WoO50HC4aLA6v4WWajiVG50HC4aLA6v4WWa1mdLsxkGDqENAGduQPxHdddK0Lcq2425jUKzGe6uxXL4aLA6v4WWa556ahOutVchggOEjuyP207joqPMEfommmq(GT4Y7PGauPYLGC9ETIlDALZxSSH3ehgOfVNbOSkaKOvFkWNjXGYMZt4lM5pEbu1bLXYN1z(mWi5egSnNVds2sNVyzdVj(gGu5CDNlQe2WW3sWbAX7zisUCuLDGVHvGCQRYhNVyzdVf49aFXGMVyzdpoqsxkmXHVbOCCLKbgPMab(W0S4smqQnZXtkvu9a0Qu0XaT49mYHxYbsez(xgRbPikwfdFMedsZDDCGMthY9ahOutVchggOMzOug5dpSdAoDihoqPMEfommqcYlyoDihoqPMEfommqnZqP0LcyhK3Pg4aLA6v4WWajDPaKnUDEIlzgiHo1vCjoqPMEfommqEUoWbk10RWHHbQxcfwQn9EIduQPxHddddKpylU8EkiavQCjixVxR4sNw58flB4nXHbAX7zakRcajA1Nc8zsmOS58e(Iz(JxavDqzS8zDMpdmMJRKmWi1eiWhMMfxcs2sNVyzdVj(gGu5CDNlQe2WW3sXbAX7zisUCuLDGVHvGCQRYhNVyzdVf49aFXGMVyzdpoqsxkmXHVbilsjmyGrrWv5Cjgi1M54jLkQEaAvk6yGw8Eg5Wl5ajIm)lJ1GuefRIHptIbP5UooqZPd5EGduQPxHddduZmukJ8Hh2bnNoKdhOutVchggib5fmNoKdhOutVchggOMzOu6sbSdY7udCGsn9kCyyGKUuaYg3opXLmdKqN6kUehOutVchggipxh4aLA6v4WWa1lHcl1MEpXbk10RWHHHbYhSfxEpfeGkvUeKR3RvCPtRC(ILn8M4WaT49maLvbGeT6tb(mjgu2CEcFXm)XlGQoOmw(SoZNbgTiLWGbgfbxLZLGKT05lw2WBIVbivox35IkHnm8TyCGw8EgIKlhvzh4ByfiN6Q8X5lw2WBbEpWxmO5lw2WJdK0LctC4Ba6vEU0UZZmmqQnZXtkvu9a0Qu0XaT49mYHxYbsez(xgRbPikwfdFMedsZDDCGMthY9ahOutVchggOMzOug5dpSdAoDihoqPMEfommqcYlyoDihoqPMEfommqnZqP0LcyhK3Pg4aLA6v4WWajDPaKnUDEIlzgiHo1vCjoqPMEfommqEUoWbk10RWHHbQxcfwQn9EIduQPxHddddKpylU8EkiavQCjixVxR4sNw58flB4nXHbAX7zakRcajA1Nc8zsmOS58e(Iz(JxavDqzS8zDMpdm(kpxA35zgizlD(ILn8M4BasLZ1DUOsyddFdX4aT49mejxoQYoW3Wkqo1v5JZxSSH3c8EGVyqZxSSHhhiPlfM4W3auUCYodmYfYaJKtN3TIlXaP2mhpPur1dqRsrhd0I3ZihEjhirK5FzSgKIOyvm8zsmin31XbAoDi3dCGsn9kCyyGAMHszKp8WoO50HC4aLA6v4WWajiVG50HC4aLA6v4WWa1mdLsxkGDqENAGduQPxHdddK0Lcq2425jUKzGe6uxXL4aLA6v4WWa556ahOutVchggOEjuyP207joqPMEfommmq(GT4Y7PGauPYLGC9ETIlDALZxSSH3ehgOfVNbOSkaKOvFkWNjXGYMZt4lM5pEbu1bLXYN1z(mWyUCYodmYfYaJKtN3TIlbjBPZxSSH3eFdqQCUUZfvcBy4ByGd0I3ZqKC5Ok7aFdRa5uxLpoFXYgElW7b(IbnFXYgECGKUuyIdFdq5Yj7mWixidmsovFjSudmqQnZXtkvu9a0Qu0XaT49mYHxYbsez(xgRbPikwfdFMedsZDDCGMthY9ahOutVchggOMzOug5dpSdAoDihoqPMEfommqcYlyoDihoqPMEfommqnZqP0LcyhK3Pg4aLA6v4WWajDPaKnUDEIlzgiHo1vCjoqPMEfommqEUoWbk10RWHHbQxcfwQn9EIduQPxHddddKpylU8EkiavQCjixVxR4sNw58flB4nXHbAX7zakRcajA1Nc8zsmOS58e(Iz(JxavDqzS8zDMpdmMlNSZaJCHmWi5u9LWsnajBPZxSSH3eFdqQCUUZfvcBy4B8ahOfVNHi5Yrv2b(gwbYPUkFC(ILn8wG3d8fdA(ILn84ajDPWeh(gGYLt2zGrUqgymNMV2tmqQnZXtkvu9a0Qu0XaT49mYHxYbsez(xgRbPikwfdFMedsZDDCGMthY9ahOutVchggOMzOug5dpSdAoDihoqPMEfommqcYlyoDihoqPMEfommqnZqP0LcyhK3Pg4aLA6v4WWajDPaKnUDEIlzgiHo1vCjoqPMEfommqEUoWbk10RWHHbQxcfwQn9EIduQPxHddddKpylU8EkiavQCjixVxR4sNw58flB4nXHbAX7zakRcajA1Nc8zsmOS58e(Iz(JxavDqzS8zDMpdmMlNSZaJCHmWyonFTNGKT05lw2WBIVbivox35IkHnm8nYcoqlEpdrYLJQSd8nScKtDv(48flB4TaVh4lg08flB4Xbs6sHjo8naLBBoFVCsgyKeu(AyGuBMJNuQO6bOvPOJbAX7zKdVKdKiY8VmwdsruSkg(mjgKM764anNoK7boqPMEfommqnZqPmYhEyh0C6qoCGsn9kCyyGeKxWC6qoCGsn9kCyyGAMHsPlfWoiVtnWbk10RWHHbs6sbiBC78exYmqcDQR4sCGsn9kCyyG8CDGduQPxHddduVekSuB69ehOutVchgggiFWwC59uqaQu5sqUEVwXLoTY5lw2WBIdd0I3Zauwfas0Qpf4ZKyqzZ5j8fZ8hVaQ6GYy5Z6mFgym32C(E5KmWijO81ajBPZxSSH3eFdqQCUUZfvcByyGYJVHvpmWaaa)vLmys5WcTyQu9yr1KLuxMYMvP(mPA0G0PbwnvsK61QGQztv3wP2TGFlYWLkhxfqOLlXZjz6exxrBxf67kOXRqoVc16vbA)QYmJnIr2Oqur8)0EN(tCtSMynBeh5W9TYeU6pdYPF)(fsw1V)vjo2H7BLjC9p4u3Y6LLL583XS)QelMoifAJ7mI6L0SJOnQlgQTAcNySUgiGui6VKcqx3kk2Oquz(7ktGGqeUdTMdv85N5sJiOMyXKNwx0hjgM7wbORBffxze9PynBeLO3cYpBe3tVayJcfIs0BbHnI7PxaSrHcXCFuPyJOce09gXk778(Cnmxuiov2vUpQueLY0iwI5gBe3tVayJcfIDh7KO3ccBe3tVayJcfI3XCbKcSrCp9cGnkuiwdUVb5tVmMnI7PxaSrHcXsYBSrCp9cGnkuOqmMlGJwRa01TsfNQnUGqHyoBCLXgrXgjzUKcccoOX1FvIXCbC0AfGUUvQ4uTXfeIsbORBf2iwSnXFiqiMggCi4ht4edXTPyJRmIvW2MCGu90QGflIYSd3kuiwSTdDwjkPcrxbX8Pss7lOGAJOa2wnfIDLKEXuQklwoqbsbUGquSrswLjqqiE(zU0ic1a6qfU6bHOpfRzJOe9wq(zJ4E6faBuOqCQSRGD0k0DIs0BbHnI7PxaSrHcrvNLZgrfiO7nUCsCp9cGnUYiCUCs4uOqm3hvk2iQabDVrSY(oVpxdZfX90la2i66Z6RvHdBbtxTcncNcfItLDL7JkfHtSeZn2iUNEbWgfke7o2jrVfe2iUNEbWgfkeNk7s1z5eoX7yUasb2iUNEbWgfkeRb33G8PxgZgX90la2OqHyj5n2iUNEbWgfkuik2ij7KKpvyJRm6IJUvDWGE)ocP33mio27lV7VQtUCYfekeh5W9TYe6IJzF)D7BwpNdCdIBzzoY7(79LyX0bPqBCNreKNceb1e)Ga0KF8tdLIf0LN2)t7)P9)0(FAojk2ijJ4t7a6ioeulq5QheIhmL2Cb50)beh7W9TYe6s)o2Bqwp3(799RBoh8N5iV7V3xIX6AGasHO)skaDDROyJcXWC3kaDDRO4kJOyJKmxsbH4zJ6kMsnmoMyEk5RtddeofU(zJOyJKmxsbbbh04kZnIJD4(wzcDP)QoDSkKQUniZjKS))SQ8U)EvjgZfWrRva66wPIt1gx9NbH4uzTuYlGo6orPa01TcBebITxXTXvwMZbFhqCQSRDuYHA1W4myeoXITJGaiOFL6SsusfIUcyiXqCBk24kJydQ90Cbum1tlD)0(CQeqUX1prxPyrpfIfBhbbqqNygeIQoZ7xXTXvgeieNk7Qy7iiac60DIZGD0ccX4useNk7sbnn0HaHtCQSlGy7vCBeoXIf9yN59R42iEc0yr3iov2LQZ8(vCBeorf00qhcevqtdDiCsk5RtddeTJwqiEsk5RtddpTklj9IPupnyJDM3dlItLDndaHWjMpvsAFbfuBefW2QPqSRK0lMsvzXYbkqkWfeIInsYQmbccXZpZLgrOgqhQqx6vndIZSV9Yg4SkKQ)o5D)9CJOpfRzJOe9wq(zJ4E6faBuOqCQSRGD0k0DIs0BbHnI7PxaSrHcrvNLZgrfiO7nUCsCp9cGnUYiCUCs4uOqm3hvk2iQabDVrSY(oVpxdZfX90la2i66Z6RvHdBbtxTcncNcfI1G7Bq(0lJzJ4E6faBuOqSeZn2iUNEbWgfkeljVXgX90la2OqHy3Xoj6TGWgX90la2OqH4DmxaPaBe3tVayJcfItLDL7JkfHtCQSlvNLt4uik2ijZLuqiE2OUIPudJJjoYH7BLj0fh)R6w2)3SVFZ(6w1Q)8U)QqiwmDqk0g3zeb5PaXHGAbkDPNJoZg4yvh75wviqCeIB8U)EUreeaYvEA35nXQ5kJOyJKmIpTdqreutC4WHdhoC4WHdhoC4WHdhoK4btPnxqo9FaXyDnqaPq0FjfGUUvuSXvgBeLcqx3kSrug3zeJZsKOA6UD0ccoVVbJiEDsFy7cB9bJnI5tLK2xqb1grbSTAI2rlieRGf9cuIQP72rlivwSBWiIyLND(5ebHJwrzeorvN59WSwXgfIH42uSXvgX(uDwU80s3pnbQ90obQzsekfIZaqi25JJTcXAZ959DBCNrScNDELU8bNtH4mifGUUvyJcfkeZt(uHnU6rxC7FqvhDM1lZnhZQcP3pV7VQtkefBKKDsYNkSXvgDXr3QoyqVFhH07Bgeh79L39x1jxo5ccfIZGua66wHnIkOPHoeiQGMg6q4KuYxNggiceBVIBJRSmNd(oGOQZ8(vCBCLbbcfIH5Uva66wrX1pX8uYxNggiCkC5KnIInsYCjfeeCqJRm3io2H7BLjC1F2aNeJ5c4O1kaDDRuXPAJlieLcqx3kSrei2Ef3gxzzoh8DaXPYU2rjhQvdJZGr4el2occGG(vQZkrjvi6kGHedXTPyJRmIUYqbQoR80s3pnbQ90wrbAXoiytHyX2rqae0jMbHOQZ8(vCBCLbbcXPYUk2occGGoDN4myhTGqmoLeXPYUuqtdDiq4eTJwqiEsk5RtddpTklj9IPupnyJDM3dlIfl6XoZ7xXTr8eOXIUrCQSlvN59R42iCIkOPHoeiQGMg6q4KuYxNggiov2fqS9kUncN4uzxZaqiCI5tLK2xqb1grbSTAke7kj9IPuvwSCGcKcCbHOyJKSktGGq88ZCPreQb0HkC1lJOpfRzJOe9wq(zJ4E6faBuOqCQSRGD0k0DIs0BbHnI7PxaSrHcXCFuPyJOce09gXk778(Cnmxe3tVayJORpRVwfoSfmD1k0iCkuiQ6SC2iQabDVXLtI7PxaSXvgHZLtcNcfI1G7Bq(0lJzJ4E6faBuOqSK8gBe3tVayJcfItLDP6SCcNy3Xoj6TGWgX90la2OqH4uzx5(Osr4eVJ5cifyJ4E6faBuOqSeZn2iUNEbWgfkuiovwlL8cOJUtCKd33ktOlvD(N93llRxwVE9(cXrE3Fp3ik2ijZLuqiE2OUIPudJJjwmDqk0g3zeb5PaXdMsBUGC6)aIdb1cuU65KiiaKR80UZBIvZvgrXgjzeFAhqhrqnrVPBH6yzmXzqkaDDRWgrf00qhcevqtdDiCsk5RtddebITxXTXvwMZbFhqu1zE)kUnUYGaHcXyDnqaPq0FjfGUUvuSXvgBeLcqx3kSrug3zeJZsKOA6UD0ccoVVbJiEDsFy7cB9bJnI1M7Z7724oJyfo78kD5doNOD0ccXkyrVaLOA6UD0csLf7gmIiw5zNForq4OvugHtCgacXoFCSvigIBtXgxze7t1z5YtlD)0eO2t7eOMjrOuiQ6mVhM1k2OqmFQK0(ckO2ikGTvtH4mifGUUvyJcfkeZt(uHnU6rxC7FqvhDM1lZnhZQcP3pV7VQtkefBKKDsYNkSXvgDXr3QoyqVFhH07Bgeh79L39x1jxo5ccfIH5Uva66wrX1pX8uYxNggiCkC1JnIInsYCjfeeCqJRm3iodsbORBf2iQGMg6qGOcAAOdHtsjFDAyGiqS9kUnUYYCo47aIQoZ7xXTX1pKF3YOqmMlGJwRa01TsfNQnUGqCQSwk5fqhDNOua66wHnI2rliepjL81PHHNwLLKEXuQNgSXoZ7HfXITj6iXzaieLyr3eItLDTJsouRggNbJWjwSDeeab9RuNvIsQq0vqCQSlvNLdUb5xZaqO7el2occGGorhjceBVIBJRSmNd(oGyX2o0zLOKkeDfeNk7AgacHtCQSRCOXIUPO7evDM3VIBJRFi)ULrCQSRITJGaiOt4eNb7OfeIXPKiov2LcAAOdbcNyAyWHGFmHtCQSlGy7vCBeoXIf9yN59R42i(5SwFBbH4uzxQoZ7xXTr4edXTPyJRmIFoR13wqOqubnn0Harf00qhcNKs(60WaXAZ959DBCNrSc9bJvSlFW5eZNkjTVGcQnIcyB1eNkdgTnHtHyxjPxmLQYILduGuGliefBKKvzceeINFMlnIqnGouHREze9PynBeLO3cYpBe3tVayJcfItLDfSJwHUtuIEliSrCp9cGnkuiQ6SC2iQabDVXLtI7PxaSXvgHZLtcNcfI5(OsXgrfiO7nIv23595AyUiUNEbWgrxFwFTkCyly6QvOr4uOqSgCFdYNEzmBe3tVayJcfILK3yJ4E6faBuOqSeZn2iUNEbWgfkeNk7s1z5eoX7yUasb2iUNEbWgfkeNk7k3hvkcNy3Xoj6TGWgX90la2OqHcrXgjzUKccXZg1vmLAyCmX8KpvyJRE0f3(hu1rNz9YCZXSQq69Z7(R6KcXIPdsH24oJiipfioeulq5QNtIGaqUYt7oVjwnxzefBKKr8PDaDeb1e)CQVTGq8GP0MliN(pGySUgiGui6VKcqx3kk24kJnIsbORBf2ikJ7mIXzjsunD3oAbbN33GreVoPpSDHT(GXgX8Pss7lOGAJOa2wnr7OfeIvWIEbkr10D7OfKkl2nyerSYZo)CIQoZ7HzTInkebHJwrzeoXqCBk24kJyFQolxEAP7NMa1EANa1mjcLcXzaie78XXwHyT5(8(UnUZiwHZoVsx(GZPqCgKcqx3kSrHcfIJC4(wzcDP)QqY(hK1dY)GSbdC(fcV7VNJefBKKDsYNkSXvgDXr3QoyqVFhH07Bgeh79L39x1jxo5ccfIJD4(wzcx9NnWjXWC3kaDDRO46NyEk5RtddeofUQYgrXgjzUKcccoOX1FvIJD4(wzcDP)Qo(N17VxMB9C(9RB)z8U)E9igZfWrRva66wPIt1gxqikfGUUvyJyX2e)HaHyAyWHGFmHtme3MInUYi6ABNcUhdgx)eDLJa)tlD)0WJrFKlNeRqAO)PLUFAWmOFmw4Qhrxdk62tlD)06lOBf3t1rUQse7afG80s3pnbQ90CLJfFQuR46lXt8wmOab9NMl(42OqSyBh6SsusfIUcI5tLK2xqb1grbSTAke7kj9IPuvwSCGcKcCbHOyJKSktGGq88ZCPreQb0Hk0LQU58RBz9CeYVJ)oZC7N393ZnI(uSMnIs0Bb5NnI7PxaSrHcXPYUc2rRq3jkrVfe2iUNEbWgfkeZ9rLInIkqq3BeRSVZ7Z1WCrCp9cGnIU(S(Av4WwW0vRqJWPqHOQZYzJOce09gxojUNEbWgxzeoxojCkuiov2vUpQueoXsYBSrCp9cGnkui2DStIEliSrCp9cGnkuiov2LQZYjCILyUXgX90la2OqH4DmxaPaBe3tVayJcfI1G7Bq(0lJzJ4E6faBuOqHOyJKmxsbH4zJ6kMsnmoMyX0bPqBCNreKNceh5W9TYe6IJvD6iKbqG0lZTVdg89lV7V3xIX6AGasHO)skaDDROyJcrXgjzeFAhqhXHGAbkD5lKQo2dIti)z9Qw153FE3Fp3iEWuAZfKt)hqeutukGWHBYt7)P9)0(FA)pT)NMtIH5Uva66wrXvgrXgjzNK8PcBCLrxC0TQdg073ri9(MbXXEF5D)vDYLtUGqHyEk5RtddeofU(YgrXgjzUKcccoOX1FvIXCbC0AfGUUvQ4uTXfeIsbORBf2iwSnXFiqiMggCi4ht4edXTPyJRmIvMeqk80s3pnbQ90CWx)0CLJfU(jEskCC6vGJ2tdHgRtdvC5KikflOlq5QhXZNU3VRNUtHyX2o0zLOKkeDfeZNkjTVGcQnIcyB1ui2vs6ftPQSy5afif4ccrXgjzvMabH45N5sJiudOdv4QxgrFkwZgrj6TG8ZgX90la2OqH4uzxb7OvO7eLO3ccBe3tVayJcfIQolNnIkqq3BC5K4E6faBCLr4C5KWPqHyUpQuSrubc6EJyL9DEFUgMlI7PxaSr01N1xRch2cMUAfAeofkeRb33G8PxgZgX90la2OqHyj5n2iUNEbWgfkeNk7k3hvkcNy3Xoj6TGWgX90la2OqH4uzxQolNWjEhZfqkWgX90la2OqHyjMBSrCp9cGnkuOquSrsMlPGq8SrDftPgghtuSrs2jjFQWgxz0fhDR6Gb9(DesVVzqCS3xE3FvNC5KliuioYH7BLjC1VJojwmDqk0g3zeb5PaXyDnqaPq0FjfGUUvuSrHOyJKmIpTdOJ4qqTaLREojEWuAZfKt)hqCSd33kt4Q)SbojcQjkfq4WfRK90(FA)pT)N2)tZjXWC3kaDDRO4kJyEk5RtddeofUCJnIInsYCjfeeCqJR)Qeh5W9TYeUYGKrCSd33kt4Q)SbojgZfWrRva66wPIt1gxqikfGUUvyJyX2e)HaHy(ujP9fuqTruaBRMyAyWHGFmHtme3MInUYiEskKNk1XqU90s3pnbQ90o30bPWD07PqSyBh6SsusfIUcke7kj9IPuvwSCGcKcCbHOyJKSktGGq88ZCPreQb0HkC1lJOpfRzJOe9wq(zJ4E6faBuOqCQSRGD0k0DIs0BbHnI7PxaSrHcXCFuPyJOce09gXk778(Cnmxe3tVayJORpRVwfoSfmD1k0iCkuiQ6SC2iQabDVXLtI7PxaSXvgHZLtcNcfI1G7Bq(0lJzJ4E6faBuOqSK8gBe3tVayJcfILyUXgX90la2OqHy3Xoj6TGWgX90la2OqH4DmxaPaBe3tVayJcfItLDP6SCcN4uzx5(Osr4uik2ijZLuqiE2OUIPudJJjwmDqk0g3zeb5PaXWC3kaDDRO4kJOyJKSts(uHnUYOlo6w1bd697iKEFZG4yVV8U)Qo5YjxqOquSrsgXN2b0rCiOwGYvpNeJ11abKcr)Lua66wrXgfIGAIsbeoCXkzpT)N2)t7)P9)0Qs8GP0MliN(pGyEk5RtddeofUCKnIInsYCjfeeCqJR)QeJ5c4O1kaDDRuXPAJlieLcqx3kSrSyBI)qGqmnm4qWpMWjgIBtXgxzeHrGouXst1t7a1k1GCHcXITDOZkrjvi6kiMpvsAFbfuBefW2QPqSRK0lMsvzXYbkqkWfeIInsYQmbccXZpZLgrOgqhQWvVmI(uSMnIs0Bb5NnI7PxaSrHcXPYUc2rRq4eLO3ccBe3tVayJcfIQolNnIkqq3BC5K4E6faBCLr4C5KWPqHyUpQuSrubc6EJyL9DEFUgMlI7PxaSr01N1xRch2cMUAfAeofkeNk7k3hvkcNyjMBSrCp9cGnkuiwdUVb5tVmMnI7PxaSrHcXUJDs0BbHnI7PxaSrHcXPYUuDwoHt8oMlGuGnI7PxaSrHcXsYBSrCp9cGnkuOquSrs2jjFQWgxz0fhDR6Gb9(DesVVzqCS3xE3FvNC5Kliuik2ijZLuqiE2OUIPudJJjwmDqk0g3zeb5PaXdMsBUGC6)aIInsYi(0oGoIX6AGasHO)skaDDROyJcrqnrvCBehcQfOC1ZjXroCFRmHRmizedZDRa01TIIRmIJD4(wzcx9NnWjX8uYxNggiCkCnGnIInsYCjfeeCqJRE)eh5W9TYe6s)vh0Zn3(D87aNvRoWjKQ8U)Evjo2H7BLj0L()oWTEqCM52ah791XVqCY7(71JymxahTwbORBLkovBCbHOua66wHnIfBt8hceI5tLK2xqb1grbSTAIPHbhc(XeoXqCBk24kJimAsb4(uaPafIfB7qNvIsQq0vqHyxjPxmLQYILduGuGliefBKKvzceeINC2QDgmseQb0Hk0LV9G81Xbo6ywvNo)2RNJ8U)EFj6tXA2ikrVfKF2iUNEbWgfkeNk7kyhTcDNOe9wqyJ4E6faBuOqm3hvk2iQabDVrSY(oVpxdZfX90la2i66Z6RvHdBbtxTcncNcfIQolNnIkqq3BC5K4E6faBCLr4C5KWPqHyn4(gKp9Yy2iUNEbWgfkeljVXgX90la2OqHyjMBSrCp9cGnkui2DStIEliSrCp9cGnkuiEhZfqkWgX90la2OqH4uzxQolNWjov2vUpQueofIInsYoj5tf24kJU4OBvhmO3VJq69ndIJ9(Y7(R6KlNCbHcrXgjzUKccXZg1vmLAyCmXIPdsH24oJiipfik2ijJ4t7a6ioeulqPlF)hm4RJU5yVSVdC(DWxE3FVVeJ11abKcr)Lua66wrXgfIGAIsbeoCXkzpT)N2)t7)P9)06r8GP0MliN(pGyyUBfGUUvuCLrmpL81PHbcNcxzqyJOyJKmxsbbbh04YPtIJC4(wzcx97yvIZGua66wHnIaX2R424klZ5GVdiQ6mVFf3gx)qCZzVbuigZfWrRva66wPIt1gxqikfGUUvyJyX2eDcHOQZ8Eywt8hIBo7nGyX2rqae0VsDwjkPcrxbmKyiUnfBCLr8KYufRnkel2occGGoXmieNk7s1zE)kUncNiqS9kUnUYYCo47aI1ZsuaPaXFieZNkjTVGcQnIcyB1eNk7AgacHtCQSlvAwYTvCB0DIfB7qNvIsQq0vqCgSJwqikGTvtCQSlf00qhceorvAwYTvCBeXUu6WbgXPYUaITxXTr4evt3TJwqW59nyeXRt6dBx4hCYjNHiXPYUuDM3dZA6oXqCBeDDSC4pT(kUdeRqCQSlvAwYTpiaecNOcAAOdbIkOPHoeojL81PHbItLDvSDeeabDcNOknl52heacXoFCSviQ6mVFf3gX(ogLyHcXUssVykvLflhOaPaxqik2ijRYeiiep)mxAeHAaDOcxvHCAVbe9PynBeLO3cYpBe3tVayJcfItLDfSJwHUtuIEliSrubc6EJRFie3tVayJRSbeofkevDwoBevGGU34YjX90la24kJW5YjHtHcXCFuPyJOce09gXk778(Cnmxe3tVayJORpRVwfoSfmD1k0iCkuiov2vUpQueoXsYBSrCp9cGnkui2DStIEliSrCp9cGnkuiov2LQZYjCI1G7Bq(0lJzJ4E6faBuOqSeZn2iUNEbWgfkeVJ5cifyJ4E6faBuOqHynq15JJHzEkqeMbXk3XCZvcmZtbLRK(YHcSJ22cYL7jL6sDm6JQuPKgQxIhnIInsYoj5tf24kJU4OBvhmO3VJq69ndIJ9(Y7(R6KlNCbHcXIPdsH24oJiipfio2H7BLjC1)FVQehcQfOCvTkrXgjzeFAhqhrqnX(ogLy5P9)0(jEWuAZfKt)hqmwxdeqke9xsbORBffBuigM7wbORBffxzefBKK5skiepBuxXuQHXXeZtjFDAyGWjovwlL8cOJUtHRSm2ik2ijZLuqqWbnUQwL4yhUVvMWv))9QsmMlGJwRa01TsfNQnUGqmga7Oasb2iUJGaBeZt(ubg5kJy9SefqkqeYPzeZt(uPpUYiMN8PIRYvgXPYUKsmO8rXiCIsjgu(OyUmd5eFApTN2tRyYSeEA3ZqUasby3vs6ftPo0ttjXI8Hh6PPKyrGbh6PvBEj(Hh6PvBEjcdG17ZN2t7P90EApnFkp6FAXGU3EAWWNgS7kj9IPupTkYtdYP)vH1t7JpT)N2hFA7Oa90oW7ZN2t7P90EApTIjZs4PPKyr(WNwf5Pb7DuGEAEsb7yq3BW6P9XNwT5L4h(0(4tBhfONMNuWog092h)HfSo0ttjXIadEAvKNgS3rb6Pr3vWEhfONMNuWog09gSG1t7JpTAZlryWt7JpTDuGEQceGDmO7Tp(dly9(8P90EApnlu)(8P90iQYJEBmxzeJ(oOrUGqCmx9NrCexzeLsmO8rXAJ7mIQoqj6JH6UPxze7kMYeIrFh0yLtVYiwssumUGquLh92iUYiMN8PcCUYOqHOua66wHnIaX2R424klZ5GVdiov2fiC0kkJWjgIBtXgxzeR0h1N2t7CZYHsHyX2rqae0jMrmFQK0(ckO2ikGTvtug3zevsuMkIZGD0ccX4useNk7sbnn0HaHtSy7iiac6xPoReLuH4bMOD0ccXtsjFDAy4PvzjPxmL6PbBSZ8EyrSyrp2zE)kUnI9D0c6GG(tZvUefOeNk7s1zE)kUncNOQZ8(vCBC5mZrh7rubnn0Harf00qhcWOfRhtCQSlGy7vCBeoXPYUMbGq4eNk7Qy7iiac60DkeHAaDOcxvHCAVbe9PynBeLO3cYpBe3tVayJcfItLDfSJwHUtuIEliSrCp9cGnUYgq4uOqu1z5Srubc6EJlNe3tVayJRmcNlNeofkelXCJnI7PxaSrHcXPYUY9rLIWjwsEJnI7PxaSrHcXUJDs0BbHnI7PxaSrHcXPYUuDwoHtm3hvk2iQabDVrSY(oVpxdZfX90la2i66Z6RvHdBbtxTcncNcfI3XCbKcSrCp9cGnkuiwdUVb5tVmMnI7PxaSrHcfIInsYoj5tf24kJU4OBvhmO3VJq69ndIJ9(Y7(R6KlNCbHcXroCFRmHR(DSkXIPdsH24oJiipficca5kpT78My1CLruSrsgXN2b0rCiOwGYv1QeVlXTHsjkrUCs8GP0MliN(pGySUgiGui6VKcqx3kk2OqeutmEmkXYt7)P9)0(jodsbORBf2iQGMg6qGOcAAOdby0I1JjceBVIBJRSmNd(oGOQZ8(vCBC5mZrh7rHyyUBfGUUvuCLrmpL81PHb6ofUY(zJOyJKmxsbbbh0463nIZGua66wHnIaX2R424klZ5GVdiQ6mVFf3gxoZC0XEuigZfWrRva66wPIt1gxqikfGUUvyJiqS9kUnUYYCo47aIfBhbbqq)k1zLOKkepWeNk7AgacHtSy7iiac6eZGqu1zE)kUnUCM5OJ9ikJ7mIkjktfXzWoAbHyCkjItLDPGMg6qGWjov2fqS9kUncNyXIESZ8(vCBe77Of0bb9NMRCjkqjov2LQZ8(vCBeoXqCBk24kJyL(O(0EANBwoukevqtdDiqubnn0HWjPKVonmqCQSRITJGaiOt3jAhTGq8KuYxNggEAvws6ftPEAWg7mVhweZNkjTVGcQnIcyB1ui2vs6ftPQSy5afif4ccrXgjzvMabH4jNTANbJeHAaDOcxvHCAVbe9PynBeLO3cYpBe3tVayJcfItLDfSJwHUtuIEliSrubc6EJRFie3tVayJRSbeofkevDwoBevGGU34YjX90la24kJW5YjHtHcXAW9niF6LXSrCp9cGnkuiov2vUpQueoXsYBSrCp9cGnkuiEhZfqkWgX90la2OqH4uzxQolNWjM7JkfBevGGU3iwzFN3NRH5I4E6faBeD9z91QWHTGPRwHgHtHcXsm3yJ4E6faBuOqS7yNe9wqyJ4E6faBuOqH4uzTuYlGo6oXroCFRmHR(DSkrXgjzUKccXZg1vmLAyCmXIPdsH24oJiipfioeulq5QAvIGaqUYt7oVjwnxzefBKKr8a6iExIBdLsuIC5KiOMy8yuILNMZN2)t7N4btPnxqo9FaXyDnqaPq0FjfGUUvuSrHOyJKSts(uHnU(Plv)wnRQBFHa5FGB9CRheE3Fv34YjxqOqmm3Tcqx3kkUYio2H7BLjC1)FVQeZtjFDAyGUtS2urzwIIr4u4kZjBefBKK5skii4GgxoDsCgKcqx3kSrei2Ef3gxzzoh8DarvN59R4246hIBo7nGcXyUaoATcqx3kvCQ24ccXPYAPKxaD0DIsbORBf2iQMUBhTGGZ7BWiIxN0h2UWp4KtodrIaX2R424klZ5GVdiQ6mVhM1e)H4MZEdiov2vX2rqae0jCIfBhbbqq)k1zLOKkeDfWqIfBhbbqqNygeI5tLK2xqb1grbSTAI1ZsuaPaXFievDM3VIBJyFhJsSqCQSlvN59WSMUtuLMLCBf3grSlLoCGrme3MInUYic3hRTNw6(P95ujGCJcXzWoAbHOa2wnXPYUuqtdDiq4eNk7ci2Ef3gHtCQSlvN59R42iCIH42i66y5WFA9vChiwH4uzxQ0SKBFqaieorf00qhcevqtdDiCsk5RtddeNk7AgacHtuLMLC7dcaHyNpo2keNk7sLMLCBf3gDNcXUssVykvLflhOaPaxqik2ijRYeiiep)mxAeHAaDOcxvHCAVbe9PynBeLO3cYpBe3tVayJcfItLDfSJwHUtuIEliSrubc6EJRFie3tVayJRSbeofkeZ9rLInIkqq3BeRSVZ7Z1WCrCp9cGnIU(S(Av4WwW0vRqJWPqHOQZYzJOce09gxojUNEbWgxzeoxojCkuiwdUVb5tVmMnI7PxaSrHcXsYBSrCp9cGnkuiEhZfqkWgX90la2OqH4uzxQolNWj2DStIEliSrCp9cGnkuiwI5gBe3tVayJcfItLDL7JkfHtHynq15JJHzEkqeMbXk3XCZvcmZtbLRK(YHcSJ22cYL7jL6sDm6JQuPKgQxIhnIJC4(wzcxzqQsuSrs2jjFQWgxz0fhDR6Gb9(DesVVzqCS3xE3FvNC5KliuiwmDqk0g3zeb5PaXHGAbkxvRsuSrsgXN2b0reut8KKpPut1td3rf0NwvIhmL2Cb50)beJ11abKcr)Lua66wrXgfIH5Uva66wrXvgXXoCFRmHR()7vLyEk5RtddeorXgjzUKccXZg1vmLAyCmfUY6XgrXgjzUKcccoOX1VBeh5W9TYeUYGuL4yhUVvMWv))9QsmMlGJwRa01TsfNQnUGqCQSwk5fqhDNOua66wHnIaX2R424klZ5GVdiwSDeeab9RuNvIsQq8atme3MInUYiwPpQpTN25MLdLcXITJGaiOtmdcrvN59R424kZXEvDRkXPYUk2occGGoDN4myhTGqmoLeXPYUuqtdDiq4eNk7ci2Ef3gHtSyrp2zE)kUnIW9XA7PLUFAFovci3iov2LQZ8(vCBeoX8Pss7lOGAJOa2wnrf00qhcevqtdDiCsk5RtddeLXDgrLeLPIOD0ccXtsjFDAy4PvzjPxmL6PbBSZ8EyrCQSRzaieofI1MkkZsumcNyxjPxmLQYILduGuGliefBKKvzceeINC2QDgmseQb0HkCvfYP9gq0NI1SruIEli)SrCp9cGnkuiov2vWoAf6orj6TGWgrfiO7nU(HqCp9cGnUYgq4uOqm3hvk2iQabDVrSY(oVpxdZfX90la2i66Z6RvHdBbtxTcncNcfIQolNnIkqq3BC5K4E6faBCLr4C5KWPqH4uzx5(Osr4eljVXgX90la2OqH4DmxaPaBe3tVayJcfItLDP6SCcNy3Xoj6TGWgX90la2OqHyjMBSrCp9cGnkuiwdUVb5tVmMnI7PxaSrHcfIInsYCjfeINnQRyk1W4yIfthKcTXDgrqEkqCiOwGYv1QebbGCLN2DEtSAUYik2ijJ4b0r8Ue3gkLOe5YjXyDnqaPq0FjfGUUvuSrH4btPnxqo9FarqnXts(KsnvpnChvqFAoFAojk2ij7KKpvyJRF6s1VvZQ62xiq(h4wp36bH39x1nUCYfekeNbPa01TcBebITxXTXvwMZbFhqu1zE)kUnUYCSxv3QsHyyUBfGUUvuCLrmpL81PHbcNcxzvzJOyJKmxsbbbh04QAvIJD4(wzcx9)3RkXyUaoATcqx3kvCQ24ccrPa01TcBebITxXTXvwMZbFhqCQSlq4OvugHtCQSRzaieoXITJGaiOtmJOQZ8(vCBCL5yVQUvL4uzxfBhbbqqNUtCgSJwqigNsI4uzxkOPHoeiCIH42uSXvgXk9r9P90o3SCOuiov2fqS9kUncNyXIESZ8(vCBeH7J12tlD)0(CQeqUrCQSlvN59R42iCIY4oJOsIYurubnn0Harf00qhcWOfRhtSy7iiac6xPoReLuH4bMOD0ccXtsjFDAy4PvzjPxmL6PbBSZ8EyrmFQK0(ckO2ikGTvtHiudOdv4QkKt7nGOpfRzJOe9wq(zJ4E6faBuOqCQSRGD0k0DIs0BbHnI7PxaSXv2acNcfI5(OsXgrfiO7nIv23595AyUiUNEbWgrxFwFTkCyly6QvOr4uOqu1z5Srubc6EJlNe3tVayJRmcNlNeofkeNk7k3hvkcNyjMBSrCp9cGnkui2DStIEliSrCp9cGnkuiov2LQZYjCILK3yJ4E6faBuOq8oMlGuGnI7PxaSrHcXAW9niF6LXSrCp9cGnkuOqCKd33kt4kdsvIXayhfqkWgXDeeyJyEYNkWixzeRNLOasbIqonJyEYNk9XvgX8KpvCvUYiov2LuIbLpkgHtukXGYhfZLziN4t7P90EAftMLWt7EgYfqka7UssVyk1HEAkjwKp8qpnLelcm4qpTAZlXp8qpTAZlryaSEF(0EApTN2t7P5t5r)tlg092tdg(0GDxjPxmL6PvrEAqo9VkSEAF8P9)0(4tBhfON2bEF(0EApTN2t7PvmzwcpnLelYh(0QipnyVJc0tZtkyhd6EdwpTp(0QnVe)WN2hFA7Oa908Kc2XGU3(4pSG1HEAkjweyWtRI80G9okqpn6Uc27Oa908Kc2XGU3GfSEAF8PvBEjcdEAF8PTJc0tvGaSJbDV9XFybR3NpTN2t7PzH63NpTNgXUIPmHy03bnw50RmIrFh0ixqioMR(ZioIRmIsjgu(OyTXDgrvhOe9XqD30RmIQ8O3gZvgXssIIXfeI5jFQaNRmIQ8O3gXvgfkelMoifAJ7mIG8uGySUgiGui6VKcqx3kk2OqeeaYvEA35nXQ5kJOyJKmIpTdOJ4qqTaLRQvjExIBdLsuIC5K4btPnxqo9FarqnXts(KsnvpnChvqFA)pnNedZDRa01TIIRmIZGua66wHnIkOPHoeiQGMg6qagTy9yIaX2R424klZ5GVdiQ6mVFf3gxzo2RQBvPquSrs2jjFQWgxz0fhDR6Gb9(DesVVzqCS3xE3FvNC5KliuiMNs(60WaDNcxzFzJOyJKmxsbbbh04YPtIZGua66wHnIQoZ7xXTX1pKQ)U5K4maeIsSOBcfIXCbC0AfGUUvQ4uTXfeIXCbKck2iQKyryJyD6s3Ngs3jQ7tdVI5cificfuBe19PHx3L42i6kBXdVVzjQCLk8OiE7PLxg)0(FA)eRtxQ0mut3PqeeacBeRtx5tLK20DkuiovwlL8cOJUtukaDDRWgrGy7vCBCbHOQZ8Eywt8hIBo7nGOD0ccXtsjFDAy4PvzjPxmL6PbBSZ8EyrSEwIcifi6iXITJGaiOFL6SsusfIUcyiXPYUMbGq4el2occGGorhjgIBtXgxze)CwRVTGqH4maeIsSOBcXPYUuDM3dZA6orvAwYTvCBeXUu6WbgrvN59R4246hs1F3CsmFQK0(ckO2ikGTvtCQSRITJGaiOt4eLXDgrLeLPI4myhTGqmoLeXPYUuqtdDiq4eNk7sLMLCBf3gDN4uzxaX2R42iCIfl6XoZ7xXTr0voE42tlD)06tb1ueNk7s1zE)kUncNyiUnIUowo8NwFf3bIviov2Lknl52heacHtubnn0Harf00qhcNKs(60War10D7OfeCEFdgr86K(W2f(bNCYzisuLMLC7dcaHyNpo2keNkdgTnHtHyxjPxmLQYILduGuGliefBKKvzceeINFMlnIqnGouHRQqoT3aI(uSMnIs0Bb5NnI7PxaSrHcXPYUc2rRq3jkrVfe2iQabDVX1peI7PxaSXv2acNcfI5(OsXgrfiO7nIv23595AyUiUNEbWgrxFwFTkCyly6QvOr4uOqu1z5Srubc6EJlNe3tVayJRmcNlNeofkeRb33G8PxgZgX90la2OqHyj5n2iUNEbWgfkeVJ5cifyJ4E6faBuOqCQSlvNLt4e7o2jrVfe2iUNEbWgfkelXCJnI7PxaSrHcXPYUY9rLIWPquSrs2jjFQWgxz0fhDR6Gb9(DesVVzqCS3xE3FvNC5KliuiwduD(4yyMNceHzqSYDm3CLaZ8uq5kPVCOa7OTTGC5EsPUuhJ(OkvkPH6L4rJ4ihUVvMWv))ojk2ijZLuqiE2OUIPudJJjwmDqk0g3zeb5PaXHGAbkxvRseeaYvEA35nXQ5kJOyJKmIpTdOJ4btPnxqo9Farqnr4rr82tlVm(P9)0(jgRRbcifI(lPa01TIInkeh7W9TYeU6)VxvIH5Uva66wrXvgX8uYxNggiCkCL5gBefBKK5skii4GgxvRsCSd33kt4Q))EvjgZfWrRva66wPIt1gxqikfGUUvyJiqS9kUnUYYCo47aItLDbchTIYiCItLDndaHWjwSDeeabDIzevDM3VIBJRFiv)DZjXPYUk2occGGoDN4myhTGqmoLeXPYUuqtdDiq4edXTPyJRmIv6J6t7PDUz5qPqCQSlGy7vCBeoXIf9yN59R42i6khpC7PLUFA9PGAkItLDP6mVFf3gHtug3zevsuMkIkOPHoeiQGMg6qagTy9yIfBhbbqq)k1zLOKkepWeTJwqiEsk5RtddpTklj9IPupnyJDM3dlI5tLK2xqb1grbSTAkeHAaDOcxvHCAVbe9PynBeLO3cYpBe3tVayJcfItLDfSJwHUtuIEliSrCp9cGnUYgq4uOqm3hvk2iQabDVrSY(oVpxdZfX90la2i66Z6RvHdBbtxTcncNcfIQolNnIkqq3BC5K4E6faBCLr4C5KWPqH4uzx5(Osr4elXCJnI7PxaSrHcXUJDs0BbHnI7PxaSrHcXPYUuDwoHtSK8gBe3tVayJcfI3XCbKcSrCp9cGnkuiwdUVb5tVmMnI7PxaSrHcfIJC4(wzcx9)7Kyma2rbKcSrChbb2iMN8PcmYvgX6zjkGuGiKtZiMN8PsFCLrmp5tfxLRmItLDjLyq5JIr4eLsmO8rXCzgYj(0EApTNwXKzj80UNHCbKcWURK0lMsDONMsIf5dp0ttjXIado0tR28s8dp0tR28segaR3NpTN2t7P90EA(uE0)0IbDV90GHpny3vs6ftPEAvKNgKt)RcRN2hFA)pTp(02rb6PDG3NpTN2t7P90EAftMLWttjXI8HpTkYtd27Oa908Kc2XGU3G1t7JpTAZlXp8P9XN2okqpnpPGDmO7Tp(dlyDONMsIfbg80QipnyVJc0tJURG9okqpnpPGDmO7nybRN2hFA1MxIWGN2hFA7Oa9ufia7yq3BF8hwW695t7P90EAwO(95t7PrSRyktig9DqJvo9kJy03bnYfeIJ5Q)mIJ4kJOuIbLpkwBCNru1bkrFmu3n9kJOkp6TXCLrSKKOyCbHyEYNkW5kJOkp6TrCLrHcXIPdsH24oJiipfigRRbcifI(lPa01TIInkebbGCLN2DEtSAUYik2ijJ4t7a6ioeulq5QAvI3L42qPeLixojEWuAZfKt)hqeut09OiE7PLxg)0(FA)pTFIH5Uva66wrXvgXzqkaDDRWgrf00qhcevqtdDiaJwSEmrGy7vCBCLL5CW3bevDM3VIBJRFiv)DZjfIInsYoj5tf24kJU4OBvhmO3VJq69ndIJ9(Y7(R6KlNCbHcX8uYxNggO7u4kZr2ik2ijZLuqqWbnU(DJ4ihUVvMWv))ojo2H7BLjC1)FVQeJ5c4O1kaDDRuXPAJlieNkRLsEb0r3jkfGUUvyJiqS9kUnUYYCo47aIfBhbbqq)k1zLOKkepWedXTPyJRmIv6J6t7PDUz5qPqSy7iiac6eZGqu1zE)kUnU(Hu93nNeNk7Qy7iiac60DIZGD0ccX4useNk7sbnn0HaHtCQSlGy7vCBeoXIf9yN59R42i6khpC7PLUFA9PGAkItLDP6mVFf3gHtmFQK0(ckO2ikGTvtubnn0Harf00qhcNKs(60WarzCNrujrzQiAhTGq8KuYxNggEAvws6ftPEAWg7mVhweNk7AgacHtHyTPIYSefJWj2vs6ftPQSy5afif4ccrXgjzvMabH4jNTANbJeHAaDOcxvHCAVbe9PynBeLO3cYpBe3tVayJcfItLDfSJwHUtuIEliSrubc6EJRFie3tVayJRSbeofkeZ9rLInIkqq3BeRSVZ7Z1WCrCp9cGnIU(S(Av4WwW0vRqJWPqHOQZYzJOce09gxojUNEbWgxzeoxojCkuiov2vUpQueoXsYBSrCp9cGnkuiEhZfqkWgX90la2OqH4uzxQolNWj2DStIEliSrCp9cGnkuiwI5gBe3tVayJcfI1G7Bq(0lJzJ4E6faBuOqHOyJKmxsbH4zJ6kMsnmoMyX0bPqBCNreKNcehcQfOCvTkrqaix5PDN3eRMRmIInsYiEaDeVlXTHsjkrUCsmwxdeqke9xsbORBffBuiEWuAZfKt)hqeut09OiE7PLxg)0C(0(FA)efBKKDsYNkSX1pDP63QzvD7lei)dCRNB9GW7(R6gxo5ccfIZGua66wHnIaX2R424klZ5GVdiQ6mVFf3gx)qQ(7MtkedZDRa01TIIRmI5PKVonmq4u4kBaBefBKK5skii4GgxoHqCgKcqx3kSrei2Ef3gxzzoh8DarvN59R4246hIBo7nGcXyUaoATcqx3kvCQ24ccrPa01TcBevt3TJwqW59nyeXRt6dBx4hCYjNHirGy7vCBCLL5CW3bevDM3dZAI)qCZzVbevDM3VIBJyFhJsSqSy7iiac6xPoReLuHORagsme3MInUYiEszQI1w5PHsbC4gfIfBhbbqqNygeIQ0SKBR42iIDP0HdmItLDndaHWjov2Lknl52kUn6oXPYUuDM3VIBJWjov2vX2rqae0jCI1ZsuaPaXFieNb7OfeIcyB1eNk7sbnn0HaHtCQSlGy7vCBeoXPYUuDM3dZA6oXqCBeDDSC4pT(kUdeRqCQSlvAwYTpiaecNOcAAOdbIkOPHoeojL81PHbI5tLK2xqb1grbSTAIQ0SKBFqaie78XXwHcXUssVykvLflhOaPaxqik2ijRYeiiep)mxAeHAaDOcxvHCAVbe9PynBeLO3cYpBe3tVayJcfItLDfSJwHUtuIEliSrubc6EJRFie3tVayJRSbeofkevDwoBevGGU34YjX90la24kJW5YjHtHcXCFuPyJOce09gXk778(Cnmxe3tVayJORpRVwfoSfmD1k0iCkuiwdUVb5tVmMnI7PxaSrHcXsYBSrCp9cGnkui2DStIEliSrCp9cGnkuiov2LQZYjCItLDL7JkfHtSeZn2iUNEbWgfkeVJ5cifyJ4E6faBuOqHOyJKmxsbH4zJ6kMsnmoMynq15JJHzEkqeMbXk3XCZvcmZtbLRK(YHcSJ22cYL7jL6sDm6JQuPKgQxIhnIJC4(wzcx9CsuSrs2jjFQWgxz0fhDR6Gb9(DesVVzqCS3xE3FvNC5KliuiwmDqk0g3zeb5PaXHGAbkxvRsuSrsgXN2b0rmwxdeqke9xsbORBffBuiEWuAZfKt)hqeuteUpwBkjv2pTEedZDRa01TIIRmIJD4(wzcx9)3RkX8uYxNggiCItL1sjVa6O7u46hcBefBKK5skii4GgxzvjodsbORBf2iQGMg6qGOcAAOdby0I1JjceBVIBJRSmNd(oGOQZ8(vCBC5SQZbvPqmMlGJwRa01TsfNQnUGqmga7Oasb2iUJGaBeZt(ubg5kJy9SefqkqeYPzeZt(uPpUYiMN8PIRYvgXPYUKsmO8rXiCIsjgu(OyUmd5eFApTN2tRyYSeEA3ZqUasby3vs6ftPo0ttjXI8Hh6PPKyrGbh6PvBEj(Hh6PvBEjcdG17ZN2t7P90EApnFkp6FAXGU3EAWWNgS7kj9IPupTkYtdYP)vH1t7JpT)N2hFA7Oa90oW7ZN2t7P90EApTIjZs4PPKyr(WNwf5Pb7DuGEAEsb7yq3BW6P9XNwT5L4h(0(4tBhfONMNuWog092h)HfSo0ttjXIadEAvKNgS3rb6Pr3vWEhfONMNuWog09gSG1t7JpTAZlryWt7JpTDuGEQceGDmO7Tp(dly9(8P90EApnlu)(8P90i2vmLjeJ(oOXkNELrm67Gg5ccXXC1FgXrCLrukXGYhfRnUZiQ6aLOpgQ7MELruLh92yUYiwssumUGquLh92iUYiMN8PcCUYOqHOua66wHnIaX2R424klZ5GVdiwSDeeab9RuNvIsQq8atCQSRzaieoXITJGaiOtmJOQZ8(vCBC5SQZbvjov2vX2rqae0P7eNb7OfeIXPKiov2LcAAOdbcN4uzxGWrROmcN4uzxaX2R42iCIfl6XoZ7xXTr8KYufRTYtdLc4WnItLDP6mVFf3gHt0oAbH4jPKVonm80QSK0lMs90Gn2zEpSiQGMg6qGOcAAOdby0I1JjgIBtXgxzeR0h1N2t7CZYHsHy(ujP9fuqTruaBRMOmUZiQKOmvuic1a6qfUQc50Edi6tXA2ikrVfKF2iUNEbWgfkeNk7kyhTcDNOe9wqyJ4E6faBCLnGWPqHOQZYzJOce09gxojUNEbWgxzeoxojCkuiM7JkfBevGGU3iwzFN3NRH5I4E6faBeD9z91QWHTGPRwHgHtHcXPYUY9rLIWjwI5gBe3tVayJcfIDh7KO3ccBe3tVayJcfItLDP6SCcNyn4(gKp9Yy2iUNEbWgfkeVJ5cifyJ4E6faBuOqSK8gBe3tVayJcfkefBKKDsYNkSXvgDXr3QoyqVFhH07Bgeh79L39x1jxo5ccfIJC4(wzcx9CsSy6GuOnUZicYtbIGaqUYt7oVjwnxzefBKKr8PDaDehcQfOCvTkX7sCBOuIsKlNepykT5cYP)digRRbcifI(lPa01TIInkeb1eH7J1MssL9t7)P9tCSd33kt4Q))EvjgM7wbORBffxzeZtjFDAyGUtHR)m2ik2ijZLuqqWbnU(HqCgKcqx3kSrei2Ef3gxzzoh8DarvN59R424YzvNdQsHymxahTwbORBLkovBCbHOua66wHnIaX2R424klZ5GVdiwSDeeab9RuNvIsQq8atme3MInUYiwPpQpTN25MLdLcXITJGaiOtmdcrvN59R424YzvNdQsCQSRITJGaiOt3jod2rlieJtjrCQSlf00qhceor7OfeINKs(60WWtRYssVyk1td2yN59WIyXIESZ8(vCBepPmvXAR80qPaoCJ4uzxQoZ7xXTr4eNk7AgacHtubnn0Harf00qhcNKs(60WarzCNrujrzQiov2fqS9kUncNy(ujP9fuqTruaBRMcXUssVykvLflhOaPaxzefBKKvzceeIWDO1COIjc1a6qfUQc50Edi6tXA2ikrVfKF2iUNEbWgfkeNk7kyhTcDNOe9wqyJOce09gx)qiUNEbWgxzdiCkuiQ6SC2iQabDVXLtI7PxaSXvgHZLtcNcfI5(OsXgrfiO7nIv23595AyUiUNEbWgrxFwFTkCyly6QvOr4uOqCQSRCFuPiCILK3yJ4E6faBuOqS7yNe9wqyJ4E6faBuOqCQSlvNLt4eRb33G8PxgZgX90la2OqHyjMBSrCp9cGnkuiEhZfqkWgX90la2OqHcXPYAPKxaD0DIJC4(wzcx9CsuSrsMlPGq8SrDftPgghtSy6GuOnUZicYtbIdb1cuUQwLiiaKR80UZBIvZvgrXgjzepGoI3L42qPeLixojgRRbcifI(lPa01TIInkepykT5cYP)dicQjc3hRnLKk7NMZN2prXgjzNK8PcBC9txQ(TAwv3(cbY)a365wpi8U)QUXLtUGqHyyUBfGUUvuCLrCSd33kt4Q))EvjMNs(60WaHtS2urzwIIr4u46)NnIInsYCjfeeCqJlNUrmMlGJwRa01TsfNQnUGqmMlGuqXgXBqaOGYgX60LUpnKWPqHOua66wHnIfBt8hceIPHbhc(XeoXqCBk24kJORbhbb7PHqbMVMcXITDOZkrjvi6kiMpvsAFbfuBefW2QPqSRK0lMsvzXYbkqkWfeIInsYQmbccXZpZLgrOgqhQqx6vTQth)(djBaK)FhRMX7(79LOpfRzJOe9wq(zJ4E6faBuOqCQSRGD0k0DIs0BbHnI7PxaSrHcrvNLZgrfiO7nUCsCp9cGnUYiCUCs4uOqm3hvk2iQabDVrSY(oVpxdZfX90la2i66Z6RvHdBbtxTcncNcfItLDL7JkfHtSK8gBe3tVayJcfIDh7KO3ccBe3tVayJcfItLDP6SCcNyn4(gKp9Yy2iUNEbWgfkeVJ5cifyJ4E6faBuOqSeZn2iUNEbWgfkuik2ijZLuqiE2OUIPudJJjo2H7BLj0L()cXTVqY((1XFNo)(x1rE3FVEelMoifAJ7mIG8uGiOMyEAVJHAqq)P9)0CsuSrsgXN2b0rCiOwGsxQcX5xNdYg4mds1Fio)5D)9(s8GP0MliN(pGySUgiGui6VKcqx3kk2OqCKd33kt4QF3CEQBFZg893Xbq((xLyyUBfGUUvuCLrmpL81PHbcNOyJKSts(uHnUYOlo6w1bd697iKEFZG4yVV8U)Qo5YjxqOqHRFNSruSrsMlPGGGdAC50nIJD4(wzcDP)Vzq(D8)7x3CwfsV)Qv5D)96rmMlGJwRa01TsfNQnUGqmMlGuqXgXBqaOGYgX60LUpnKWPqHOua66wHnIfBt8hceI5tLK2xqb1grbSTAIPHbhc(XeoXqCBk24kJ4zJTN2DQ80IHN2zJnkel22HoReLuHORGcXUssVykvLflhOaPaxqik2ijRYeiiep)mxAeHAaDOcDPx1QoD87pKSbq()DSAgV7V3xI(uSMnIs0Bb5NnI7PxaSrHcXPYUc2rRq3jkrVfe2iUNEbWgfkeZ9rLInIkqq3BeRSVZ7Z1WCrCp9cGnIU(S(Av4WwW0vRqJWPqHOQZYzJOce09gxojUNEbWgxzeoxojCkuiov2vUpQueoXsYBSrCp9cGnkuiwI5gBe3tVayJcfIDh7KO3ccBe3tVayJcfI3XCbKcSrCp9cGnkuiwdUVb5tVmMnI7PxaSrHcXPYUuDwoHtHOyJKSts(uHnUYOlo6w1bd697iKEFZG4yVV8U)Qo5YjxqOquSrsMlPGq8SrDftPgghtSy6GuOnUZicYtbIInsYi(0oGoIdb1cu6svio)6Cq2aNzqQ(dX5pV7V3xIhmL2Cb50)beb1eTX2t7ovEAXWtZgBeJ11abKcr)Lua66wrXgfIJC4(wzcDPQB9(62)xNULvDaKSE94D)9(smm3Tcqx3kkUYiMNs(60WaHtHR)ESruSrsMlPGGGdACL5K4yhUVvMWv))vDsmMlGJwRa01TsfNQnUGqukaDDRWgrGy7vCBCLL5CW3beNk7AhLCOwnmodgHtSy7iiac6xPoReLuHORagsCQSRzaieoXITJGaiOtmdcrvN59R4246BVFIY4oJOsIYurCgSJwqigNsI4uzxkOPHoeiCI2rliepjL81PHHNwLLKEXuQNgSXoZ7HfXIf9yN59R42i6AWrqWEAiuG5Rjov2LQZ8(vCBeoXPYUk2occGGoDNOcAAOdbIkOPHoeojL81PHbItLDbeBVIBJWjgIBtXgxzeR0h1N2t7CZYHsHy(ujP9fuqTruaBRMcXUssVykvLflhOaPaxqik2ijRYeiiep)mxAeHAaDOcxoRs0NI1SruIEli)SrCp9cGnkuiov2vWoAf6orj6TGWgX90la2OqHyUpQuSrubc6EJyL9DEFUgMlI7PxaSr01N1xRch2cMUAfAeofkevDwoBevGGU34YjX90la24kJW5YjHtHcXPYUY9rLIWjwsEJnI7PxaSrHcX7yUasb2iUNEbWgfkeNk7s1z5eoXAW9niF6LXSrCp9cGnkuiwI5gBe3tVayJcfIDh7KO3ccBe3tVayJcfkeNbPa01TcBevqtdDiqubnn0HWjPKVonmqei2Ef3gxzzoh8DarvN59R4246BVFkeNkRLsEb0r3jMN8PcBC1JU42)GQo6mRxMBoMvfsVFE3FvNuik2ijZLuqiE2OUIPudJJjwmDqk0g3zeb5PaXdMsBUGC6)aIdb1cuUCwLiiaKR80UZBIvZvgrXgjzeFAhqhXyDnqaPq0FjfGUUvuSXvgBeLcqx3kSrug3zeJZsKOA6UD0ccoVVbJiEDsFy7cB9bJnI1M7Z7724oJyfo78kD5doNOD0ccXkyrVaLOA6UD0csLf7gmIiw5zNForvN59WSwXgfIZaqi25JJTcXqCBk24kJORbhbb7PHqbMVMcrq4OvugHtmFQK0(ckO2ikGTvtH4mifGUUvyJcfkeb1epjT3XqniO)0(FA)pnNeh5W9TYeU6pZXEN(3JOyJKSts(uHnU(Plv)wnRQBFHa5FGB9CRheE3Fv34YjxqOqmm3Tcqx3kkU(jMNs(60WaHtS2urzwIIr4u46VkBefBKK5skii4Ggx))eh7W9TYeU6)VQtIXCbC0AfGUUvQ4uTXfeIXCbKck2iQKyryJyD6s3Ngs3jQ7tdVUlXTreERh8PiPGBeRtx5tLK20DI6(0WRyUasbIkOPHuiEdcafu2iwNU09PH0DI6(0WR7sCBeH36bFksk4grDFA4vmxaParOGAJcfIsbORBf2iceBVIBJRSmNd(oG4uzx7OKd1QHXzWiCIfBhbbqq)k1zLOKkepWeLXDgrLeLPI4uzxZaqiCIfBhbbqqNygeItLDLdnw0nfDN4uzxGWrROmcNyo0yr3uxPoReLuHORGyo0yr3ueZGqu1zE)kUnU(27N4myhTGqmoLeXPYUuqtdDiq4eNk7ci2Ef3gHt0oAbH4jPKVonm80QSK0lMs90Gn2zEpSiwSOh7mVFf3grxdocc2tdHcmFnXPYUuDM3VIBJWjQGMg6qGOcAAOdby0I1JjgIBtXgxzeR0h1N2t7CZYHsH4uzxfBhbbqqNUtmFQK0(ckO2ikGTvtHyxjPxmLQYILduGuGliefBKKvzceeINFMlnIqnGouHlNvj6tXA2ikrVfKF2iUNEbWgfkeNk7kyhTcDNOe9wqyJ4E6faBuOqm3hvk2iQabDVrSY(oVpxdZfX90la2i66Z6RvHdBbtxTcncNcfIQolNnIkqq3BC5K4E6faBCLr4C5KWPqH4uzx5(Osr4elXCJnI7PxaSrHcX7yUasb2iUNEbWgfkeNk7s1z5eoXAW9niF6LXSrCp9cGnkuiwsEJnI7PxaSrHcXUJDs0BbHnI7PxaSrHcfIJC4(wzcDP)V9C8)FWGVvHu1T)FhDK393RkXyaSJcifyJ4occSrmp5tfyKRmIQ8O3gXvgX8KpvGZvgX8KpvCvUYiov2LuIbLpkgHtukXGYhfZLziN4t7P90EAftMLWt7EgYfqka7UssVyk1HEAkjwKp8qpnLelcm4qpTAZlXp8qpTAZlryaSEF(0EApTN2t7P5t5r)tlg092tdg(0GDxjPxmL6PvrEAqo9VkSEAF8P9)0(4tBhfON2bEF(0EApTN2t7PvmzwcpnLelYh(0QipnyVJc0tZtkyhd6EdwpTp(0QnVe)WN2hFA7Oa908Kc2XGU3(4pSG1HEAkjweyWtRI80G9okqpn6Uc27Oa908Kc2XGU3GfSEAF8PvBEjcdEAF8PTJc0tvGaSJbDV9XFybR3NpTN2t7PzH63NpTNgrvE0BJ5kJy03bnYfeIJ5Q)mIJ4kJOuIbLpkwBCNru1bkrFmu3n9kJyxXuMqm67GgRC6vgXssIIXfeI1ZsuaPariNMrmp5tL(4kJcfIInsYCjfeINnQRyk1W4yIfthKcTXDgrqEkqeutmpT3XqniO)0C(0(FAojcca5kpT78My1CLruSrsgXN2b0rCiOwGYLZQepykT5cYP)digRRbcifI(lPa01TIInUYyJOua66wHnIY4oJyCwIevt3TJwqW59nyeXRt6dBxyRpySrS2CFEF3g3zeRWzNxPlFW5eTJwqiwbl6fOevt3TJwqQSy3GreXkp78ZjQ6mVhM1k2OqeeoAfLr4edXTPyJRmIUgCeeSNgcfy(AkeNbGqSZhhBfI5tLK2xqb1grbSTAkeNbPa01TcBuOqHOyJKSts(uHnUYOlo6w1bd697iKEFZG4yVV8U)Qo5YjxqOqmm3Tcqx3kkU(jodsbORBf2iQGMg6qGOcAAOdby0I1JjceBVIBJRSmNd(oGOQZ8(vCBC9T3pfI5PKVonmq3PW1)x2ik2ijZLuqqWbnU(HqmMlGJwRa01TsfNQnUGqmMlGuqXgXBqaOGYgX60LUpnKWPqHOua66wHnIfBt8hceIPHbhc(XeoXqCBk24kJicfy(6Nw6(PDGAbDlgYnkel22HoReLuHORGy(ujP9fuqTruaBRMcXUssVykvLflhOaPaxqik2ijRYeiiep)mxAeHAaDOcxoRs0NI1SruIEli)SrCp9cGnkuiov2vWoAf6orj6TGWgX90la2OqHyUpQuSrubc6EJyL9DEFUgMlI7PxaSr01N1xRch2cMUAfAeofkevDwoBevGGU34YjX90la24kJW5YjHtHcXPYUY9rLIWjwI5gBe3tVayJcfI3XCbKcSrCp9cGnkuiov2LQZYjCI1G7Bq(0lJzJ4E6faBuOqSK8gBe3tVayJcfIDh7KO3ccBe3tVayJcfkefBKKDsYNkSXvgDXr3QoyqVFhH07Bgeh79L39x1jxo5ccfIJC4(wzcx9N1ZjXIPdsH24oJiipfigRRbcifI(lPa01TIInkefBKKr8PDaDehcQfOC5SkXdMsBUGC6)aIJD4(wzcx9)x1jrqnXIPBLOasHNwVNMtIH5Uva66wrXvgrXgjzUKccXZg1vmLAyCmX8uYxNggiCkC97gBefBKK5skii4GgxzojMN8PcBC1JU42)GQo6mRxMBoMvfsVFE3FvNuio2H7BLjC1)FvNeJ5c4O1kaDDRuXPAJlieNkRLsEb0r3jkfGUUvyJiqS9kUnUYYCo47aItLDTJsouRggNbJWjwSDeeab9RuNvIsQq0vadjov21maecNyX2rqae0jMbHOQZ8(vCBCL5yVVF)jkJ7mIkjktfXzWoAbHyCkjItLDPGMg6qGWjov2fqS9kUncNyXIESZ8(vCBerOaZx)0s3pTdulOBXqUrCQSlvN59R42iCItLDvSDeeabD6orf00qhcevqtdDiCsk5RtddeTJwqiEsk5RtddpTklj9IPupnyJDM3dlIH42uSXvgXk9r9P90o3SCOuiMpvsAFbfuBefW2QPqS2urzwIIr4e7kj9IPuvwSCGcKcCbHOyJKSktGGq88ZCPreQb0HkC5SkrFkwZgrj6TG8ZgX90la2OqH4uzxb7OvO7eLO3ccBe3tVayJcfIQolNnIkqq3BC5K4E6faBCLr4C5KWPqHyUpQuSrubc6EJyL9DEFUgMlI7PxaSr01N1xRch2cMUAfAeofkeNk7k3hvkcNyj5n2iUNEbWgfke7o2jrVfe2iUNEbWgfkeNk7s1z5eoXAW9niF6LXSrCp9cGnkuiEhZfqkWgX90la2OqHyjMBSrCp9cGnkuOquSrsMlPGq8SrDftPgghtSy6GuOnUZicYtbIdb1cuUCwLiiaKR80UZBIvZvgrXgjzeFAhqhrqnXIPBLOasHN2)t7)P5K4btPnxqo9FaXyDnqaPq0FjfGUUvuSXvgBeLcqx3kSrug3zeJZsKOA6UD0ccoVVbJiEDsFy7cB9bJnI5tLK2xqb1grbSTAI2rlieRGf9cuIQP72rlivwSBWiIyLND(5evDM3dZAfBuicchTIYiCIH42uSXvgrekW81pT09t7a1c6wmKBuiodaHyNpo2keRn3N33TXDgXkC25v6YhCofIZGua66wHnkuOqCKd33kt4Q)SEojk2ij7KKpvyJRF6s1VvZQ62xiq(h4wp36bH39x1nUCYfekeNbPa01TcBevqtdDiqubnn0HWjPKVonmqei2Ef3gxzzoh8DarvN59R424kZXEF)(tHyyUBfGUUvuC9tmpL81PHbcNcx)oYgrXgjzUKcccoOX1)pXroCFRmHR(Z65K4yhUVvMWv))vDsmMlGJwRa01TsfNQnUGqmMlGuqXgrLelcBeRtx6(0q6orDFA4vmxaParf00qI1PR8PssB6orDFA41DjUnIWB9GpfjfCJcXBqaOGYgX60LUpnKUtu3NgEfZfqkqekO2iQ7tdVUlXTreERh8PiPGBuOqmga7Oasb2iUJGaBeZt(ubg5kJy9SefqkqeYPzeZt(uPpUYiMN8PIRYvgXPYUKsmO8rXiCIsjgu(OyUmd5eFApTN2tRyYSeEA3ZqUasby3vs6ftPo0ttjXI8Hh6PPKyrGbh6PvBEj(Hh6PvBEjcdG17ZN2t7P90EApnFkp6FAXGU3EAWWNgS7kj9IPupTkYtdYP)vH1t7JpT)N2hFA7Oa90oW7ZN2t7P90EApTIjZs4PPKyr(WNwf5Pb7DuGEAEsb7yq3BW6P9XNwT5L4h(0(4tBhfONMNuWog092h)HfSo0ttjXIadEAvKNgS3rb6Pr3vWEhfONMNuWog09gSG1t7JpTAZlryWt7JpTDuGEQceGDmO7Tp(dly9(8P90EApnlu)(8P90i2vmLjeJ(oOXkNELrm67Gg5ccXXC1FgXrCLrukXGYhfRnUZiQ6aLOpgQ7MELruLh92yUYiwssumUGquLh92iUYiMN8PcCUYOqHOua66wHnIaX2R424klZ5GVdiov21ok5qTAyCgmcN4uzx5qJfDtr3jgIBtXgxzeR0h1N2t7CZYHsH4uzxZaqiCIfBhbbqqNygeIfBhbbqq)k1zLOKkepWeNk7ceoAfLr4eZNkjTVGcQnIcyB1eZHgl6M6k1zLOKkeDfeLXDgrLeLPIyo0yr3ueZGqCgSJwqigNsI4uzxkOPHoeiCI2rliepjL81PHHNwLLKEXuQNgSXoZ7HfXPYUaITxXTr4elw0JDM3VIBJicfy(6Nw6(PDGAbDlgYnItLDP6mVFf3gHtubnn0Harf00qhcWOfRhtCQSRITJGaiOt3jQ6mVFf3gxzo2773Fke7kj9IPuvwSCGcKcCbHOyJKSktGGq88ZCPreQb0HkC5SkrFkwZgrj6TG8ZgX90la2OqH4uzxb7OvO7eLO3ccBe3tVayJcfIQolNnIkqq3BC5K4E6faBCLr4C5KWPqHyUpQuSrubc6EJyL9DEFUgMlI7PxaSr01N1xRch2cMUAfAeofkeNk7k3hvkcNyjMBSrCp9cGnkui2DStIEliSrCp9cGnkuiov2LQZYjCI1G7Bq(0lJzJ4E6faBuOq8oMlGuGnI7PxaSrHcXsYBSrCp9cGnkuOquSrs2jjFQWgxz0fhDR6Gb9(DesVVzqCS3xE3FvNC5KliuiodsbORBf2iQGMg6qGOcAAOdby0I1JjceBVIBJRSmNd(oGOQZ8(vCBCL5yVVF)PqSy6GuOnUZicYtbIGAIft3krbKcpnNpT)NMtIGaqUYt7oVjwnxzefBKKr8PDaDehcQfOC5SkXdMsBUGC6)aIX6AGasHO)skaDDROyJRm2ikfGUUvyJOmUZigNLir10D7OfeCEFdgr86K(W2f26dgBeRn3N33TXDgXkC25v6YhCor7OfeIvWIEbkr10D7OfKkl2nyerSYZo)CIGWrROmcNyiUnfBCLreHcmF9tlD)0oqTGUfd5gfIQoZ7HzTInkeNbGqSZhhBfI5tLK2xqb1grbSTAkeNbPa01TcBuOqHyyUBfGUUvuC9tmpL81PHb6orXgjzUKccXZg1vmLAyCmfU(hWgrXgjzUKcccoOX1)pXXoCFRmHR()R6KymxahTwbORBLkovBCbHymxaPGInIkjwe2iwNU09PH0DI6(0WR7sCBeH36bFksk4gX60v(ujPnDNOUpn8kMlGuGOcAAifI3GaqbLnI1PlDFAiDNOUpn86Ue3gr4TEWNIKcUru3NgEfZfqkqekO2OqHOua66wHnIaX2R424klZ5GVdiov21ok5qTAyCgmcN4uzxGWrROmcNOmUZiQKOmveNk7AgacHtSy7iiac6eZGqSy7iiac6xPoReLuH4bM4uzx5qJfDtr3jMdnw0n1vQZkrjvi6kiMdnw0nfXmieZNkjTVGcQnIcyB1eNb7OfeIXPKiov2LcAAOdbcN4uzxaX2R42iCI2rliepjL81PHHNwLLKEXuQNgSXoZ7HfXIf9yN59R42i6AWrqWEAOywnXPYUuDM3VIBJWjQGMg6qGOcAAOdby0I1JjgIBtXgxzeR0h1N2t7CZYHsH4uzxfBhbbqqNUtu1zE)kUnUYgaXnh7rHyxjPxmLQYILduGuGliefBKKvzceeINFMlnIqnGouHlNvj6tXA2ikrVfKF2iUNEbWgfkeNk7kyhTcDNOe9wqyJ4E6faBuOqm3hvk2iQabDVrSY(oVpxdZfX90la2i66Z6RvHdBbtxTcncNcfIQolNnIkqq3BC5K4E6faBCLr4C5KWPqH4uzx5(Osr4eljVXgX90la2OqH4DmxaPaBe3tVayJcfItLDP6SCcNyn4(gKp9Yy2iUNEbWgfkelXCJnI7PxaSrHcXUJDs0BbHnI7PxaSrHcfIJC4(wzcx9))xLyma2rbKcSrChbb2iMN8PcmYvgrvE0BJ4kJyEYNk9XvgX8KpvCvUYiov2LuIbLpkgHtukXGYhfZLziN4t7P90EAftMLWt7EgYfqka7UssVyk1HEAkjwKp8qpnLelcm4qpTAZlXp8qpTAZlryaSEF(0EApTN2t7P5t5r)tlg092tdg(0GDxjPxmL6PvrEAqo9VkSEAF8P9)0(4tBhfON2bEF(0EApTN2t7PvmzwcpnLelYh(0QipnyVJc0tZtkyhd6EdwpTp(0QnVe)WN2hFA7Oa908Kc2XGU3(4pSG1HEAkjweyWtRI80G9okqpn6Uc27Oa908Kc2XGU3GfSEAF8PvBEjcdEAF8PTJc0tvGaSJbDV9XFybR3NpTN2t7PzH63NpTNgXUIPmHy03bnw50RmIrFh0ixqioMR(ZioIRmIsjgu(OyTXDgrvhOe9XqD30RmIQ8O3gZvgXssIIXfeI1ZsuaPariNMrmp5tf4CLrHcrXgjzUKccXZg1vmLAyCmXIPdsH24oJiipficQjwI62t7P9)0(jcca5kpT78My1CLruSrsgXN2b0rCiOwGYLZQepykT5cYP)digRRbcifI(lPa01TIInUYyJOua66wHnIY4oJyCwIevt3TJwqW59nyeXRt6dBxyRpySrmFQK0(ckO2ikGTvt0oAbHyfSOxGsunD3oAbPYIDdgreR8SZpNOQZ8EywRyJcXzaie78XXwHiiC0kkJWjgIBtXgxzeDn4iiypnumRMcXAZ959DBCNrScNDELU8bNtH4mifGUUvyJcfkefBKKDsYNkSXvgDXr3QoyqVFhH07Bgeh79L39x1jxo5ccfIH5Uva66wrX1pXzqkaDDRWgrf00qhcevqtdDiaJwSEmrGy7vCBCLL5CW3bevDM3VIBJRSbqCZXEuiMNs(60WaDNcxoHWgrXgjzUKcccoOXvMtIJD4(wzcx9)x1jXyUaoATcqx3kvCQ24ccrPa01TcBebITxXTXvwMZbFhqCQSRDuYHA1W4myeoXITJGaiOFL6SsusfIUcyiXqCBk24kJyL(O(0EANBwoukel2occGGoXmievDM3VIBJRSbqCZXEeLXDgrLeLPI4myhTGqmoLeXPYUuqtdDiq4eTJwqiEsk5RtddpTklj9IPupnyJDM3dlIfl6XoZ7xXTr01GJGG90qXSAItLDP6mVFf3gHtCQSRITJGaiOt3jQGMg6qGOcAAOdHtsjFDAyG4uzxaX2R42iCItLDndaHWjMpvsAFbfuBefW2QPqSRK0lMsvzXYbkqkWfeIInsYQmbccXZpZLgrOgqhQWLZQe9PynBeLO3cYpBe3tVayJcfItLDfSJwHUtuIEliSrCp9cGnkuiM7JkfBevGGU3iwzFN3NRH5I4E6faBeD9z91QWHTGPRwHgHtHcrvNLZgrfiO7nUCsCp9cGnUYiCUCs4uOqCQSRCFuPiCILyUXgX90la2OqH4DmxaPaBe3tVayJcfItLDP6SCcNyn4(gKp9Yy2iUNEbWgfkeljVXgX90la2OqHy3Xoj6TGWgX90la2OqHcXzqkaDDRWgrf00qhcevqtdDiCsk5RtddebITxXTXvwMZbFhqu1zE)kUnUYgaXnh7rH4uzTuYlGo6oX8KpvyJRE0f3(hu1rNz9YCZXSQq69Z7(R6KcrXgjzUKccXZg1vmLAyCmXIPdsH24oJiipfiEWuAZfKt)hqCiOwGYLZQebbGCLN2DEtSAUYik2ijJ4t7a6igRRbcifI(lPa01TIInUYyJOua66wHnIY4oJyCwIevt3TJwqW59nyeXRt6dBxyRpySrS2CFEF3g3zeRWzNxPlFW5eTJwqiwbl6fOevt3TJwqQSy3GreXkp78ZjcchTIYiCIZaqi25JJTcXqCBk24kJORbhbb7PHIz1uiQ6mVhM1k2OqmFQK0(ckO2ikGTvtH4mifGUUvyJcfkeb1elrD7P9)0(FA)eh5W9TYeU6))VkrXgjzNK8PcBC9txQ(TAwv3(cbY)a365wpi8U)QUXLtUGqHyyUBfGUUvuC9tmpL81PHbcNyTPIYSefJWPWLZm2ik2ijZLuqqWbnU(HqmMlGJwRa01TsfNQnUGqmMlGuqXgXBqaOGYgX60LUpnKWPqHOua66wHnIfBt8hceIPHbhc(XeoXqCBk24kJORbhbb7PHIz1uiwSTdDwjkPcrxbX8Pss7lOGAJOa2wnfIDLKEXuQklwoqbsbUGquSrswLjqqiE(zU0ic1a6qfUCwLOpfRzJOe9wq(zJ4E6faBuOqCQSRGD0k0DIs0BbHnI7PxaSrHcrvNLZgrfiO7nUCsCp9cGnUYiCUCs4uOqm3hvk2iQabDVrSY(oVpxdZfX90la2i66Z6RvHdBbtxTcncNcfItLDL7JkfHtSeZn2iUNEbWgfke7o2jrVfe2iUNEbWgfkeNk7s1z5eoXAW9niF6LXSrCp9cGnkuiEhZfqkWgX90la2OqHyj5n2iUNEbWgfkuio2H7BLjC1)FvNefBKK5skiepBuxXuQHXXefBKKDsYNkSXvgDXr3QoyqVFhH07Bgeh79L39x1jxo5ccfIfthKcTXDgrqEkqeutSe1TNMZN2)t7NOyJKmIpTdOJ4qqTaLlNvjEWuAZfKt)hqmwxdeqke9xsbORBffBuigM7wbORBffxzeh5W9TYeU6))VkX8uYxNggiCkC58NnIInsYCjfeeCqJlNvjodsbORBf2iQGMg6qGOcAAyF(HXXkIQoZ7xXTXLZQohuLcXyUaoATcqx3kvCQ24ccrPa01TcBebITxXTXfeItLDTJsouRggNbJUtCQSRCOXIUPO7eZNkjTVGcQnIcyB1eLXDgrLeLPI4myhTGqmoLeXPYUuqtdDiq4eNk7ci2Ef3gHtSyrp2zE)kUnINuMQyTvEAOuahUrCQSlvN59R42iCIkOPHoeiQGMg2NFyCSIOD0ccXtsjFDAy4PvzjPxmL6PbBSZ8EyrCQSRzaieorvN59R424YzvNdQsHOyJKSktGGqeUdTMdvmrOgqhQqx(()xDWx3g0BWVJoD60jV7VNBe9PynBeLO3cYpBe3tVayJcfItLDfSJwHUtuIEliSrubc6EJRVe3tVayJRVeofkeZ9rLInIkqq3BeRSVZ7Z1WCrHOQZYzJOce09gxojUNEbWgxzeoxojCkuiov2viUn6oXAW9niF6LXSrCp9cGnkuiwI5gBe3tVayJcfIDh7KO3ccBe3tVayJcfItLDP6SCcN4DmxaPaBe3tVayJcfItLDL7JkfHtSK8gBe3tVayJcfkefBKK5skiepBuxXuQHXXeh7W9TYe6s)o())97)a3QcXrh)DM5K393RkXIPdsH24oJiipficQjUtfj6FAkPaoC7PPKy(HREAojcca5kpT78My1CLrCiOwGYvVSthu9V63E)ohufYpXdMsBUGC6)aIX6AGasHO)skaDDROyJcXroCFRmHRE)NcbsvNULbzGt3Qsmm3Tcqx3kkUYiMN8PcBC1JliuiMNs(60WaDNOyJKSts(uHnUYOlo6w1bd697iKEFZG4yVV8U)Qo5YjxqOqHlNozJ4ihUVvMqxCZzMJ)9(6mR6)3SbocH393BaXXoCFRmHU0Fv3Y6LbXr3CBGtNzvhKX7(71JiipfO7eVtbXfFuxr0HpODomxNr09y5KKpvyJRFUGC6ah75mZPB)v7naYpxo5cYPoDeIZb)zv)643F3QsHOpfRzJyUpQuSrubc6EJyL9DEFUgMlkeLO3cYpBe3tVayJcfItLDfSJwHUtuIEliSrubc6EJRFie3tVayJcfItLDL7JkfHtu1z5Srubc6EJlNuiwsEJnI7PxaSrHcXPYUKO3ccHtSgCFdYNEzmBe3tVayJcfILyUXgX90la2OqHy3Xoj6TGWgX90la2OqH4uzxQolNWjEhZfqkWgX90la2OqH4uzx5PT7rHWjov2LQZ8(dpKggO7uiwmDqk0g3zeJZs09yHOsI5hUIUtu1flhURnvuMLOy0DIInsMfJyFLDQmMOQlwoCcNynq15JJHzEkq8CqSUachivpnxMLXpTpi4TOcQvtSgOCLEgYfWrJy07jMpvsA3SrcX3NVpFFsmMlGJwRa01TsfNQnUGqmFQK0UzJKpORokgr7OfeIsbORBf2iceBVIBJRmNUbPNJeNk7ceoAfLr3jov2LQZYb3G8Rzai0DIaX2OjR424ccX8Pss7lOGAJOa2wnrzCNrmFQK0M4myhTGqmoLer7OfeIWuS9t7SdeNGUoRMy(ujP9LmUZiQKOmveZNkjTD9Sefqkq8EgYfqkaBy9(8P90EApnFkp6FAxh66qxh66qxh66qpnBuhOm(PbdFAFqaiWN33WUI25JJTsf9qpTk6jLPkwBvuy9(8P90EApnW9tZg1bkJFAcul8(8P90EApTN2t7P908P8O)PvSDeeab9Ngm8PzJ6aLXpT(FAUQjnW2GnSEF(0EApTN2t7P90EAftMLWtRy7iiac6pTd4P9FA1d90(pT6HEAszAVpFApTN2tZc1VpTq97Z3NVpFF((8957Z3NVpFF((Ky(ujPnX7zixaPaSH17ZN2t7P908P8O)PDDORdDDORdDDORd90SrDGY4Ngm8P9bbGaFEFd7kANpo2kv0d90QONuMQyTvrH17ZN2t7P90a3pnBuhOm(PjqTW7ZN2t7P90EApTN2tRyYSeEAW2g1bkJFA9)0CvtAGTbBybRN2b(P9FA13NpTN2t7PzH63NpTN2t7PvmzwcpT7OxzVpTq97Z3NVpFF((8957Z3NVpFF((8957Z3NVpFF((K4uzxaX2R42iCI5qT8dN4SRokgXPYUMbGq4uik2iHUtSgO68XXnBKCUDlepGCIcyBf6orOgqhQqx6v93PBqQoWTbooOQJqQY7(75gXzqkaDDRWgX8PssBI3ZqUasbydR3NpTN2t7P5t5r)t76qxh66qxh66qxh6PzJ6aLXpny4t7dcab(8(g2v0oFCSvQOh6PvrpPmvXARIcR3NpTN2t7PbUFA2Ooqz8ttGAH3NpTN2t7P90EApTNwXKzj80GTnQdug)06)P5QM0aBd2Wcwpnxbm8P9FA13NpTN2t7PzH63NpTN2t7PvmzwcpnPmT3NwO(957Z3NVpFF((8957Z3NVpFF((8957Z3NVpFF((8957tIaX2R424kZPBq65ifIH5Uva66wrX1pXHGAbkDPxv3CZ5VBvD73XE9Q27N393RhrqnXZbX6ciCGu90Czwg)0(GG3IkOw9tRbYpCfXAGQZhh3Srcmc0HkepGCI5jFQWgfIX6AGasHO)skaDDROyJRm2ikfGUUvyJiqS9kUnUYC6gKEosCgSJwqigNsI4uzxZaqiCI2rlieHPy7N2zhiobDDwnXzaie78XXwHOA6UD0ccoVVbJiEDsFy7cB9bJnIY4oJOsIYurunD3oAbPYIDdgreR8SZpN4uzxaX2R42iCkeNbPa01TcBebITxXTXvMt3G0ZrkuOqeeoAfLr4u4Yzp2ik2ijZLuqqWbnUYCK4yhUVvMWv))qQE63mh)w93zpNUvLymxahTwbORBLkovBC1FgeIsbORBf2igIBtXgxzepPmvXAJcXPYojndcHtmFQK0(ckO2ikGTvtHiudOdvOlo60nivD(1PJo(7ml7BvE3Fp3i6tXA2ikrVfKF2iUNEbWgfkeNk7kyhTcDNOe9wqyJ4E6faBuOqm3hvk2iQabDVrSY(oVpxdZffIQolNnIkqq3BC5KcXAW9niF6LXSrCp9cGnkuiov2vUpQueoXsm3yJ4E6faBuOqCQSlvNLt4e7o2jrVfe2iUNEbWgfkeljVXgX90la2OqH4uzx5PT7rHWjEhZfqkWgX90la2OqHcXroCFRmHU0)xhh872GSSEdC0r36n4N3937lX8KpvyJRECbHcrXgjzNK8PcBCLrxC0TQdg073ri9(MbXXEF5D)vDYLtUGqHyX0bPqBCNreKNcedZDRa01TIIRmI1aLR0ZqUaoAeJEprqnXtktvS2EAOeZpC1t7N4qqTaLU4iKEo643V9(D(dzWGb)8U)EUrmwxdeqke9xsbORBffBuOWLZQSruSrsMlPGGGdAC97iX8Pss7Mnsi((8959mKlGu4PbBy9(8P90EApnFkp6FAhJ(P90GHpnL5TCb2zUDON2heasFZse2v0oFCSvQOh6PPmVLlWo7qUQjyN59WmCNGDMJ9((9hwW6qpTaWdly90sLNgK3NpTN2t7PbUFAhJ(P90oWpTbdgmyWGNMa1cVpFApTN2t7P90EApTJr)0EAWWN2DQSJcSROhWPz3v0dDm6N2bczqGabceiW6PD6PpTk6UI((8P90EApnZRmW9t7y0pTN2b(PnyWGNMa1cVpFApTN2t7P90EApTJr)0EAWWN2okqp92NsfyFm6N2bczqGabwpTtp9Pvrp8k67ZN2t7P90Sq97ZN2t7P90kMmlHN2XOFAVpTqnXyUaoATcqx3kvCQ24ccrPa01TcBel2M4PUvLyAyWHGFmHtunDppndcHtmFQK0(ckO2ikGTvtme32vQZkrjvicdHHeNk7ke3gHtme3grekW81pT09t7a1c6wmKBeNk7s1z5GBq(1mae6oXITDOZkrjviEGHHedXTPyJRmIFy8ySaYpqQEAvCupm3pnh6MkkeVNEVkpgiCke7kj9IPuvwSCGcKcCbHOyJKSktGGq8KZwTZGrIqnGouHU0BGZ)Q)dgu1XSQo60zpE3FVVe9PynBeLO3cYpBe3tVayJcfItLDfSJwHUtuIEliSrCp9cGnkuiM7JkfBevGGU3iwzFN3NRH5IcrvNLZgrfiO7nUCsH4uzx5(Osr4elXCJnI7PxaSrHcX7yUasb2iUNEbWgfkeNk7s1z5eoXsYBSrCp9cGnkuiwdUVb5tVmMnI7PxaSrHcXUJDs0BbHnI7PxaSrHcfIJD4(wzcDP)Vzz)qCc5VAw1Eo(1nN8U)E9iwduD(4yyMNcejwmDqk0g3zeb5PaXHGAbkDP6F1EzU58B23Qq65OZQ8U)EFjcca5kpT78My1CLruSrsgXN2bKtmwxdeqke9xsbORBffBuicQjEGAbDlgYnIJC4(wzcDPAwVVU1R6FgKSE)U9dH39xfcXWC3kaDDRO4kJyEk5RtddeofkepYvwV)mkKa