Raid Bosses
Battle of Dazar'alor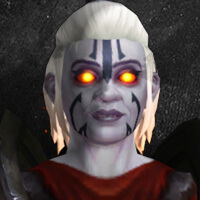 Champion of the Light
Balance Druid Tal
15
30
45
60
75
90
100
Boss Notes
A very simple fight that requires little healing, here you should run Cenarion Ward as the tanks are taking a moderate to high amount of damage while the raid is taking very little. Also use Spring Blossoms and maintain it on melee. If you're slow killing the boss you may need to do a small ramp and use Tranquility.
Grong, the Jungle Lord
15
30
45
60
75
90
100
Boss Notes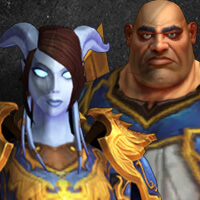 15
30
45
60
75
90
100
Boss Notes
The difficulty drops again here for healers. You should take Cenarion Ward for consistent tank healing and Spring Blossoms because the raid is stacked for the majority of the fight.
There's a couple of dangerous moments during this encounter, the first being when you are clearing the Living Bomb mechanic. You're able to immediately start ramping after dealing with Multi-Sided Strike which will give you a healing bonus. You can cover the raid in Rejuvenation and Wild Growth then Tranquility into Flourish to maintain health pools.
After this there is the maze mechanic where you're required to be highly mobile and maintain raid health as you move to the opposite site of the room while dodging mechanics. It's advisable to save Incarnation: Tree of Life for this moment as the raid will require a relatively high amount of healing while needing to be mobile.
Searing Embers is dispellable and will apply to 4 raid members, make sure that you dispel it.
Wild Charge could potentially be useful here if you get knocked up by the Magma Trap.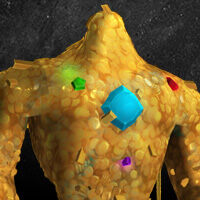 Opulence
15
30
45
60
75
90
100
Boss Notes
For this fight, take Spring Blossoms and your preferred talent between Cenarion Ward and Abundance as you'll likely be doing a lot of single target healing.
When moving through the tunnel you should try to help dps the mobs as much as possible as heavy healing is not required until small mistakes are made. Cast Wild Growth liberally and maintain Rejuvenation on the tank and targets that require healing, also keep up Efflorescence where possible.
Hex of Lethargy should be dispelled immediately as it can easily kill your raid members over a few seconds.
If you're assigned to take the Amethyst of the Shadow King ensure you are tracking Shadow-Touched within your raid frames. This is very important because if that buff drops off at the wrong time you will lose a raid member. This is easy to keep up with Efflorescence and Wild Growth while using Rejuvenation on the odd target not caught by those spells.
During the main boss room it's important you are tracking Liquid Gold and spot healing those players as they will be taking high damage when crossing other pools and ticking damage from the mechanic itself. Coin Shower is a massive damage dealing ability that can be shared with all party members in range of it, you're able to precast Wild Growth for when it hits.
Wail of Greed is the hard hitting AoE mechanic during this phase, all players must have the Shadow-Touched debuff or they will be one shot. Use Tranquility for this mechanic to safely cover the raid HP and ensure they are all protected.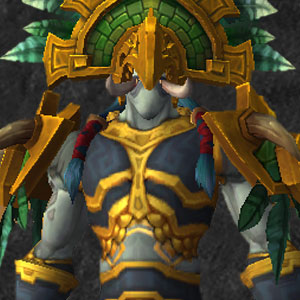 Conclave of the Chosen
15
30
45
60
75
90
100
Boss Notes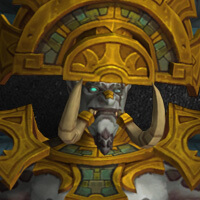 King Rastakhan
15
30
45
60
75
90
100
Boss Notes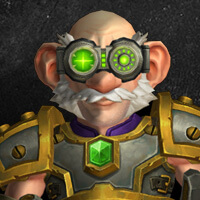 High Tinker Mekkatorque
15
30
45
60
75
90
100
Boss Notes
For this fight you will want to take Mass Entanglement to root the robots, you can rotate Entangling Roots with this along with a DK Grip to keep all of them CCed. You will want to take Wild Charge to prevent death while falling from the knock up mechanic (Miscalculated Teleport). Balance Affinity is strong here for the 5yrd range along with the use of Flap while in Moonkin Form if you get knocked up.
Tanks and individual targets can take a lot of sustain damage during this fight so Cenarion Ward should be the default pick along with Spring Blossoms as the raid is almost always stacked.
The main threat within this fight is Gigavolt Blast which is applied to members of the raid hit by the explosion from Gigavolt Charge. You should aim to have Rejuvenation on any target affected by either of these debuffs. Now these alone won't kill anybody but the damage they deal in combination with other mechanics such as Crash Down or Spark Pulse from the robots will.
You should rotate cooldowns to deal with Crash Down.
Stormwall Blockade
15
30
45
60
75
90
100
Boss Notes
The only relevant healing on this fight is during the boat phase where you'd take Abundance for strong spot healing across the party with Regrowth as you will likely have a high amount of Rejuvenations out across your raid. Secondly take Spring Blossoms and maintain Efflorescence down at all times during the 1st phase. Use Wild Growth as much as necessary because mana is not an issue once you arrive on the main platform.
You should coordinate with your healing partner as to where you will both use cooldowns so you don't overlap and run out before you head to the main platform.
Mastery: Harmony excels for us when healing within a smaller group. You may gain a lot of healing by prioritising this stat for the encounter.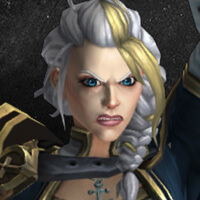 Lady Jaina Proudmoore
15
30
45
60
75
90
100
Boss Notes
Tank damage is high during this fight, take Cenarion Ward to help with this. Also take Spring Blossoms as the raid is stacked and there's little use for a 2 minute tranquility. You may want to consider using Wild Charge as you can jump to an ally to prevent being frozen by Freezing Blood.
Phase 1
During this phase you should dispel the Grasp of Frost and maintain Efflorescence and light healing while helping to contribute to DPS as much as possible. Use cooldowns early just to get them on cooldown for they're needed in phase 2.
Intermission: Howling Winds
This is where druid will excel as you're required to move fast across the room with the raid while taking stacking damage. You should be using Rejuvenation as much as possible and casting Wild Growth when you're able to stand still. Don't risk getting frozen for a little more healing.
Phase 2
The Proudmoore Flagship is overhead and will periodically use Broadside and Siegebreaker Blast. You should track these debuffs and apply Rejuvenation to the targets. Maintain healing on tanks as they will be taking high damage from Ice Shard and use Cenarion Ward on cooldown. Maintain Efflorescence.
Over the course of this phase the raid will be breaking Unexploded Ordnance to remove stacks of Chilling Touch. While in-between barrels you will need to use your cooldowns as assigned by the raid leader or healing officer. Be sure to ramp early and use CD combinations to get the most potent healing.
Intermission: Flash Freeze
Light healing during this phase you should focus your efforts on helping the dps take down the wall and then dealing with Nathanos.
Phase 3
The hardest healing phase as it requires an immense amount of throughput and meticulous movement. Maintain plenty of Rejuvenation on the raid along with Efflorescence while also using Wild Growth as necessary and keeping the tanks topped. Ensure you know where your cooldowns are assigned and ramp for them appropriately.
Crucible of Storms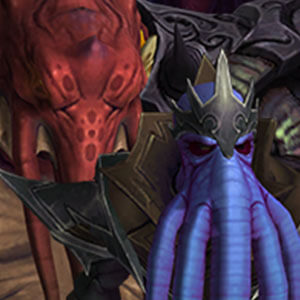 The Restless Cabal
15
30
45
60
75
90
100
Boss Notes
This fight is very similar from start to finish. You should use the standard talent build, but perhaps change into Balance Affinity to deal with the issues of players being out of range.
You must come up with a dispelling strategy with your team as to not lose your players when Crushing Doubt is cast. We approached this by assigning 2 dispels to each healer and ensuring both our targets were dispelled before damage came in. The other source of un-avoidable damage is Witness the End again make sure your targets are dispelled or have some sort of personal before the cast is finished.
The Void Stone trinket is very helpful for this fight as it can enable your dps to keep stacks of Promises of Power through one raid AoE.
Lastly, ensure the entire raid is above 25% HP when Storm of Annihilation is active.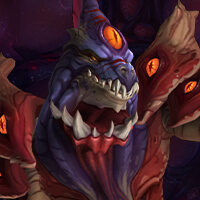 Uu'nat
15
30
45
60
75
90
100
Boss Notes
Talents for this fight can vary wildly based on your raid composition and how well your tanks are healed in the final phase. Balance Affinity is good here as you are often massively spread.
The build below is what I suggest running if you're struggling to maintain raid health and if the tanks are fine. You should begin progress with this build and make a final decision on how you want to play after hitting Phase 3.
If your raid is unable to bring strong tanks or good tank healing specs into the raid you will have to compensate by dropping some raid healing for more focus on the tanks with the build below.
When Piercing Gaze of N'Zoth is going through the raid make sure you are covering vulnerable targets with Rejuvenation and using Wild Growth once the raid has been hit. If anyone gets two stacks you will need to give them heavy focus.
Gift of N'zoth: Lunacy will temporarily mind control your entire raid during Phase 3, if you already have HoTs active on the raid they will still heal during this time. It's very important you are aggressive with HoTs here as this is always a dangerous moment for the raid.
Insatiable Torment should be tracked by changing the colour of the raid members frame as they can no longer receive healing and it would be wasted to cast anything on them. You can still give them absorbs from the Void Stone trinket which is strong here.