In this guide, now updated for Patch 10.1 (Zaralek Cavern) and Patch 10.0.7 (The Forbidden Reach), we show you where all 48 Dragonriding Glyphs are located on the Dragon Isles, the 8 Glyphs on The Forbidden Reach and the 8 new Glyphs in the Zaralek Cavern. We located and mapped out a route for each Dragonflight zone. We unlocked Dragonriding and instantly collected all 48, but you could also do the zones as you level through them.
The Glyphs are used for the Dragonriding talent tree, you spend them to improve your dragon. We recommend trying to find the Glyphs without a guide, because discovering them was a lot of fun, but if you get frustrated or don't have the time, then we are here to help.
There are a total of 64 Glyphs all around the Dragon Isles, split between The Waking Shores, Ohn'ahran Plains, The Azure Span, Thaldraszus, The Forbidden Reach and Zaralek Cavern. Every time you collect a glyph, you will get an achievement, making the glyphs account-wide, so if you collect them on one character, you don't have to collect them again on your other characters.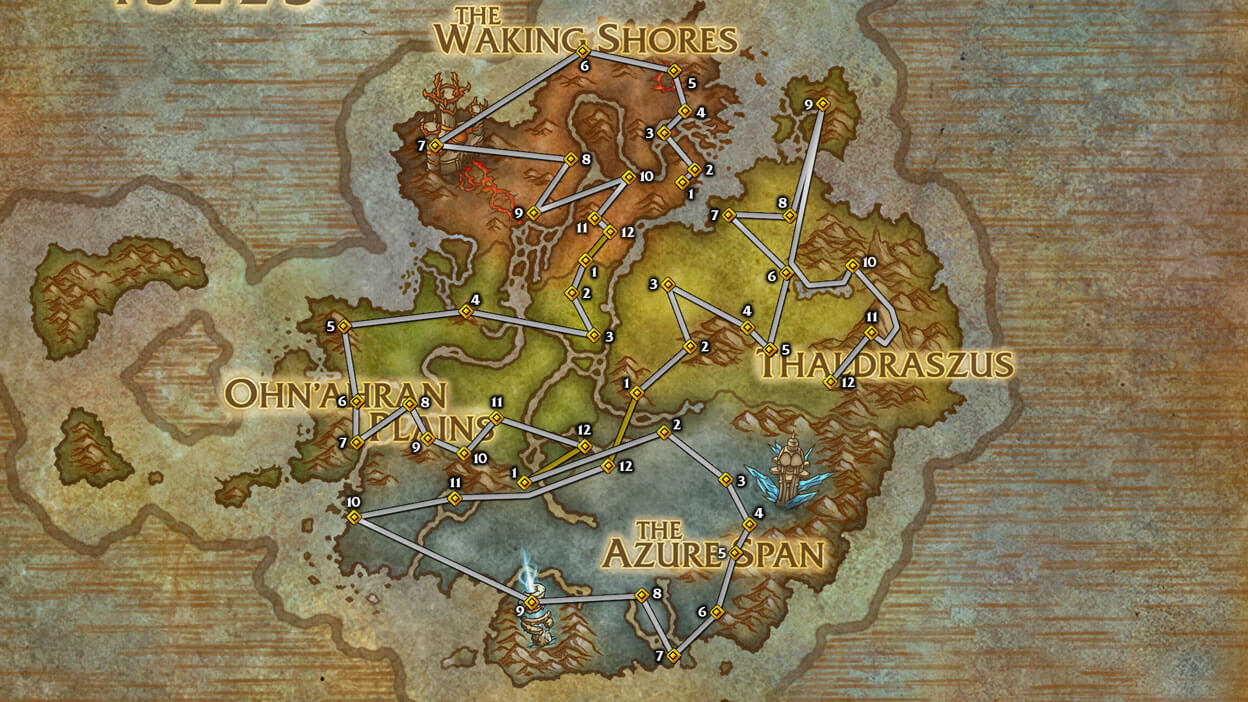 Dragonriding Glyph Collection Tips:
Most of these Dragonriding Glyphs can be collected by waiting for all of your Vigor charges to be available to let you use multiple Skyward Ascent ability uses quickly after each other to generate speed and the height needed.
If you are collecting multiple Glyphs, you can sometimes use the height gained on the current one to get to the next one quicker or without using as many Vigor charges, making collecting them quicker.
You can access the Dragonriding Skill Upgrades via the Dragonriding emblem next-to your minimap. So, make sure to upgrade whenever you have enough glyphs collected. Especially the max Vigor increase after collecting your first Glyph.
Install the TomTom Addon and create a Macro for each of the zones that contains the glyph coordinates for that respective zone. Then use the macro when inside that zone.
When you are close to a Glyph you haven't collected yet, you will get a message in chat and the Dragon Glyph Resonance buff that a Glyph has been detected close to your location.
If you followed our ordering for all of this, you should have collected all available Glyphs and can now finish fully upgrading your dragonriding skills. Congratulations and thank you for reading!