Raid Bosses
Battle of Dazar'alor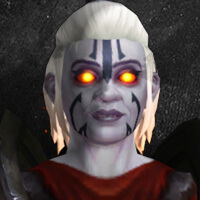 Champion of the Light
Single Target / Cleave
15
30
45
60
75
90
100
Boss Notes
Go for pure single boss damage here.
Be sure you have an interrupt ready for every single prayer for the fallen (the mythic res ability) to interrupt a resurrection.
Flame shock the adds for big boss damage increase.
Grong, the Jungle Lord
Single Target
15
30
45
60
75
90
100
Boss Notes
For progress consider running Primal Elementalist for the extra personal, the boss does not have a DPS check just a survival check (the extra personal will come in handy!).
Put yourself high up on the interrupt rotation, 30 yard range and lowest CD in the game.
Right before the add spawns (approx 5 seconds before) reapply flame shock on the boss regardless of duration, this way you don't have to worry about it or have it fall off during the add spawns.
When the adds spawn, apply flame shock instantly and start rotating empowerments on casts with master of the elements.
If the adds spawn right next to each other you can earthquake over earth shock, make sure every single earthquake is empowered by master of the elements.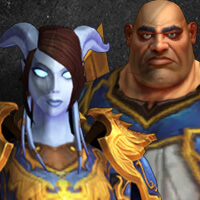 15
30
45
60
75
90
100
Boss Notes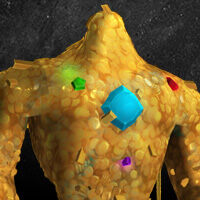 15
30
45
60
75
90
100
Boss Notes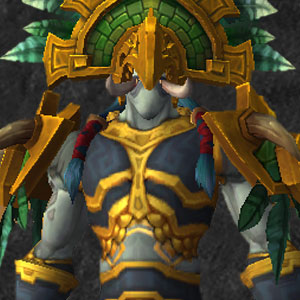 Conclave of the Chosen
Cleave
15
30
45
60
75
90
100
Boss Notes
Always keep the second boss dotted for surge resets, it's a great benefit to overall damage.
Before raptors spawn, flame shock both bosses to make sure they don't run out.
When they spawn, Flame Shock a raptor that does not spawn close to melee as these tend to stay alive longer. After this one dies you can cast lava burst on the bosses that still have flame shock and cast earth shock / Lightning bolt / Frost shock on the remaining raptors.
Curse dispels are extremely valuable here. Make sure you put your raid frames somewhere you can pay good attention to as a major mythic mechanic is the Bwonsamdi's Curse. You can also dispel the crawling hex in Phase 1.
You can purge the gift of wind from Pa'ku. This buff will be applied to all active raptors and bosses. Make sure you purge the targets you are assigned to. Also, make sure if you have mages that they Spellsteal it instead of purging and just purge the raptors instead.
Stunning raptors to save members of the raid is extremely good.
Try and time icefury with Pa'ku flying in. You tend to have to move across the room, so having instant casts for this is super helpful.
Depending where you lust, try and save fire elemental for it. However, do not lose a cast of fire elemental by delaying the CD to have it line up. Simply be aware of the kill timer.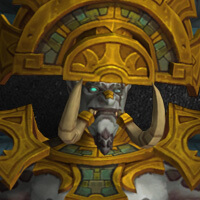 King Rastakhan
Single Target / Cleave
15
30
45
60
75
90
100
Boss Notes
We run wind rush totem here. This is used for the inside Bwonsamdi phase during the inevitable end cast, allowing your stacked ranged group to run against it.
Tremor totem finally has a use, being utilised on the Zombie dust totem. The charm will be removed once the totem pulses (every 1 second); be aware that this Zombie Dust Totem cast can target you, so I recommend casting it 0.5 seconds before it goes out. Tremor totem also has a range, so try and be a bit public, but not fully in melee. Finally, pool resource for the Zombie dust totem, you should be able to top dps during this.
Dotting Bwonsamdi during Phase 2 is effective damage, he might not take damage, but you still gain Lava Surge procs from this.
Make sure you have dots applied on both bosses before zombie dust totem spawns. You want to be able to nuke it down.
In Phase 1 you want to place as many empowered earthquakes as possible. Your opener here can be very difficult to manage.
A proper cast sequence would be something like:
Precast Storm Keeper
Precast Totem mastery
Use Potion
Precast Lava burst
Have icefury for every single inevitable end so you will be able to cast while moving fully during this mechanic.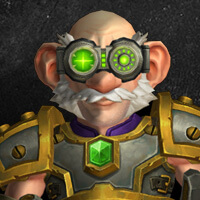 High Tinker Mekkatorque
Single Target / Cleave
15
30
45
60
75
90
100
Boss Notes
Dotting the robots is a massive dps increase, Elemental has the highest dps gain for dotting these adds; with 3 Igneous potential traits and 3 lava shock traits even an affliction warlock will not gain more. However, because flame shock has an initial damage competent, it will proc Spark shield. Just be aware to not kill yourself while flame shocking them.
Pack spirit defensive traits are valuable here, for example when you run out with the Bombs you will still heal yourself. Also Spirit wolf damage reduction is extremely handy here.
You can stun the robots to prevent damage.
When you get knocked up after the Wormhole generator you want to make sure you ask for a Priest's grip (Leap of Faith). Shaman does not have an effective personal way other than to die and ankh to deal with this mechanic.
Stormwall Blockade
Single Target / Cleave
15
30
45
60
75
90
100
Boss Notes
Your main focus here is to kill the sirens as no other ranged class can do this better than you. Save a flame shock, resource and Stormkeeper to deal with these. The faster these die the more overall dps your raid will gain.
Phase One
If you are starting on the left ship you can precast Stormkeeper, whereas if you're starting on the right ship do NOT cast precast stormkeeper, save it for the first Tempting Siren.
Reapply flame Shock right before Sister Katherine/Brother Joseph goes away, this happens at 50%.
Before voltaic Flash try and have icefury available so you continue to damage the boss while dodging the beams.
Try and place Sea swell and sea storm inside old pools to reserve space.
Phase 2
During Phase 2 it's all about killing Tempting Sirens for you, I recommend to highlight this inside your BigWigs/DBM to make sure you can see when they are spawning.
Be aware that the boss' hit frame is extremely large, this means when the Energized storm adds are close to the boss you can earthquake them. However, because of the extra damage debuff you should apply to the adds (tank thing) you might want to prioritise earth shock casts for overall damage and making sure the add doesn't get the cast off.
Having icefury stacks before sea swells is useful to prevent cast loses.
At certain points in the fight, when 2 Energized storm adds are active and sires spawn, with correct add placement/spawns you are able to earthquake / Chain lightning all 4 targets. This will of course be a huge overall gain.
Frost shocking Energized storm adds does NOT matter as frost mages will almost always be handling this. However if you see a add sprinting be the MVP and frost shock it.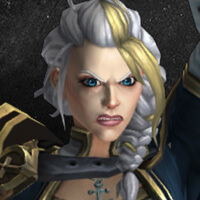 Lady Jaina Proudmoore
Single Target / Cleave
15
30
45
60
75
90
100
Boss Notes
An argument can be made for using Wind Rush Totem for this fight. If you do not have 2 restoration shamans this talent will be super useful as a lot of group movement is happening.
Lava Shock traits are extremely valuable here. There are a lot of non-relevant targets you can flame shock for single target increases on this fight.
Phase 1: Kul Tiran Marine (if you don't mind control them off), Frozen ballistas and if your teammates get frozen make sure you single target the down.
Phase 2: Frozen barrels / barrels. Yes even frozen barrels with 99% Damage reduction are worth to flame shock.
Phase 3: Frost Elemental, Prismatic Image (only if spawned close by).
Fire elemental during bloodlust + wall is very good; make sure you target the boss when casting fire elemental and nuke the boss down. Even when the wall is dead and you are running up the elemental will continue to dps the boss for a bit longer before it resumes to sonic sprint upwards back to you and help you dps the iceblock.
You can be a prime interrupter in first intermission. Ghost wolf + Spirit Wolf + Pack spirit makes you quite safe to be among the top in your group. Rush ahead a tiny bit, interrupt and sprint back to prevent to get frozen.
You can do the barrel move job quite well, you can keep casting while carrying these. So you don't even have to lose dps. However, it's preferred that healers do this instead as the healing requirement in Phase 1 is super low.
In Phase 2 try and have icefury ready for when you have to move a lot, this will prevent heavy dps loses on movement.
Do NOT play primal elementalist and pop the elemental during Bloodlust + Wall of Ice. Instead of dpsing he will simply wonder what is going on and stand still (yes, I don't understand why either).
Crucible of Storms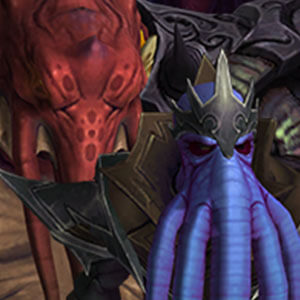 15
30
45
60
75
90
100
Boss Notes
Talents
Primal elementalist is played for couple of reasons:
Icefury, won't be able to land all the GCD's, the number of targets available generally fill up all GCD's with flame shock and Lava burst. Chaining 2x Lava Bursts will out value Lava Burst > Frost Shock.
It provides an extra personal, especially useful as this fight has a lot of scary damage. The CD of the elemental also lasts for 10 seconds and is great for mechanics such as storm of annihilation.
Surge of power has seen a fair amount of gameplay, however, personally this fight has nothing to do with DPS but is about surviving and staying alive. The small gain adds complexity to the fight that you will have to min-max. The simpler gameplay and added personal is much better and the safer option.
When running Primal elementalist, try and use the Fire Elemental Meteor ability at 9 stacks as the damage works on this.
Wind Rush totem can be a talent choice and used for the drag-ins.
Azerite Traits
Lava shock traits are extremely strong, although, it won't add much DPS to your overall because of earthquake gameplay as it will allow for some extreme pooling gameplay. Adds that spawn, healing absorb shields on the boss or the trident shields you need to nuke. For all these the trait is super strong.
I do recommend a setup of:
Lava shock can be min-maxed. Whilst the Elemental is up or when there are only 2 targets your stacks won't go up that quickly. Because of this you can easily place Earthquakes in-between Earth Shocks, just make sure to not waste stacks.
General Tips
During storms you suffer a DPS loss. I personally don't care about my DPS and sit in Ghost Wolf for the entire duration as the 20% permanent damage reduction and pack spirit traits are very useful here.
Just like the storm of annihilation, the same goes for the crashing doubts. When I get a debuff myself, I will take an instant dispel and sit in Ghost Wolf for the entire duration of the spell to benefit from the 20% damage reduction.
During one of the storms you will have the Visage from Beyond add spawn. In Method we skip killing it and just take the damage from Terrifying Echo whilst placing a Tremor Totem as central to the raid as possible to free everyone from the fear.
As you can imagine I don't care about my overall damage on this fight. My focus is to stay alive and deal damage at the correct parts of the fight, pooling for adds/shields.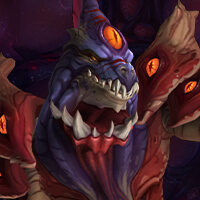 Uu'nat
Single Target / Cleave
15
30
45
60
75
90
100
Boss Notes
Recommended Azerite Traits:
You can replace 1 Lava Shock with 1 Ancestral Resonance
This could be a small gain for in the last phase, but overall for the fight it's a DPS loss. The speed that you kill the last phase and do adds will reduce the damage gain you get in the phase. The safer option is 3x Lava Shock IF you have it available.
Talents
You should choose Primal Elementalist here for the same reasons as on Cabal, with the extra personal being available twice during this fight for both heavy damage taken points. I personally use it on the first beams in Phase 1 and a set of beams in Phase 3.
Ankh is a very special utility for this fight as many shamans use the "Sac" tactic. This includes picking up the Storm of annihilation, using it, killing the adds and then dying inside the darkness to drop the storm. They do this because dying while the storm is active will cancel the storm out, reducing raid damage. For doing this there is an Ankh reset that can be done in the Cataclysm dungeon End Time.
Wind rush totem is not taken as much for the need of wind rush, but that you can't really make natures guardian work. In Phase 2 you will be assigned to dying and this will delay that causing more storms and in Phase 3 you can get torment and the healing will not work.
General Tips
Disable Immolate from the Fire Elemental. This is the only effective way to disable the Earth Elemental stun and the DPS increase is minor. If you REALLY want to cast it, make a macro for it. The reason to disable this is because the add will stun people when you are under a Mind control effect. You can outplay it, but one small mistake and you stun your tank for 4 seconds. As mentioned, it's not about maximising DPS so it's better to play it safe and disable it.
At all costs you should focus on correctly baiting the oblivion tears. Doing this properly will make the phase a lot easier.
Phase 1:
You can let yourself get hit by one of the Mind control beams (only the first one) or have 1/2 other raiders get hit (on purpose) so that all warlocks gain extra Agony and you gain 1 extra Flame Shock. Although, it's important to make sure you only take 1 beam and not 2 or 3.
The second Stormkeeper of the fight (1 minute in) should be cast when Unstable resonance (marks) is cast. This will allow you to move and DPS during the marks.
Phase 2:
My strategy of using the storm to kill the adds:
Be at the edge
Watch add health
Pop storm
Kill adds
Use Ghost Wolf
Cancel aura all healing effects with a macro
Run inside
Take 3 ticks of darkness
Run out (20% hp) and the last lightning tick will kill you.
This is the way to get 3/4 ticks and kill all adds, although, this will take some practice.
After you die, always watch boss energy and timers before using Ankh: If the marks are close, wait a bit. If boss energy is high, wait a bit. If you are in darkness, ask for healer attention before using Ankh, it will take darkness 1 second to start damaging you.
After a resurrection always healing surge yourself back up in case any unexpected damage happens. I personally do 2 or 3 to be safe.
While the adds are up you can fine tune them very well. I tend to DPS the boss unless a specific add is very high HP.
If all adds are behind (for some reason) you can Chain lightning / Earthquake also. But I tend to skip this as we are rarely behind on overall.
You can use wind rush totem when the big fear circle spawns to make people move out of them faster. It's a 60% increase so it will be better than Warlock's Burnish Rush etc.
If your healer wants to drop the Void Stone inside the fear circle, make sure to place a tremor totem to prevent him walking into a tear and healing the boss. The same applies for you if you want to die inside the fear circle with the storm.
Phase 3:
Having Insatiable torment on you is very bad as you will be spending a lot of time inside Ghost Wolf for the extra damage reduction.
Rotate personals and earth elemental on Beams and Gift of N'Zoth: Lunacy overlaps.
Don't be scared to healing surge yourself A LOT if you don't have torment.
You don't have any personal shields like Power Word: Shield or Soul leach so when marks are up you will need guidance.
Preferably have 2 helpers at all cost.
Delay your Fire elemental for 10 seconds of lust as adds will spawn fast during this phase and having the Fire Elemental during the adds is way more effective.
Keep an eye out for adds health percentage before the storm gets cast. You are great for fine tuning add health.
Beams (Piercing Gaze of N'Zoth) are very dangerous on this fight. Always make sure you play it safe and only take a maximum of 1 stack.
Keep Flame Shock on cooldown. There will be running and things to deal with and wasting a tiny bit of pandemic timer is better than losing Flame Shocks. There is always a fourth target that enters during the encounter so you can have points of the fight with 4 active Flame Shocks.
Because you can't really take 2 stacks of the beam, make sure you ALWAYS bait correctly. A bad bait can hinder you significantly.
Although not the most tanky, don't be scared to help people with insatiable torment, just cast healing surge.