With the Race to World First: Sepulcher of the First Ones starting on March 8th, we know the community is already debating who will take down the Jailer and claim World First. Making predictions with our friends and guildies is one of our favourite ways to pass the time in chat and after the success of the RWF.GG App during the Race to World First: Sanctum of Domination, we immediately began brainstorming new features. That's why we are so excited to announce that Predictions is ready to launch in the App. Not only will you get notified about how the race is unfolding to your phone as it happens, this Race to World First you can test both your knowledge and ability to predict the future!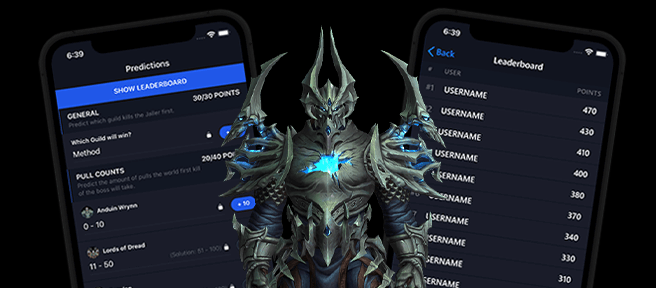 Predictions is a new feature where you will be put to the test with the ability to predict key aspects of the race like "the top 5 guilds to kill a boss" or "how many pulls it takes on the world first kill of a boss", with points awarded for those you get correct. As you earn more points, you can track your position on the leaderboard and once the race is finished and all points have been confirmed, if you are in the Top 25 of the leaderboard you will win a prize!
Making your predictions will be available until Saturday 12th, March at 11:59pm CET, or earlier for questions that already have a confirmed solution. The final point standings will be confirmed and winners will be announced by April 15th, 2022.
We hope you enjoy this new feature, it's available now on the App after you update to the latest version or when you download it from the Google Play and the Apple Store.
What is the RWF.GG App?
If you're AFK, The Race to World First mobile App helps keep you in the know about the Race to World First: Sepulcher of the First Ones. The App provides optional Push Notifications on boss defeats, shares race updates, and allows you to check global standings, filtering rankings by region and boss. The App also has customization options so you only get push notifications about the bosses and rankings you're most interested in.
Released ahead of the Race to World First: Sanctum of Domination, the RWF.GG App is an extension of Method's traditional Race to World First Progress Updates. We know not everyone is at their desk during every moment of the raid so we wanted to make sure everyone has easy access to the latest race updates.The feedback we received at launch was very positive, inspiring us to develop the App further with Predictions for the Sepulcher of the First Ones race.
Download the RWF.GG App now and make your predictions! Available on Google Play and the Apple Store.
Find out more on the RWF.GG website and follow @method on Twitter for more RWF updates.