Class Talents
This is the "cookie-cutter" class tree build you are going to see from most people.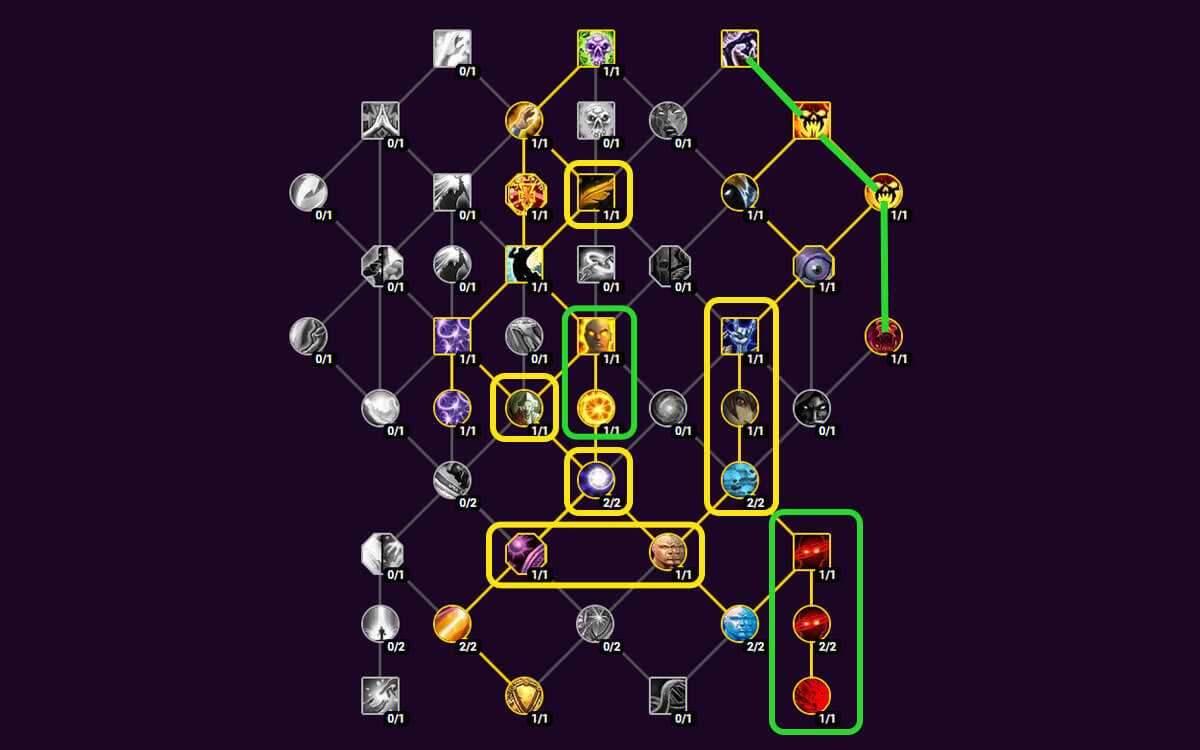 I have circled the Always Take talents with Green and the most of the time take talents with Yellow.
Green (Always Take):
Yellow (Take most of the time):
Outside of these points you have a lot of floater points that you pick based on the situation.
Some points that are used in niche scenarios and can be moved around depending on what YOU need:
As you can see you have very few points that are deemed "mandatory" and you have a lot of options to customize the upper and middle tree to suit your needs. You might even go so far as picking up Renew and Prayer of Mending in situations where you need a lot of off-healing but less DPS.
The only section you generally want to avoid apart from the nodes leading up to Power Word: Life is the left side. It is filled with nodes that only buff spells for Holy/Disc and will do nothing for you as a Shadow Priest.
Talent Builds
Notes: With 10.1, our Spec Tree has gone through a full revamp, not only with new talents and removed talents, but also swapping the position of existing talents. So, a lot of the builds might look very different from what you are used to.
Notes Single Target:
If you want Deathspeaker, you can drop Screams of the Void for a 2% damage loss to get a bit more movement. If you want to play Dark Ascension, you can pick the 2nd build recommended under Single Target for a small loss in overall damage, about 2-3% behind Void Eruption currently in sims, but might have value on certain fights where 1 minute CD windows line up better with mechanics and/or add spawns.
Notes Dungeon Builds:
Dungeon builds are still very up in the air and will depend, as always, on the dungeon you run and what YOUR group needs for that specific dungeon. But here are 2 options that currently perform very well in simulations and testing.
Single Target (Voidform Yogg/C'thun)
BIQAAAAAAAAAAAAAAAAAAAAAAgkQSAAAAAAAAAAAAACp4ARSSLIJJRkIINSSSkGBJIki0CJBQSA
Single Target (Dark Ascension Yogg/C'thun)
BIQAAAAAAAAAAAAAAAAAAAAAAgkQSAAAAAAAAAAAAACKOQkkUiDIJJRkIINSSSkGBJIki0CJBQSA
Almost identical to the Voidform version, but we move the 1 point from Voidtouched to Dark Evangelism.
This is mostly because Dark Ascension does not generate as much insanity during the cooldown windows, so having that extra 50 insanity to play with is not as important.
2 Target (Voidform Nzoth/Yogg/Cthun)
BIQAAAAAAAAAAAAAAAAAAAAAAESCSAAAAAAAAAAAAAiDoJRSSLIJJRkIINSSSkGBJIki0CJBQSA
Our 2 target build is brand new. With the shuffling of talent nodes in the tree, it gave us the possibility to pick up 3 different Idol nodes.
You will notice that the 2 target build is very similar to the 4 target+ build, but we focus a little bit more on Single Target with Mind Spike and Mind Melt. We also utilize the brand new talent called Distorted Reality, which increases the duration of Devouring Plague for an increase in Insanity Cost. The value of this talent in cleave is its synergy with the talent right next to it, Phantasmal Pathogen, which increases the damage our Shadowy Apparitions deals to targets that are affected by Devouring Plague. Meaning that we can spread Devouring Plagues in AoE to increase the damage of our Apparitions. While this is possible even without Distorted Reality, the increase in duration makes it a lot more manageable while still maintaining full Mastery value on all other spells without having to constantly swap targets.
4 Target+ (Voidform Nzoth/Yogg/Cthun)
BIQAAAAAAAAAAAAAAAAAAAAAAESISAAAAAAAAAAAAAiDkmEJJNIJJJRig0IJJRaEkgQKSLkEAJA
As mentioned, it is very similar to the 2 target build, but we drop a bit of the Single Target focus to pick up Shadow Crash. When you start getting to 3, 4, 5 targets and above, you really need Shadow Crash to be able to maintain your DoTs on all targets.
Voidform N'zoth/Yogg/C'Thun
BIQAAAAAAAAAAAAAAAAAAAAAAESiQAAAAAAAAAAAAAioIRSSDSSSSkIINSSSkGBJIki0CJBQSA
The AoE focused build of the 2 is very similar to the 2 and 4 target build, but with even more focus on AoE damage from Maddening Touch, and moving some Single Target back in the form of Mind Spike and Mind Melt to balance out the value between trash packs and bosses.
Dark Ascension N'Zoth/C'Thun
BIQAAAAAAAAAAAAAAAAAAAAAAEkkEAAAAAAAAAAAAAiDo5ARSSJikEJJJCSjkkEpRQCCpItQSAIB
While not necessarily a significant increase in Single Target damage, Dark Ascension can still be used in Dungeons where it is hard to get full value out of the long cooldown windows of Voidform, or if you need damage roughly every 1 minute instead of every 2.
You can swap the 1 point in Distorted Reality for Mind's Eye for a small increase in Single Target, and you can swap one of the points in Mastermind over to Screams of the Void.