Class Talents
This is the "cookie-cutter" class tree build you are going to see from most people.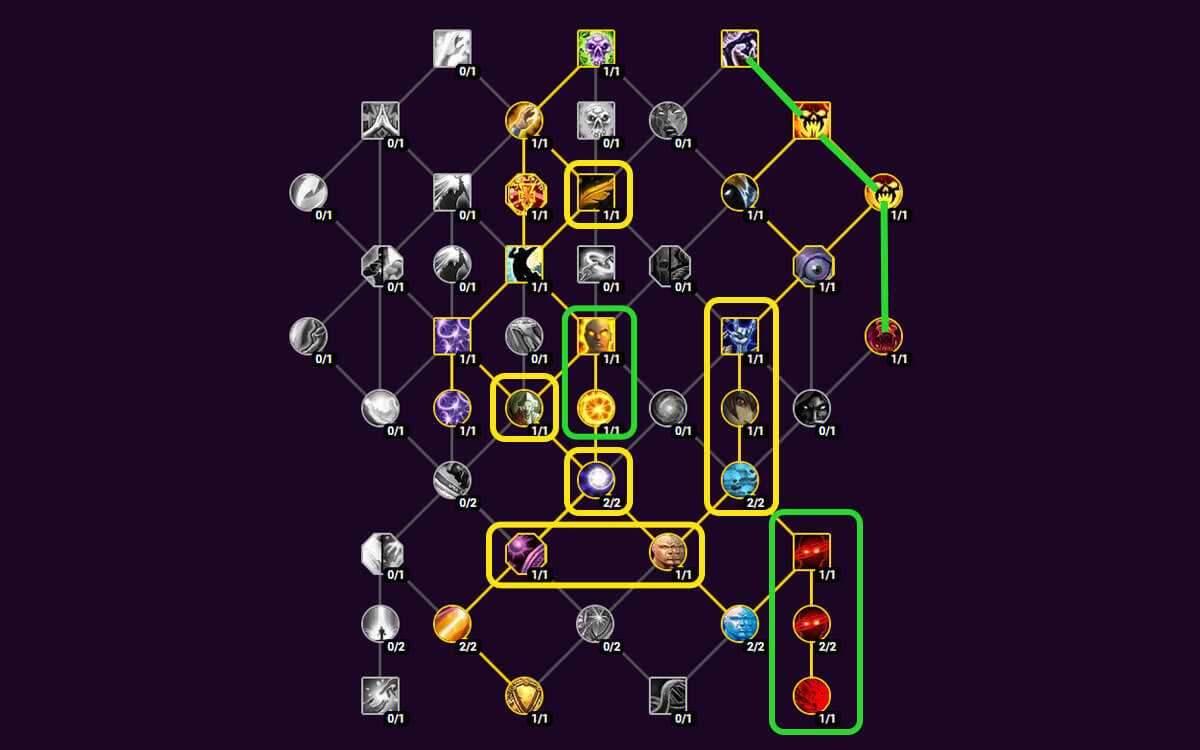 I have circled the Always Take talents with Green and the most of the time take talents with Yellow.
Green (Always Take):
Yellow (Take most of the time):
Outside of these points you have a lot of floater points that you pick based on the situation.
Some points that are used in niche scenarios and can be moved around depending on what YOU need:
As you can see you have very few points that are deemed "mandatory" and you have a lot of options to customize the upper and middle tree to suit your needs. You might even go so far as picking up Renew and Prayer of Mending in situations where you need a lot of off-healing but less DPS.
The only section you generally want to avoid apart from the nodes leading up to Power Word: Life is the left side. It is filled with nodes that only buff spells for Holy/Disc and will do nothing for you as a Shadow Priest.
Talent Builds
Note for Cleave: There is not much Cleave outside of Mythic+ (see builds below), but there are some fights with add spawns, so we need to pickup Mind Sear somehow.
Single Target (Dark Ascension / Y'shaarj / Yogg-Saron / Void Torrent)
BIQAu+2Vv7op3uGggQnVDr07wISSLSAAAAAAAAAAAAAISiSkmU0iEJlESEkGJJJSIIBhUkWIJAA
Single Target (Dark Ascension / Y'shaarj / C'Thun)
BIQAAAAAAAAAAAAAAAAAAAAAAIk0CBAAAAAAAAAAAAQikkSkmU0iEJlESEkGJJJSIIBhUkWIJAA
Very similar to the other Dark Ascension build but instead of going for Void Torrent and Yogg-Sarron, we go Mental Decay, Screams of the Void and Idol of C'thun.
It has an almost identical damage pattern to the previous build but puts less value into Mind Spike and more into Mind Flay. Idol of C'thun also helps to make the spec flow better by increasing your Insanity Generation outside of cooldown.
Difference in DPS between the builds is very very small and will most likely come down to personal preference or fight design. #1 has a bit more punch to it with Void Torrent and Mind Spike, where as #2 has more flow and sustain with increased insanity generation and more value in Mind Flay.
ST Hybrid (Cleave)
BIQAu+2Vv7op3uGggQnVDr07wISSLSAAAAAAAAAAAAAISiCpJFtIJJlESEkGJRikkgEESRahkAA
Kurog Cleave (Only on Mythic)
BIQAu+2Vv7op3uGggQnVDr07wISSjEAAAAAAAAAAAAAikoQINtDkkkUSiEBaRSSiECQESRahkgCA
Raid AoE (Council/Brood full AoE etc.)
BIQAu+2Vv7op3uGggQnVDr07wgkgEAAAAAAAAAAAAAJSSKRINkkkUSiEBaRSSiECQESRahkgCA
Mythic+ AoE (Big Pull Dungeons)
BIQAu+2Vv7op3uGggQnVDr07wgk0IBAAAAAAAAAAAAQOQikSKh0IJJJFIRQakkDkIhgEkIFpFSCA
Mythic+ Cleave (Mid/Small pull Dungeons)
BIQAu+2Vv7op3uGggQnVDr07wISSjEAAAAAAAAAAAAAikoEh04AJJJlkIRQakkDkIhgEkIFpFSCA
Mythic+ Overall (Experimental Build that works everywhere)
BIQAu+2Vv7op3uGggQnVDr07wgk0IBAAAAAAAAAAAAQIJpEh04AJJJlkIRQakkDkIhgEkIFpFSCA
In the #2 build (M+ AoE) you can drop Mind Flay: Insanity for 2/2 in Inescapable Torment if you don't think you need boss damage.
In #3 (Mythic+ Cleave) and #4 (Mythic+ Overall) you swap Void Eruption for Dark Ascension in dungeons where you either pull fairly small, or the tank goes 1 pack at a time. This is because it's hard to maximize the value of Voidform if packs don't live for a fairly long time.
Most of Shadow's AoE in Dragonflight comes from Mind Sear and Psychic Link, and therefore we want to focus on any talents that will increase the damage it deals or the amount of times we can cast it.
Mind Devourer is close to mandatory currently for AoE, as Shadow has big issues with insanity generation outside of cooldowns. Especially on AoE since we have no source of target scaling insanity generation, outside of Auspicious Spirits and Maddening Touch.
Frequently Asked Questions:
"Why do you not take Idol of N'zoth?"
So earlier in Beta Idol of N'zoth used to be picked all the time and by reading it, you would think it would be a no-brainer to pick this on anything AoE.
But Blizzard nerfed it very hard. They reduced the spell damage % from 25% to 10%.
They capped the amount of targets that can have the debuff to 4 and made it deal reduced damage beyond 5 targets.
All of these nerfs together with its very awkward placement on the tree, forcing you into 2 points in Insidious Ire, which is just a dead node in AoE, makes it just not worth taking it anymore.
"What about Deathspeaker and Pain of Death?"
These points have a few issues. The main one being that Shadow Word: Death just doesn't deal enough damage to be your main source of AoE damage. The other being that Deathspeaker's proc rate (1.5 rppm) is way way too low to be reliable.
"I don't like Mind Sear, can I play without it?"
You can do whatever you want, it's just a game. But no. If you want to be viable, there is no alternative options to AoE
"Do I have to play Mind Spike?"
You don't have to do anything, but it is a DPS increase in almost every situation. If you are fine with losing 3-5% DPS you can play most of the builds without Mind Spike and Surge of Darkness
"Why do you not have Mental Decay while playing Screams of the Void"
Screams of the Void is currently bugged if you also have Mental Decay. It will not make Shadow Word: Pain tick faster while channeling Mind Flay, therefore we drop Mental Decay in Single Target situations.