When Sco announced the organisation's rebuild in October, and our new guild in November, we knew the next step on the Road to World First project -- to truly come together by competing at the highest level -- would quickly follow during the first raid tier of Shadowlands: Castle Nathria.
Method is, and will always be, a community-driven organisation. Throughout our fifteen year history, we've chronicled the incredible feats achieved in World of Warcraft, championing the competitive success and entertaining content the community knows and loves. While this raid tier's progress might look different for Method -- after all, we're embracing the professionally scuffed stream -- we're more committed than ever to celebrating the community's achievements during Race to World First: Castle Nathria with full coverage of the event. Check out method.gg/raidprogress and catch live stream updates on twitch.tv/sco whenever there's a major update or boss kill.
We're proud that nearly half of our new guildmates came directly from the Road to World First Project. We want you to get to know them and the rest of Method's rebuilt guild which is why we'll stream with voice comms and share fun new content featuring our raiders. If you're a member of the Method Community Team, you can also expect exclusive content and experiences including post-progress Q&As with our raiders, community merch giveaways, and priority access to the Method Community Pack of Castle Nathria Addons.
Yes, you read that correctly -- a new guild means new merch! We're excited to share that our merch store will be relaunching during progress and will share more details on the exact date soon.
And while we'd love to announce Race to World First: Castle Nathria's sponsor, we think the community will be far more interested in our favourite way to give back - with giveaways!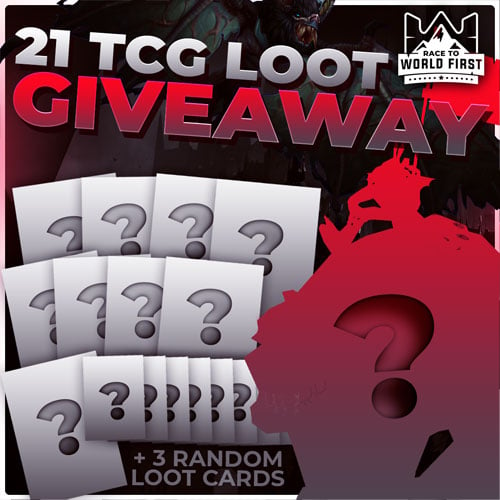 We will be giving away 21 unscratched physical Blizzard TCG loot cards as part of the event. These loot cards include an exclusive and icy mount, rare pets and many more surprises! Check out Method's Twitter on Monday to learn how to enter!
The Race to World First: Castle Nathria kicks off in North America on Tuesday, December 15th, with cosy coverage of Method's progress starting Wednesday, December 16th, on Sco's Twitch channel. Stay tuned to find out how to sign up for our community giveaways, shop Method's new merch and learn who our new sponsor is next week!