With Venruki's 7-year Twitch anniversary this month, we thought it was time for a proper look at the man's career and legacy, and so we have both a video and a full profile on Elliot, written by our own Caleb Irving for you to enjoy.

Elliot Venczel AKA Venruki is currently one of the most recognizable WoW streamers on Twitch and is about to celebrate his 7th year streaming on the platform. Known for his dominant PvP performances and as one of World of Warcraft's longest standing and most popular streamers, Venruki is one of the bastions of the WoW community. At 29 he's still evolving and growing as a streamer, player and e-sports commentator, but to understand Venruki you've got to go back to where it all began.
In 2006 WoW was released, and not long after Venruki created his first character, which as it turns out was not his world famous mage, but a feral druid. Quickly delving into dueling and PvP, he soon figured out that feral wasn't the class for him, and soon re-rolled to his now infamous mage .
As soon as I started playing WoW, PvP was my main focus.
It didn't take long for him to make a name for himself on his server. Frequently called out in forum posts as one of the best mages on the realm, Venruki took dueling and PVP seriously and tried to show exactly how dominant both he and the mage class could be. With the release of Burning Crusade and the launch of the Arena, Venruki had a new avenue to compete in and hone his craft. Soon after,the WoW arena competitive scene began to form, and in 2008 Venruki started competing in the MLG Pro Circuit. He got his first real taste of the prize pool the following year at the MLG Pro Circuit Dallas cup where his team Complexity Gaming Red took third place.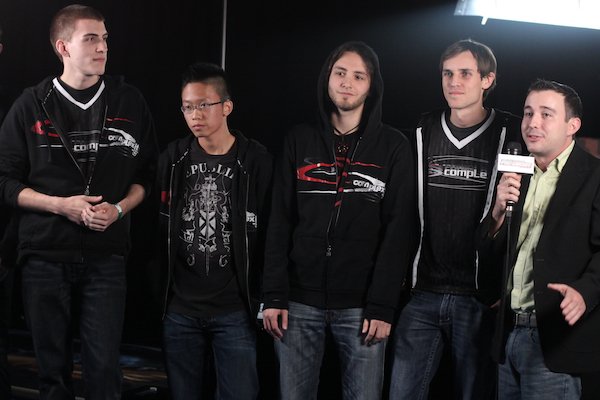 Complexity Red

The next year at the MLG Pro Circuit Columbus he and his team climbed up the rankings and came 2nd. But for Venruki, the goal was ultimately BlizzCon, the home of the Arena World Championships.
For PvPers, there's nothing higher than the World Championships.

The World Championship Win that Wasn't Meant to Be
In 2010 Venruki and his team, Complexity Gaming Red, were well prepared for BlizzCon. Cited by many as tournament favorites, especially when they reached the finals against team Against All Authority (or Triple A), who they had beaten earlier in the tournament with a score of 3:1. The matchup was a struggle for them, the games often went to the time limit of 20 minutes and in that case a replay would be forced. If the game went to 20 minutes twice it was the team who did the most damage that was awarded the win. For Venruki and his team, this almost guaranteed them a loss as their team composition intrinsically did less damage than their opponents.
That was the story of that BlizzCon. If they just survived and played to not lose, they would just automatically win.
With the finals game score in their favor at 2-1, Complexity's healer Sodapoppin went for the ultimate Hail Mary and decided to go on the offense just before he was about to die. They managed to kill one of the opponents and the other 2 fell soon after. It was done, they had won. The crowd erupted, the confetti fell, the team celebrated on stage.
When you take the game so seriously for so long, the World Championship is the ultimate endgame.
4 years after the game launched Elliot stood center stage with now lifelong friends he'd met playing WoW with a crowd cheering for him, he'd done it, he was a world champion. Or so he thought.
Not long after the team left the stage they were informed that an official had made a mistake. Usually as the 20 minute time limit approaches the tournament officials will tell the players: 1 minute left, 30 seconds left, 10 seconds, and so on. That hadn't happened on their win so they'd assume it was in time. The fateful first killing blow came at 20:04. Because of this and the fact the other team had done more damage, the series was now 2:2 and Venruki had to go back out and play once more.
We thought that we had won, we had already celebrated and then they say no, no, no, you're now playing the game of your lives.
Unfortunately the random map selection wasn't on their side, their final map was the only map that worked as a hard counter to their composition. But of course, they weren't ready to give up. They went for the aggressive playstyle again, the only way they could win was to get a kill, another stalled game was as good as a loss and they knew it. The onus was on them to fight for the title. All Triple A had to do was play defensively, keep Complexity Red at bay and the championship was theirs.
So we zone into the one map we couldn't really win on unless we went all in and got kind of lucky.
Right from the get go it was obvious they were playing to win, they were out for blood. Focusing down one player on the other team, that player's health dropping down to 5%, back up to 10%, back down to 5% again. For a solid 45 seconds it was truly a war of the titans, that player sat at 20% health or lower for almost a minute under that barrage. Complexity giving it their all, but ultimately, they just couldn't get through Triple A's defenses. Once their all in gambit had failed, they knew the match, and the world championship for them, was over.
It was kind of heart-breaking too because I really felt that our team was one of the best in the world at that time.

The True Mountaintop

But that isn't the end of Venruki's story. He kept playing and kept training for the next opportunity to prove himself. That opportunity came in 2012. After coming in 2nd in the American regionals they had to go to China to compete and prove themselves in the Arena World Championship, for Venruki it was not time to linger on the past.
In 2010 I kind of felt like we got robbed on a bad ruling, but we put that behind us.
Having just finished college he knew this was his time, he quit his job dedicating all of his free time to practicing. In the finals it was a rematch against the same team, 'Yaspresents' who had beaten them in the American regional cup earlier in the year. It was a hard fought finals, each team giving it their all but ultimately, 2 years after having the trophy taken from him, it was Venruki and his team that came out on top.
For me finally it felt like I'd beat the game.
2 Years after having his win ripped away, Venruki stood tall, affirming what many had long suspected. He was the best in the world, and one of the very best to ever play the game.

The 2012 BlizzCon Arena World Champions

This was by no means the end of Venruki's competitive career, as in 2014, he won the American Regional Championship and qualified for his 3rd BlizzCon. But ultimately, he would not compete in the grand finals, and his team would finish 3rd/4th place. 8 long years after the game came out Venruki's drive just wasn't the same, he admits himself that he wasn't as hungry. In 2012 he needed to win, he'd quit his job, he had student loans looming, there was no other option. In 2014 he wanted to win. And as often happens, the younger, hungrier players fought just that little bit harder.
I didn't have the same desire to win at all costs.

Full-time Streaming
After this, he slowly began his transition into full-time streaming. It had always been a huge part of his life, he'd been one of the earliest adopters of the Twitch live streaming platform. Between his flawless gameplay and competitive wins, he'd garnered a large enough following for him to move into streaming full time. In 2015 he joined Method, at first to be a competitive player, but he would soon transition into full time streaming, becoming the first of Method's many streamers, and paving the way for the organization's future.
7 Years after his first stream, he's now one of the most recognizable World of Warcraft streamers on Twitch and has cemented himself as one of the very best to ever play the game. And for him, streaming on twitch is a dream job, he gets to play the game he loves, talk with his community who's been with him for 7 years and still flex that competitive muscle from time to time.
"A lot of people are realising it's kind of an awesome job."
Far from done competing Venruki's stream often revolved around pushing the competitive arena ladder in game, teaching his viewers and showing exactly how a world champion does it. He's also quick to remind viewers that everyone has a bad day and bad luck every once in a while, as this clip from an MLG match in 2009 (and one of the longest-running Venruki memes), that he insisted was added here, proves:

Now he can be found most days on his Twitch channel, playing arena, dueling in classic, exploring the Shadowlands Alpha, and branching out with cooking and painting streams. But for Venruki, it always comes back to WoW.
At the heart of what my channel is, it's a guy who really just loves World of Warcraft.