Method is proud to announce that we'll be bringing you the highly anticipated Race to World First: Aberrus, the Shadowed Crucible live from 1337 Camp in Waiblingen, Germany!
Live from 1337 Camp in Germany
After months of hard work and preparations, we at Method are proud to finally announce that we will be taking on Aberrus, the Shadowed Crucible live from Germany! Thanks to 1337 Camp, Method raiders, staff and casters will be covering our Race to World First from their state of the art gaming venue in Waiblingen.
Creating the live events around the Race to World First is one of our proudest achievements with Method. Kicking it off in 2018 with the release of BFA and the Uldir raid, what came next was one of the most memorable moments in WoW as over 200,000 people tuned in to watch the Method G'huun kill live on Twitch. The RWF events have continued ever since and elevated the WoW scene, providing opportunities for players, casters, and content creators to make a name for themselves and pursue their passion.

Method's return to hosting a live event is a big step forward in our Road to World First project. The guild continues to make progress tier after tier and we are as committed to our goal of getting back to be competing for world first as ever. Everyone involved is extremely excited, the players, the talent, the staff, and I can't wait to see everyone in person and share in the camaraderie. A massive thanks for your continued support of Method, we are looking forward to seeing you in the chat! - Scott McMillan, Founder & CEO
Method Raiders On Site
Dozens of our talented raiders and familiar faces will be flying to Waiblingen where they will be streaming their point of view, utilising 1337 Camp's highly modern gaming rigs and equipment provided by our partners.
The raiders that will be playing live from our venue in Germany are Cruella, Wildi, Lorgokz, Kwepp, Speed, Fragnance, Nate, Sjele, Faithy, Cayna and Bangerz!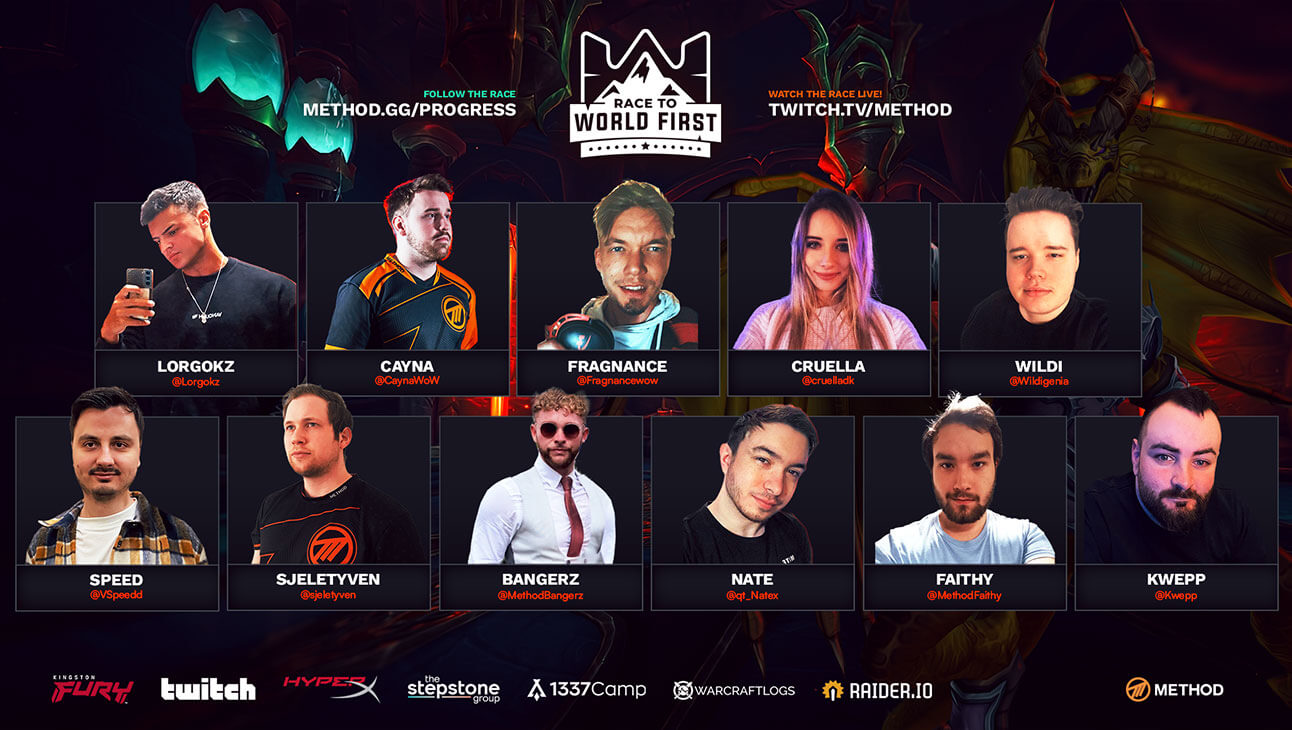 Our Race to World First Talent
In addition to our raiders, we'll be flying out several renowned casters, personalities and analysts that you are sure to recognize from the World of Warcraft sphere! They'll be keeping you up to date and entertained throughout the marathon that is the Race to World First.
Our incredible team of casters who will be joining us at 1337 Camp are Darkmech, Roiben, Deepshades, Grant, Kexman, MrGM, RageDarling, Shejken and special guest Sco!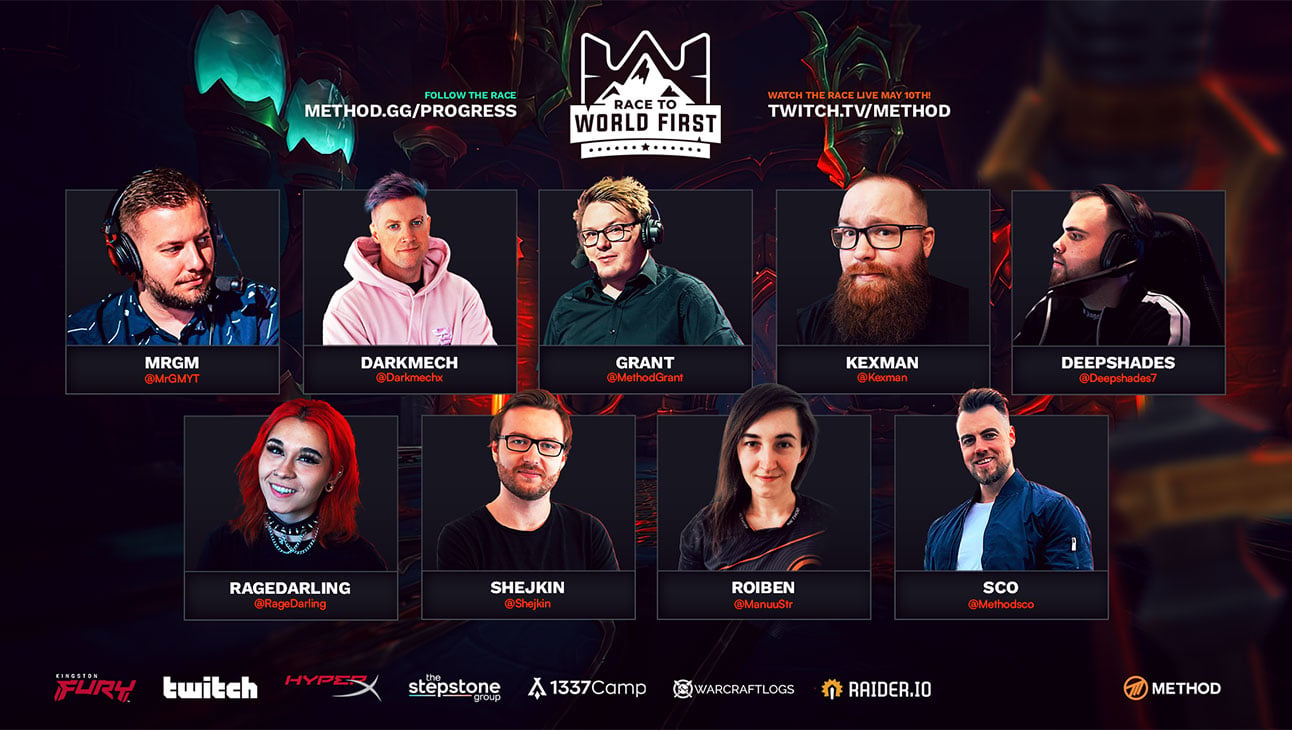 Thanks to our Partners
We'd like to thank our partners for their unwavering support and belief in Method, allowing us to once again host a Race to World First event from a live venue! We've been working closely along with our partners to ensure our raiders and casters are equipped with top of the line peripherals. Additionally, we've been working on several pieces of content to entertain RWF fans throughout the race!
Method and Kingston FURY - The Dragonflight Grand Prix
Method recently entered a year-long partnership with Kingston. Together, we have set about on a mission to provide the Method Raid and Influencer roster with their advanced RAM and SSDs, and the excitement doesn't stop there…
Introducing: the Dragonflight Grand Prix! Together with Kingston, we've developed a cutting edge in-game addon, allowing you to compete against our raiders and fellow World of Warcraft players in a selection of Dragon Riding races you can find across the Dragon Isles. You'll be able to win incredible prizes from Kingston as well as a one-of-a-kind trophy and medals by submitting your combined best time across 6 races and finishing in the top 6 of our leaderboard before the end date of 31st May.
Several of our elite raiders have taken on the challenge themselves, setting their fastest time for you to compete against, as well as the other competitors who have submitted their scores.
Find out more on the Kingston FURY Dragon Grand Prix website: kingston.method.gg.
A Step in the right direction
Joining us for Aberrus, the Shadowed Crucible is Stepstone, one of the world's leading job platforms. Together with Stepstone and their partners, Method will be doing a deepdive into our raiders brains, matching them up with the perfect job outside of being professional World of Warcraft players.
Broadcasting the Race to World First live on Twitch
Method will be streaming our Race to World First: Aberrus, the Shadowed Crucible event live on Twitch!
For several years, Twitch has been a key sponsor of the Race to World First, providing invaluable support and contributing to its success. Thanks to Twitch's dedication to the gaming community and passion for esports, the Race to World First has continued to grow in popularity and is now one of the most significant events in the MMO/RPG scene.
Charity
We are proud to be supporting Safe In Our World in the upcoming Race to World First. We at Method truly believe that Safe In Our World and their efforts to assist and raise awareness of mental health issues within the video game industry is an important cause and is a cause close to our hearts here at Method. Therefore, we won't be holding back with our charity goals. If you'd like to learn more or donate to Safe In Our World, visit method.gg/charity!

Giveaways
Throughout the Race to World First: Aberrus, the Shadowed Crucible we'll be giving away plenty of incredible gaming equipment provided by our partners. Stay tuned and keep an eye out on our social media channels!
Raid Progress Coverage

Throughout the RWF: Aberrus, the Shadowed Crucible event, you can checkout our live coverage and leaderboards at method.gg/progress.
Starting May 10th & Onwards!
Our stream will be going live with our Race to World First event from 1337 Camp in Waiblingen, Germany in the morning of May 10th.
We are absolutely thrilled to get our show on the road and hope you are too. We'll see you live on Twitch!