If you've lost track of time, TwitchCon is officially here! Last year in Long Beach, there were about 50,000 attendees dropped by to immerse themselves in all things Twitch. Tickets are available to anyone who wants to attend and you will likely fall into one of three categories: Community, Affiliate, or Partner. The event takes place from this weekend from Oct 26-28th in San Jose, Ca with members of Method making an appearance: Method Fortnite, Sco, Hotted.
Method Fortnite Compete at Fall Skirmish Finals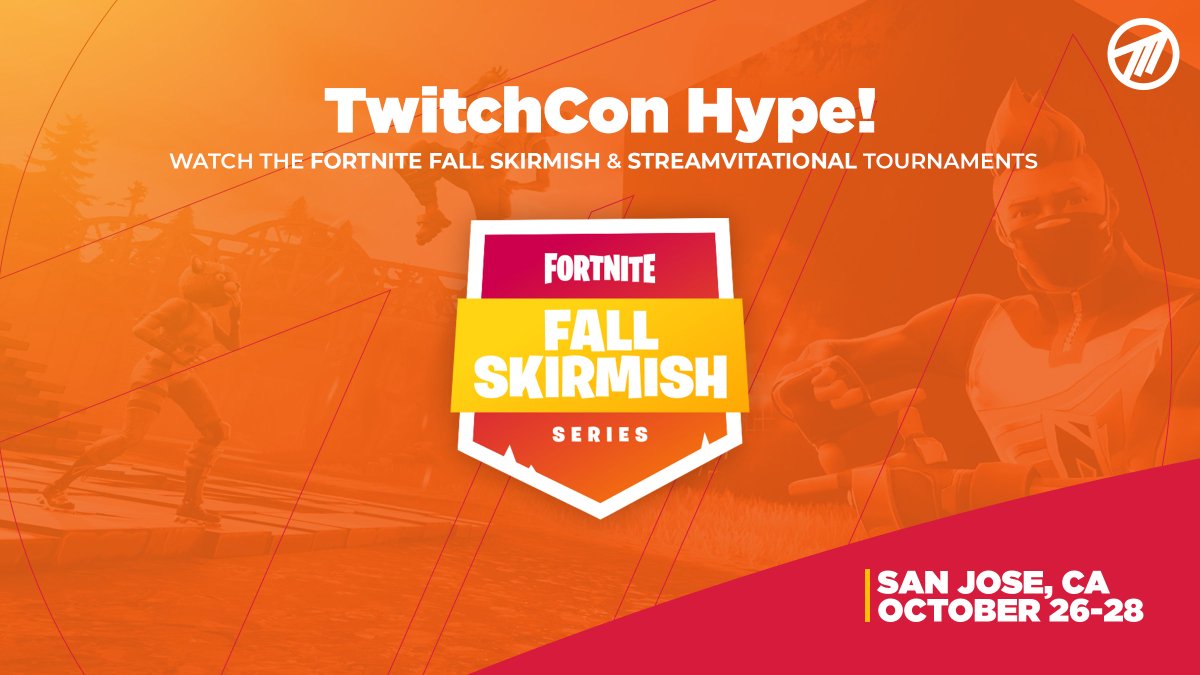 The Fortnite Fall Skirmish is a six-week series where over 500 competitors, including our very own Method Fortnite. $4,000,000 in prizes can be won with a total of $10,000,000 on the line including individual and team earnings. Lets thank the bus driver and fall into the finals prep with one of the new Battle Royale Managers, Jack "Trey" Evans!
How much time has been practicing and competing leading up to the Finals?
Currently our team has been doing duo snipes as much as possible, averaging 6-8 hours a day. This excludes any time they spend in standard games. We've also shifted our attention to VOD reviews of past skirmishes for NA to get a better understanding of the NA play style.
How does the rankings work and where does Method stand going into TwitchCon?
At this time, there really is no clear ranking system. The only performance indicator we have is from the skirmish games. We've seen that we have incredibly consistency pushing into the final 10-15 teams, but we've struggled to secure top spots. This is the nature of Fortnite, however. I think that our team has the potential to be the strongest team in Europe, if not the world. I see a drive inside this team that I haven't experienced before, and I can tell they're hungry for it. I hope to help facilitate that as much as possible.
Are there any advantages and/or disadvantages for the Finals being LAN format?
There's a ton of advantages to being on LAN. In the final circles on live servers, we notice that the game has become borderline unplayable due to latency spikes from the server side of things. Week 5 of the Fall Skirmish really showed that for both regions. We only hope that being on LAN removes the client-side to server-side communication delay for all players and removes the end game latency issues.
Anything you'd like to add?
Battle Royale games have an inherent element of luck to them that all players hope to have on their side. Our focus as a team has been to give this final everything we have and more. We're beyond excited to have the chance to play alongside our NA counterparts and get the full experience of what Fortnite is meant to be. This will be the most difficult (and hopefully rewarding) event for us this entire year, and we hope everyone gives it 100%.
Best of luck to the Method Fornite team members as they fly into San Jose and set themselves up for the Finals: Noizeeh, jetpacks, MartinCreek, Rasmusenn, Fixter, and Gnaw!
Method Streamers at TwitchCon 2018
Twitch Partner, Founder and Co-owner of Method, Scott "Sco" McMillan has been at the forefront of developing Method into the esports organisation it is today. Fresh off from achieving another World First in World of Warcraft, him and the raid team have made a revolutionary impact on the way world first might be running in the future for content content creators.Alan "Hotted" Widmann is a Content Creator, Full Time Gamer, and Chief Business Development Officer of Method. And that's just an over simplification of what Hotted does. If you follow his social media, he is always flying somewhere in the name of gaming including (but not excluded) WoW, PUBG, and Unibet. Also, he hosts on his Twitch Channel, AllCraft, along side Rich Campbell and Asmondgold. A true entrepreneur of the modern time!
Not only will Method be representing in the finals, your favorite Method influencers will be live at the event and meeting fans all weekend! Check out the TwitchCon 2018 schedule on the website. We hope that everyone attending TwitchCon has a blast and see you there! Keep up with the latest Method news via Twitter!